Tiffany & Co.'s new campaign features A$AP Ferg & Elle Fanning
Tiffany & Co's newest campaign, Believe in Dreams, is just that - dreamlike. Not only is it giving us major throwback vibes but from start to finish, it's as elegantly fabulous as you'd expect. Featuring the unlikely combo of A$AP Ferg and Elle Fanning and an appearance from Dance Moms star, Maddie Ziegler, this star-studded production has captured the attention of fans worldwide. With a campaign video like this, you'll understand why we're playing it on repeat!
Opening with an ode to the 1961 classic, Breakfast at Tiffany's, Elle Fanning peers through the store window, echoing qualities of our favourite fierce female, Audrey Hepburn. The dreamy video also debuts a new song written by hip-hop heavyweight, A$AP Ferg. This unlikely combination truly captures the essence of the Big Apple - the place where anything can happen and dreams come true! (Excuse us, whilst we go book a one-way ticket...)
With such extravagance and refined choreography, it's no surprise that Francis Lawrence is the creative mastermind behind this campaign. Being held accountable for the likes of Water For Elephants and The Hunger Games, we can understand why his penchant for large-scale productions was right at home here. for This campaign effortlessly pays homage to the famous nostalgia of Audrey Hepburn's legacy, whilst introducing us to the newest generation of talent taking on the challenge of representing Tiffany and Co.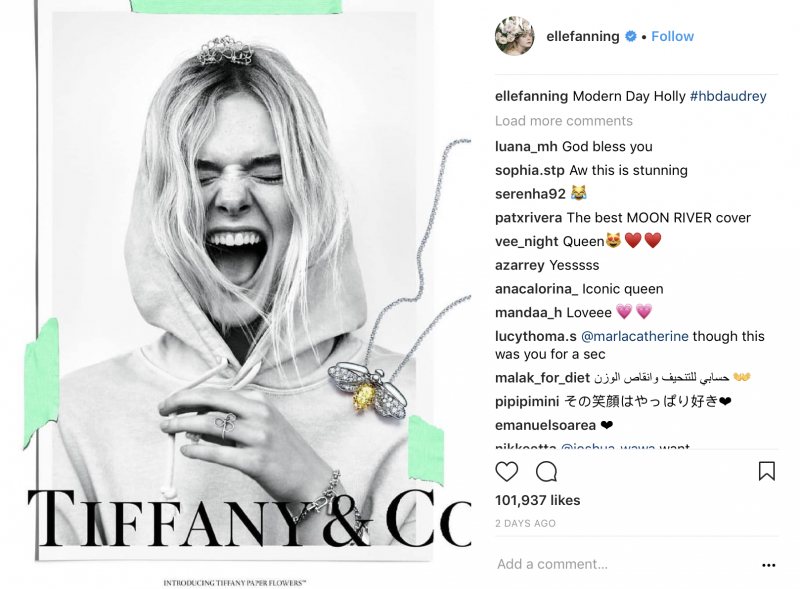 To celebrate this elaborate campaign, Tiffany's held a star-studded event featuring some of the most coveted celebs to date. We can only imagine the type of lavish deck-out that this blue box party had, which is why we are living for the event gallery above. Just try to resist filling your shopping cart to the brim with blue boxes... we know we can't!
Image Credit: Instagram, Tiffany & Co.