Trend Report: The lowdown on layering up
The idea of a chic winter is always appealing until the low temperatures take full effect we can't help but count down the days until spring graces our presence and makes the unbearable cold, well, bearable.
Sacrificing warmth in the name of fashion becomes the norm. But we often forget it's easy to enjoy all that this season has to offer... so long as we layer up.
After all, the most desirable aspect of the freezing weather is the wide variety of outfits and accessories that we can fill our wardrobes with. But how do we take inspo from our favourite celebrities and stay bundled up, yet fashionable?
Radiant and vivid outfits are what can bring a little life into our murkier days. This season can get a little gloomy, but your style doesn't have to be. The key to looking good yet staying warm is the ability to throw on a couple of layers that work cohesively to build the ultimate chic outfit.
When working with darker colours, different tones can be employed to form individualised outfits. From heavy-knit coats to durable boots, we have put together a collection of timeless essentials to layer up with this winter. With a focus on sustainable knitwear and covetable coats, layering up will become your new best friend this winter season.

Subtlety with a pop of colour
Many of us tend to stick with monochrome colours when layering as they're the safe option in the guide to looking sophisticated.
But with all that's happened in the year of 2020, try and bring a little bit of colour back into your year through layering with this collection of chic pieces to keep us cosy through the colder months.
Both muted and rich shades can be layered to establish a unique look this season.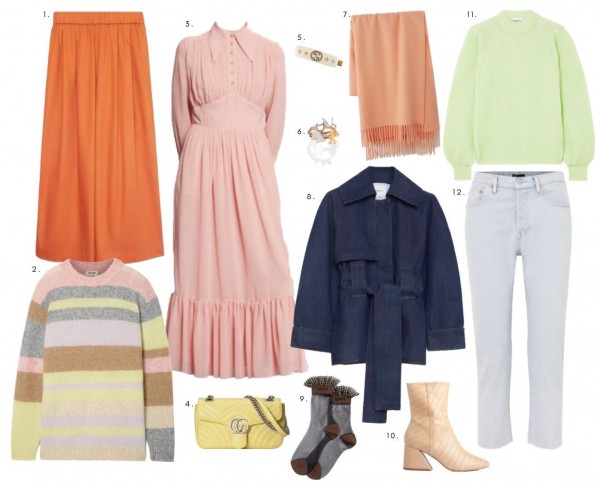 1. Orange Study Pant from Kowtow. 2. Acne Studios Mohair Stripe Sweater from Workshop. 3. Botanist's Dress from Karen Walker. 4. Marmont Shoulder Bag from Gucci. 5. Crystal Interlocking G Hair Slide from Gucci. 6. Layered Rings from Karen Walker. 7. Acne Scarf from Workshop. 8. Format Jacket from Kowtow. 9. Ruffed Gingham Socks from Fendi. 10. Erin Boot from Mi Piaci. 11. Ganni Wool Ribbed Sweater from Workshop. 12. 501 Crop Jeans from Levi's.


Laid-back in hazel and bronze tones

Simplicity and elegance begin with the colour brown. Layering hazel and bronze tones can add definition to an outfit, and contrasting different shades is what can elevate your outfit to the next level.
This striking colour is a staple in the collection for many reasons, as it can scream both style but comfort. Dress up this season with this eccentric collection of versatile shades of brown.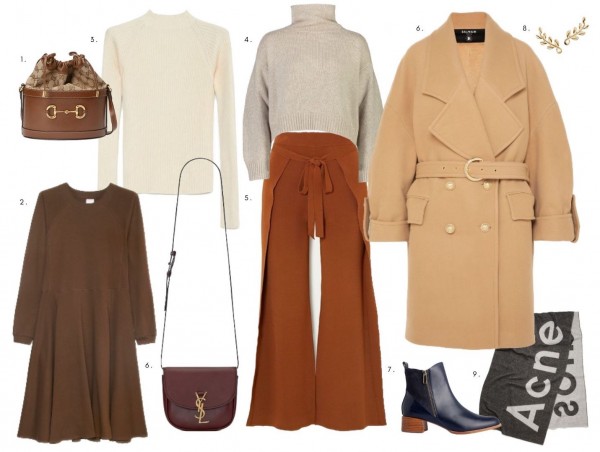 1.Horsebit 1955 Bucket Bag from Gucci, 2. Fair Trade Approved Dress from Kowtow, 3. Row Top from Kowtow, 4. LOU LOU STUDIO jumper from Workshop, 5. Abigail Tie-front Layered Knitted Straight Leg Pants from CULT GAIA, 6. Coat from BALMAIN, 7. Sheridan Ankle Boot from Mi Piaci, 8. Olive Leaf Climber Earrings from Tiffany & Co, 9. Acne Studios Scarf from Workshop.


Monochromatic layering

The most common form of layering is through monochrome tones, as it's the most basic way to convey taste through fashion. If you're not quite ready to walk out of the house in bold colours, why not layer up the traditional way? Different shades of whites and blacks are timeless additions to your layering collection, as they can be matched with almost everything. Here are our favourite monochrome picks for this season.



1. Silk Wool Vest with Double G from Gucci, 2. Deer Intarsia Wool Sweater from Burberry, 3. Naomi Pant from Cult Gaia, 4. The Classic Check Cashmere Scarf from Burberry, 5. Leather Jacket from Workshop, 6. Women's Check GG Silk Crepe Shirt from Gucci, 7. Fabric Blouson Jacket from Prada, 8. Dandy Ankle Boot from Mi Piaci, 9. Format Jacket from Kowtow.