Swimwear Talk: Your Guide to Picking the Perfect Bikini Shape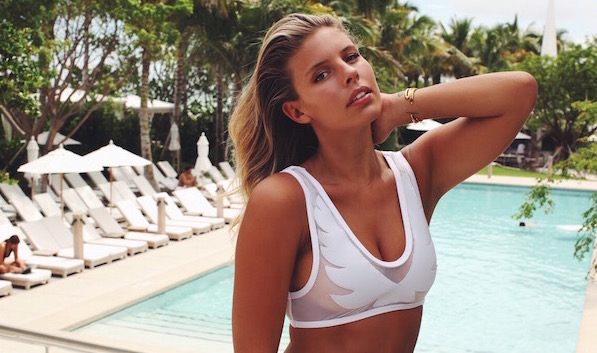 While the Victoria's Secret angels may make it look easy posing and strutting in little to no clothing, us girls know it's really not that simple looking great in less! Having the perfect bikini for your specific body type is a must and these days with so many choices and styles, the options are endless and exciting - but also rather daunting! Never fear, this
Remix
style guide will talk you through the essentials to finding that perfect bikini shape so we can all feel relaxed and confident and most importantly: enjoy those summer rays! Being
small chested and flat bummed
means that you should go for embellishments or ruffles. This gives the illusion of a larger booty or chest and prints and colours also provide a great distraction.
Big busted and big booty
ladies know that they need support, and not tiny strings, to keep those bits in place. Bikinis with underwire, thicker bathing straps, double stitched bands and bigger cups offer more support. For the bigger booty you'll need a suit with enough fabric that offers more coverage and won't give you an uncomfortable wedgie. You should look for designs with solid colors and printed tops to balance things out too. Now for the harder to dress areas like
cellulite
. Whether you are slender, curvy, short or tall, cellulite doesn't discriminate. However, there's no reason you have to sacrifice your personal style to cope, instead, you can look for swimdresses, tankinis and longer hemlines that still pack plenty of sass and style.
Tummy pouches
are evil but are also much easier to hide than people think. Peplums, for example, are great as that piece of ruffle works well to conceal your stomach. Wearing a sarong high-waisted while lounging on the beach or getting beach-bod pics is also a great trick. This and choosing a plunging neckline or a one piece will help keep the focus upwards rather than on your mid-section.
Love handles
that really should be named hate handles. Fighting this bulge can be tricky, but these days with all the cool brands taking it back to the 80s, it's as simple as a high-waisted bottom. This can work wonders as by exceeding the belly button this prevents and sucks in a muffin top to give you those sexy curves that we all desire to achieve. If you want to
elongate short legs
, go for suits with high cuts in the legs. By showing more skin, it will make your legs seem longer. For those who are extremely brave you could even try out a thong for optimal leg potential!
Words by Jamie Clements Image from abikiniaday.com