SJP's new shoe collection for NET-A-PORTER
If Sarah Jessica Parker is anything like Carrie Bradshaw, then shoes are the lust of her life. This comparison seems to have rung true, as SJP is collaborating with NET-A-PORTER to release a 19-piece shoe collection.
To understand the collection, think Carrie's shoe wardrobe circa 1999. The capsule collection features satin textures in bright, block colours and some strappy, metallic numbers. The bejewelled detailing is definitely reminiscent of Carrie's number-one fave, Manolo Blahniks.
It's no surprise, then, that the lush pieces have been labelled a holiday collection. 'These shoes are a party for your foot,' SJP says. The collection hit NET-A-PORTER's e-commerce site today, just in time for all the work Christmas parties and other glamorous holiday functions we're going to attend. Thankfully, the collection includes some flats and some oh-so-on-trend kitten heels to keep our feet happy all night.
However, Parker is well aware that most of her customers won't be looking for practical shoes. 'The NET-A-PORTER customer,' she says, 'is not about practicality. More likely than not, she's buying a lot of shoes and is not looking for a shoe to serve a lot of purposes.'
These are the kind of party-perfect shoes we will dance in until we drop one glorious night, and rediscover them and their memories five years later. The collection is 'feminine, strong, surprising and timeless,' SJP says.

Our pick? The Fugue glittered leather sandals, of course: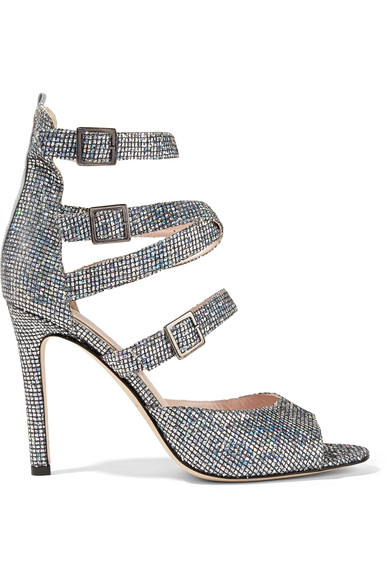 Head here for more.
Picture: today.com.