Phoebe Tonkin is the new undeniable character for Aussie brand R.M.Williams
Honouring the brand's talented craftsmen & women, Australian footwear and fashion label R.M.Williams have announced their new Ambassador as none other than the much-loved Phoebe Tonkin. The first female with the official title in the brand's 88-year history, this is certainly no small acknowledgement but a celebration of strong female personalities, something which lies at the heart of R.M.Williams.
Joining fellow Aussie Boots Ambassador Hugh Jackman, Phoebe is the newest international face and spokesperson in their Undeniable Character campaign… a campaign which brings to life the enduring qualities of the brand through the stories of its people, processes and products. Much like the brand's popular and hardy boots, these are stories of grit, tenacity and a pioneering spirit. Stories that closely mirror the characteristics of Reginald Murray Williams himself.
You may have first admired Phoebe from her early days on mermaid cult favourite H₂O: Just Add Water, or perhaps The Vampire Diaries, The Originals or more recently her guest role in mind-bending series, Westworld. As her career has gone from strength to strength (due to her uniquely grounded, yet determined mindset), so too has her following. As one of Australia's new wave of loveable relatable personalities, she represents a new generation of spirit, bringing a voice to the very traits that define the brand's DNA… she is a pillar of strength, tenacity, exploration and humility.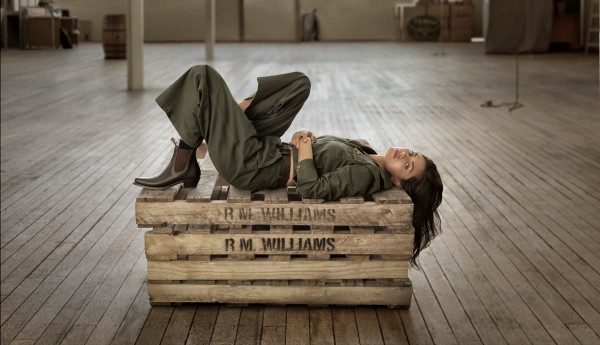 R.M.Williams' Chief Marketing Officer Mat Hayward explained, "Whilst we started as a unisex brand focused on classics with function and style, women's has grown into a key category. 50% of our traffic is female, so it Is important we have a female lead who resonates directly with this customer. For us, Phoebe is the perfect embodiment of Undeniable Character and what it means as a brand, and we're thrilled to welcome her into the R.M.Williams family."
The Sydney star is a born storyteller, recently completing her writing and directing debut with her first short film Furlough, a passion-project that has allowed her to bring her love for storytelling to life in an entirely new way. The joy of storytelling also crossed over into her alignment as an Undeniable Character for R.M.Williams.
"R.M.Williams is a brand I've grown up with and embodies all that I love about being Australian – from the commitment to preserving and championing our land to the culture of friendship we are lucky to have. While I've been coined as the first female ambassador, the truth is that there are hundreds of hardworking females and Undeniable Characters who have fed into the rich history of the brand. R.M.Williams' commitment to exposing and fostering both new and past Undeniable Characters was something that was immediately appealing. My craft values storytelling above all else, so I was hugely flattered to be part of that." says Phoebe.