Parisian Dreams of Fall 2017 Couture
Fall 2017 Couture lines have blessed the Parisian walkways with their inspired shows, exploring ideas of differing displays of femininity. Gone are the days when one style had to fit all; Fall 2017 Couture embraces the chance to find the feminine in both high necked tailored coats, and bright floral fabrics.
To the sheer and daring styles of the in-between, Couture gives a space for adventure to find its fashion feet. Although the shows thus far have been everything grey, black and metallic silver, the pieces are far from drab. With splashes of pink and red, Fall 2017 Couture is an exploration in the space between feminine tailoring and flowing gowns. Tulle and chiffon remain strong favourites for major fashion houses. From cascading skirts to subtle detailing, this fabric continues to add flare and power to traditional shapes.
Dior transported us across the globe in full celebration of their 70th anniversary. Maria Grazia Chiuri has taken inspiration from travel and the beauty of cultural diversity. This shone through in the elaborate set design of Pietro Ruffo, dressed with statues of wild animals from each continent; to the map detailing in specific pieces of the line. Chiuri embraced the power of a finely tailored suit and embellished the grey with flowing sheer shirts.
[rev_slider alias="FallCouture4"]
What would this list be without mentioning Chanel's next-level spectacle that took over Paris' Grand Palais? Karl Lagerfeld presented his Fall 2017 haute couture collection for Chanel in the most grandiose way - by bringing a large-scale replica of the Eiffel Tour indoors! The Parisian theme continued as Lagerfeld showcased a collection that harked back to Chanel's roots - reviving favourite textures, silhouettes and fabrications for a truly exquisite result.
Schiaparelli also uses tulle to give the people of Paris a show in sheer. Tailored jumpsuits are paired with lace inserts and flowing sleeves; adding a feminine flair to the power suit.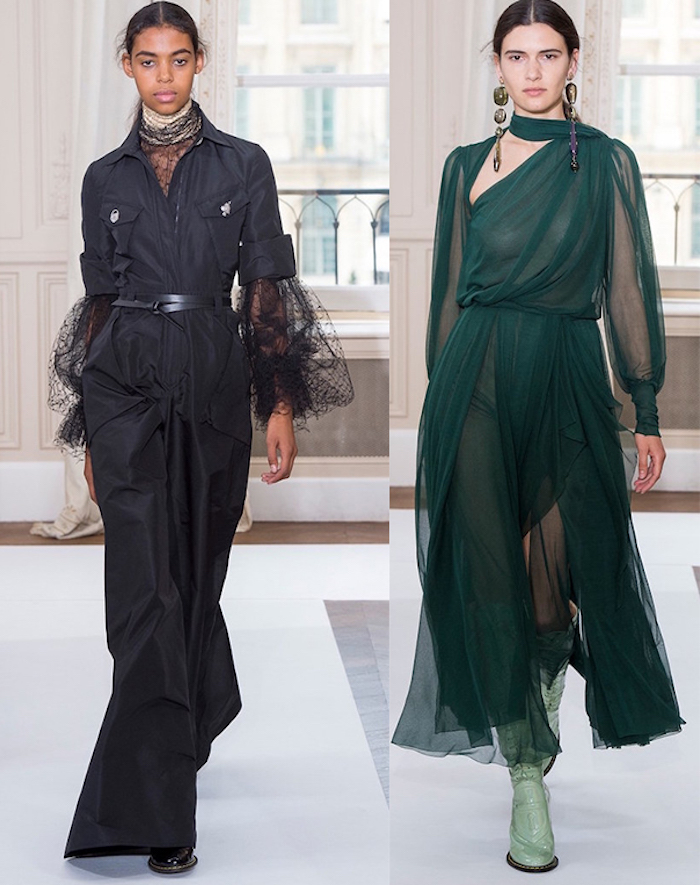 Atelier Versace transformed their ideal of feminine structures by creating shoulder padding for the new age. The highly exclusive line was presented in part, with a few pieces taken away from the eagle eyes of the press, and only shown to those who buy directly from the fashion house.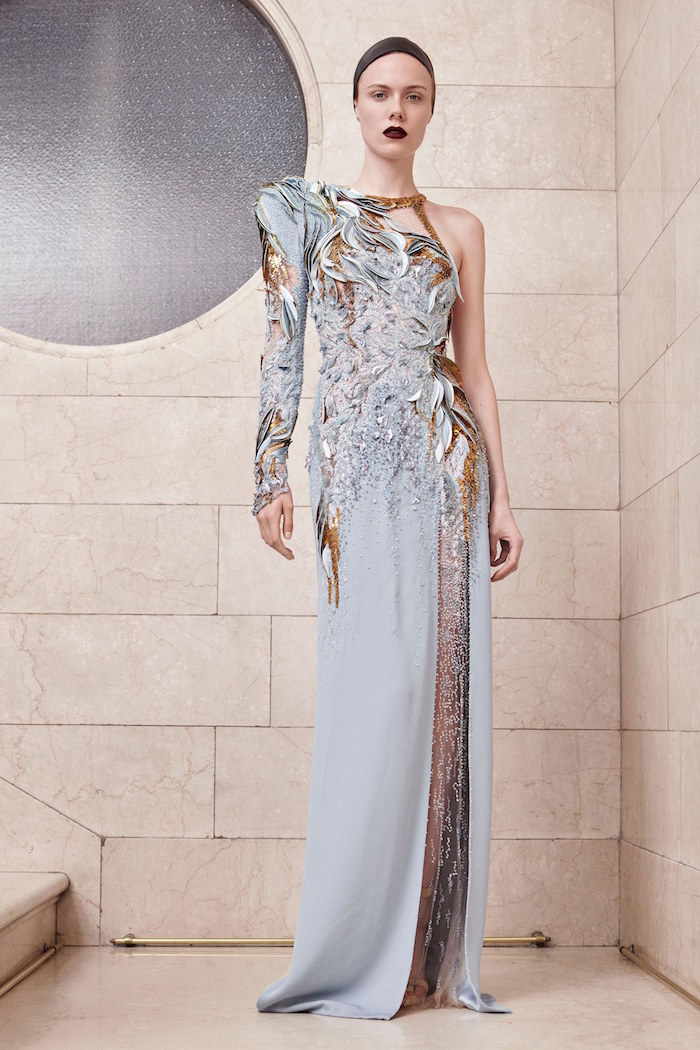 Giambattista Valli similarly embraced the whimsical elements of sheer and tulle fabric, boasting larger than life asymmetrical skirts. Moving away from the structured greys and blacks of the other lines, Valli's collection is an adventure in floral and colour.
[rev_slider alias="CoutureFashionWeek"]
Iris van Herpen presented a line differing to the others of Paris Fall 2017. Van Herpen stood out as a vision in futuristic allure. Although remaining with the blacks and greys of Fall, van Herpen challenged the norm with abstract bodices and line work. Inspired by innovation, the line included accessories created through 3D printing.
[rev_slider alias="FallCouture3"]
Ralph & Russo took the idea of geometric slits and ran with it. The flowing bodices wrap around the waist and arms to show off the power of the flowing fabric. We love their icy blue tones and cold nudes!