Our favourite celebs' first and last Met Gala outfits
The biggest event of the fashion calendar is fast approaching and we are squirming in anticipation. Every year, the Met Gala reunites the crème de la crème of the fashion and entertainment industry for an evening of outrageous regalia, art, and charity. Some of us have a shortlist of designers we would work with, were we attending (no? Just me?). Alternatively, you could read Remix's favourite looks from last year – and what to expect from this year – to keep up with news of the event.
However, with Anna Wintour keeping everything tightly under wraps, it's very likely we won't know much until pictures start spamming your Instagram feed on the 6th of May. While we don't know who will be in attending, I have my theories (can you tell I think about this event way too much?). Today, however, we take a look at past editions – the who wore who and whatnots. And while a timeline is a great way to follow a style evolution, I am one for shock value. Let's see what our favourite celebrities chose for their first ever Met Gala appearances, and what they wore to their last one.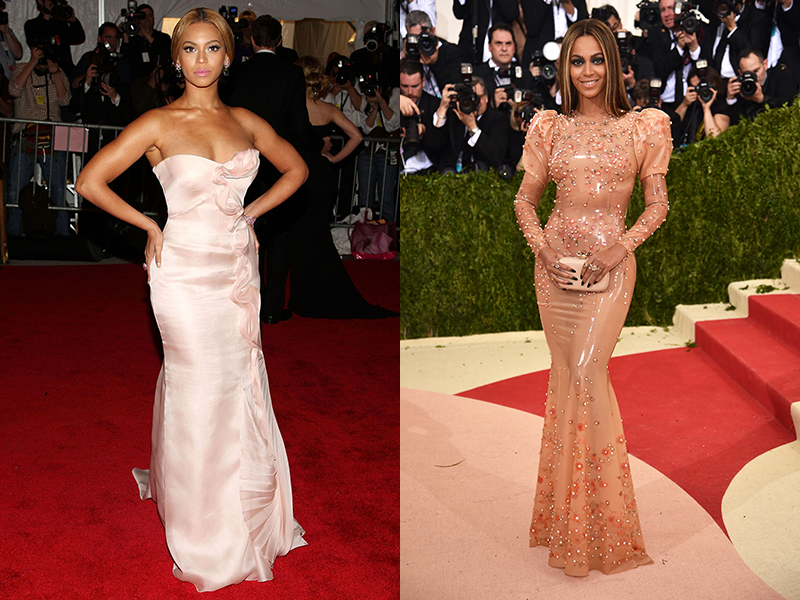 Beyoncé 2008 vs. 2016
It's been a while since Queen B graced the Met Ball with her royal presence. Whether or not she will be in attending this year is a mystery, but one I would bet on. The singer skipped the 2017 edition to be with her newborn children, and in 2018 Jay-Z decided to take her on a trip instead. However, she has been in the news a lot lately, with her new Netflix documentary, the drop of Lemonade on Spotify, and her newfound presence on social media. My bets are 2019 is the year we will get Bey back on the Met Gala.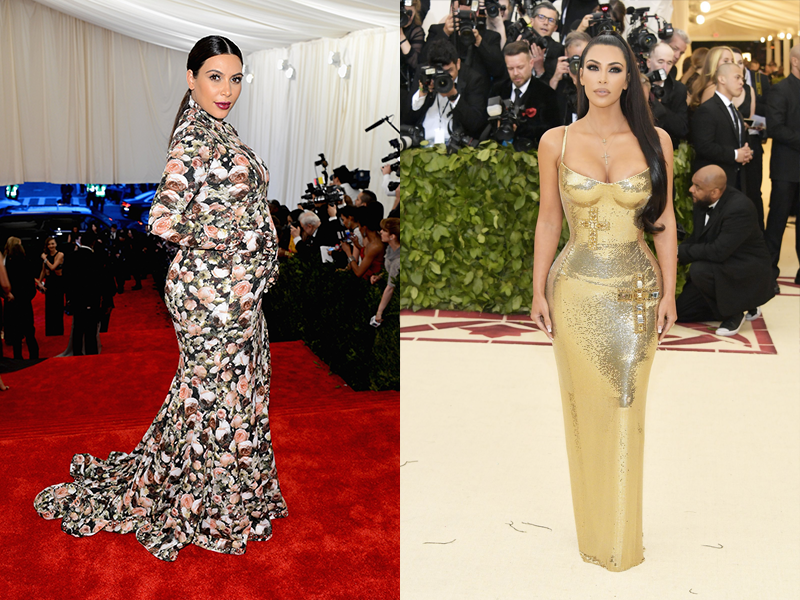 Kim Kardashian-West 2013 vs. 2018
A lot has changed since Kim's much criticised first appearance at the Met Gala (the grandma curtains jokes were endless and tiring). The reality show star is now undoubtedly an industry mogul and has never missed a year of the event since her first one. I doubt 2019 will be the one she does, especially with her controversial Vogue cover gracing the newsstands this month.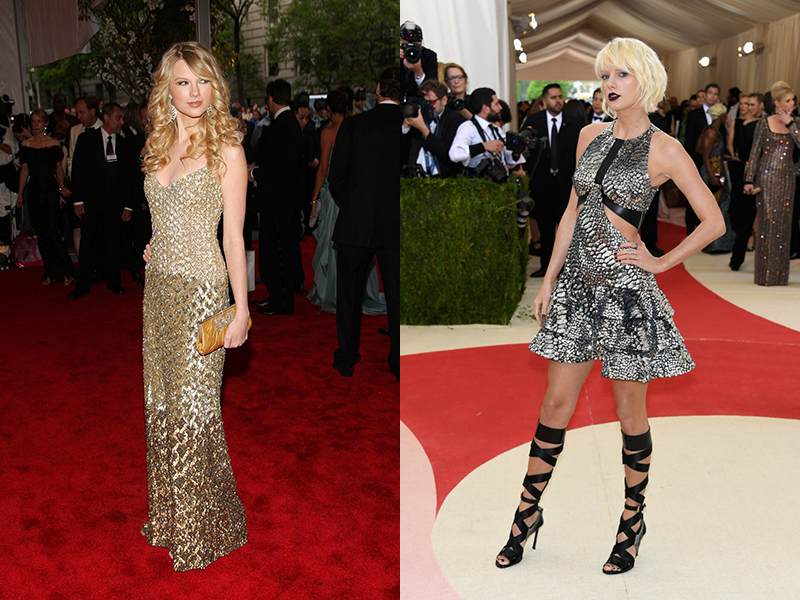 Taylor Swift 2008 vs. 2016
Another celeb not seen since the 2016 edition is TS. It's fair to remember that 2016 was not an easy year for the princess popstar: it was the year when all hell broke loose in the Swift x Kardashian-West feud. She received a lot of animosities online, which led to her 2017 Reputation album, so hey, not all was lost. But her recent appearances and latest Instagrams point towards a new era: a pastel pink, positive, candy floss one. I'm curious to see if she'll use the Met Gala to advertise her new upcoming single, ME!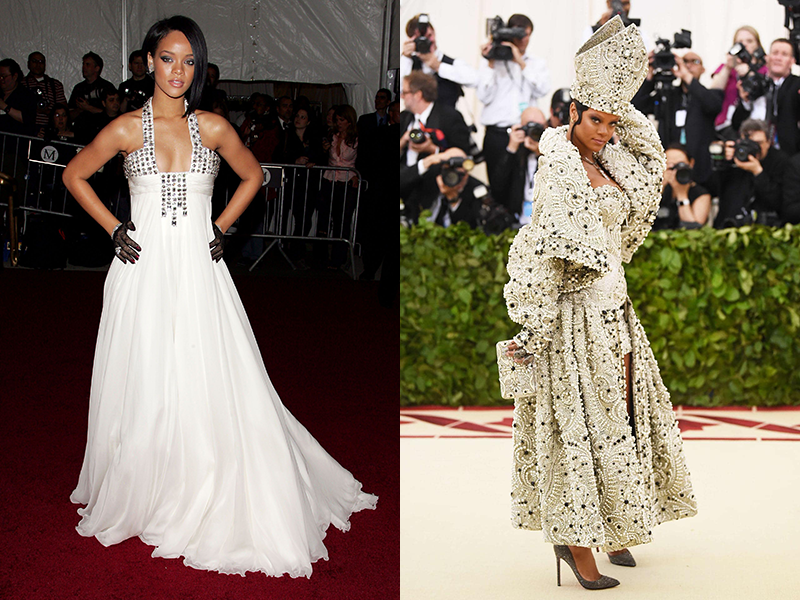 Rihanna 2007 vs. 2018
I feel like there's nothing I can say that has not been said about Rihanna. Her 2018 Met Gala look cured all my ailments and gave me hope for humanity. The singer has been secretive regarding the singing part of her career, focusing her energy on her makeup brand, Fenty Beauty. After last year, I only want more and more of her at the event.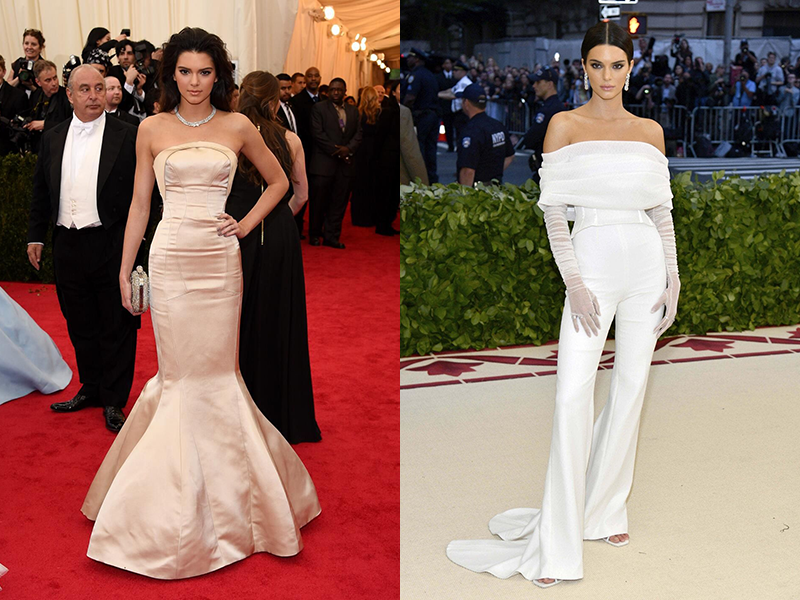 Kendall Jenner 2014 vs. 2018
Kendall may not yet be a staple of the gala as much as her older sister, but the supermodel has had the privilege of being invited to the Met Ball every year since she turned 18. Seen last year rocking a white jumpsuit by Off-White, and critics were fast to point out that she did not adhere to the theme. Her style evolution may be one of my favourites ever, regardless of whether or not she's in costume or just beautiful attire.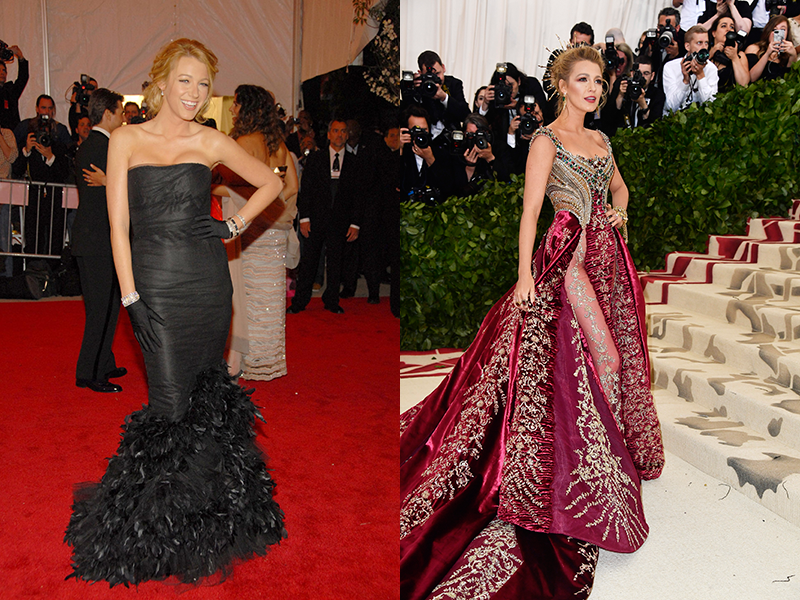 Blake Lively 2008 vs. 2018
Let's be honest, we all wanted to be Serena van der Woodsen in 2008. Blake Lively rocked an Upper East Side worthy gown and gloves combo to her first ever Met Gala, and it was only uphill from there. Ten years after her first appearance, the actress' Versace gown made all of us, humble mortals, gasp collectively when we first saw it. In 2019, she and hubby Ryan Reynolds are part of the selective committee list, so we will surely see this power couple there.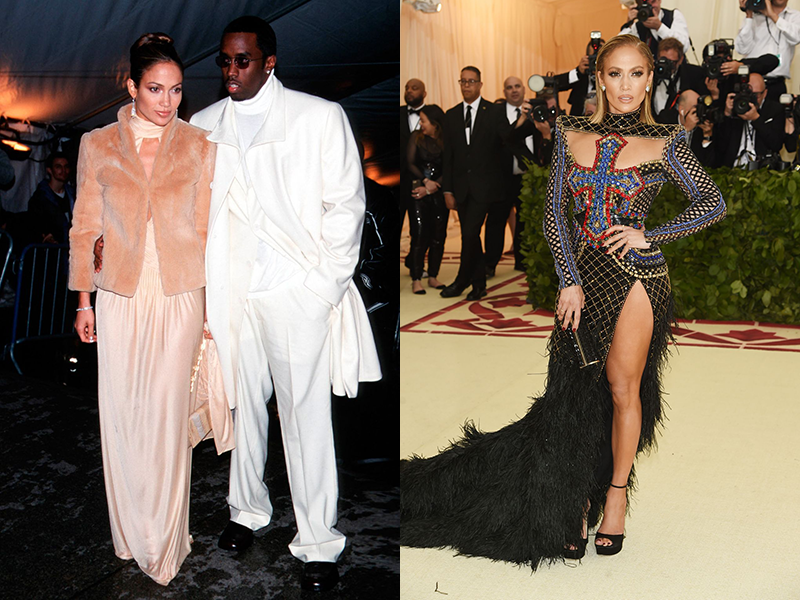 Jennifer Lopez 1999 vs. 2018
Another 2019 committee member with a remarkable style evolution is JLo. Although I would easily rock her 1999 pink fur jacket, Jenny from the Block made headlines with her Balmain dress last year. In this year's edition, she will be seen in the last ever dress by longtime Versace tailor Luigi Massi, who sadly passed in the middle of making her Met Gala gown.
The Met Gala 2019 will take place on May 6.
Imagery sourced from Vogue and Harper's Bazaar.