The sky's the limit; a sit down with shoe designer Nicole Rebstock 
Nicole Rebstock is no slouch. At the age of 22, the young law student made the unlikely decision to forgo her legal career for a life of fashion, and it's paid off. Rebstock's success is built on delicate, feminine shoe designs created with high-quality material that consumers have grown to trust.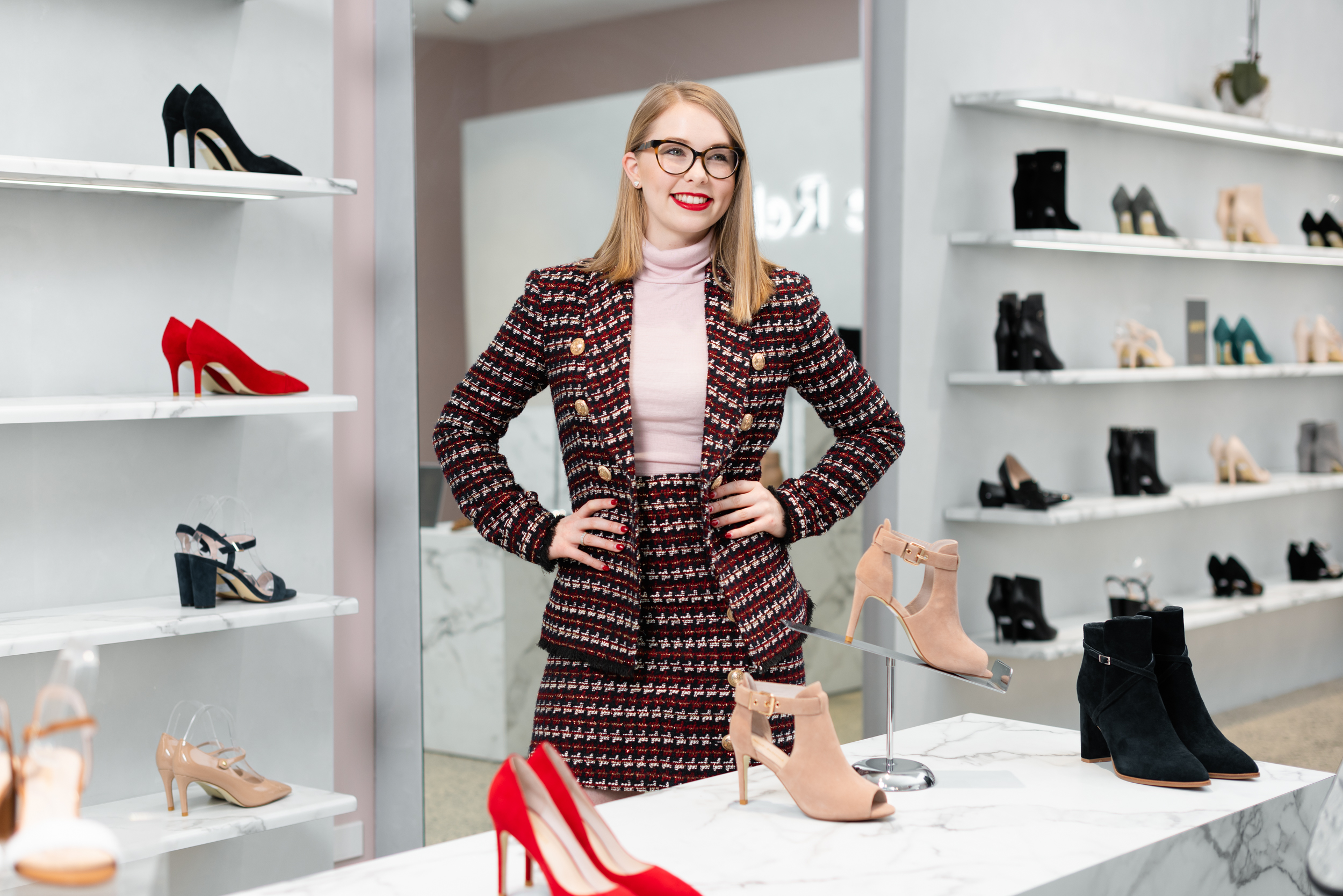 The complex, yet classic silhouettes that characterise the young designer's style, have secured her position as an influential creative making her presence felt in the fashion industry. Remix Editor Amber Baker sat down with the savvy entrepreneur to discuss the journey and the future for herself and the brand...

1. If you were asked to describe Nicole Rebstock in one minute, what would you say?
The Nicole Rebstock brand is a reflection of my fashion sense. I love classic lines and bold colours. Most importantly for me, however, the brand is a reflection of taking a risk and doing what you love, rather than taking a common path.
I launched the brand online in 2016, soon after completing a Law and Commerce degree at the University of Auckland. At that stage, I was really just doing it part-time and testing the waters. However, in 2017 I decided to go all-in and open my first retail store on High Street in Auckland CBD. It was a stressful time as it was all very new to me. I was running every part of the business- the design, quality control, marketing, accounting and working in the store 6 days a week. The first year was challenging but proved to be successful and I knew I wanted to expand the brand.
Since then I have opened a second store in Newmarket and we are looking into opening a third store next year.
2. Not many people go from lawyer to shoe designer, can you expand a little on what prompted such a change?
I think when most people start University, they don't know what they want to do. I remember going into my second year of law and thinking "I cannot see myself waking up every day and doing this". I just didn't love it in the way that you need to love the law to survive a career in it. I think it's quite a big problem in Law School. People go after the prestige but don't actually ask themselves whether they will enjoy the work.
There was a period of time where I felt completely lost. I loved fashion, and shoes in particular, but I had absolutely no background in it and had never even considered it a career option. However, there was one morning in the mid-term uni break where I had about 3 legal opinions to write. I was lying in bed, procrastinating and right then, something just snapped in me. I just thought- "not everyone is born with the knowledge necessary to start a business or design shoes, you have to practice and learn and if other people can do it then so can I". And I quite literally ran downstairs and got some paper and a pencil, jumped back in bed and drew my first shoe. Granted, it wasn't a great drawing, but it was the start of something! From then on I was committed to making this work.
3. You've clearly identified a niche in the market., how long did it take from that moment to the sale of your first pair of shoes?
About 3 years. As soon as I decided this was what I wanted to do, I got part-time job in shoe shop, alongside my degree, and to be honest that was probably the most important thing I ever did in starting my business. Being able to design a nice pair of shoes is really only a small part of running a successful shoe brand. You have to design things that other people will like, not just what you like, and you have to be able to actually run a store or there is no business. Working on the floor in a shop gives you full access to what customers want and how to run a shoe store. It's basically the best market research you can do- just observing people, why they like certain things, why they don't, what they would have preferred, why this or that fits or doesn't fit well. There really is no better place to learn that. It is the bread and butter of your business.
While I learnt a lot on the shop floor and in my own time, I knew I had gaps in my knowledge. After I finished my degree, I went to the the London College of Fashion and did an intense shoe construction course- which really helped me fill any holes of knowledge that I needed for manufacturing. My teacher was incredible and I still keep in contact with him til this day.
Several months after that I had my first shoe collection online for sale.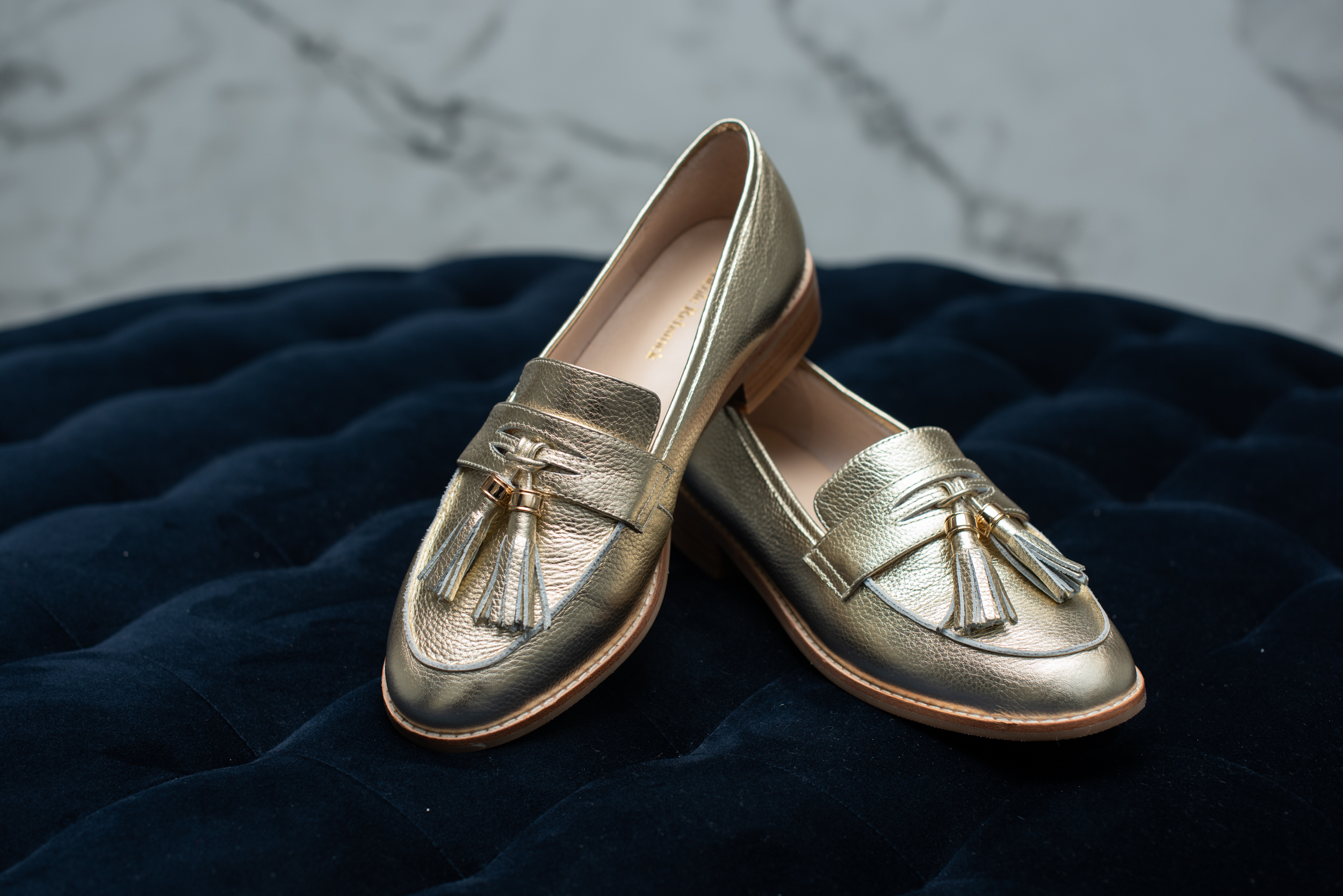 4. Can you tell us what that process was like?
Daunting to be completely honest. You just sit there and think, "oh my god, there a million things to do but where do I begin?"
A lot of people would work for someone else in a head office role for years before venturing out like this but I had no interest in that. I'm quite an impatient person and I also figured I didn't want to get stuck in someone else's mind set. They would already be doing something successfully and then I would just learn to copy that. That didn't appeal to me and there's not much point just replicating the same thing. After all, it already exists!
Finding a manufacturer was probably the most challenging part. Fortunately, I had a dear childhood friend who had done some manufacturing in China in clothing so she helped me look though some manufacturers online. I knew the only way I was going to really find someone good was to meet them so I drafted an email, in which I tried to make myself look a lot more legit than I was! I sent it to about 5 manufacturers. I didn't expect much but surprisingly I got 4 replies. I asked them all to make me a sample of a court shoe. Of these manufacturers, 3 samples looked good so I arranged to meet them in person.
One thing I wasn't prepared for was the fact that no one speaks any English in Guangzhou and hence, one of my Chinese friends was terrified for me. It's funny how things work out though because I was studying in the foyer at uni one day and this girl came in who I had done an assignment with. She had her graduation gear on so I went to go congratulate her. We got talking and I asked her what she was going to do now and she said she was going to work for her fathers company in China and I said "oh I'm going to China soon to try to meet some manufacturers" and she said "Oh what part?" I said "Guangzhou" and she said "Oh that's where I live. You'll stay with me". I thought 'My god, what are the chances of that?'.
So off I went to Gunagzhou. Mandy (my friend) came with me to meet all the manufacturers. Our final meeting nearly didn't happen. It was the middle of summer in Guangzhou and I hadn't quite experienced the kind of heat they have in August and I had nearly passed out! I told her I thought we needed to cancel but we sat down and had a drink and after some time I said "ok, let's just go".
We were so late. I was terribly embarrassed at the time but I am so glad I made the decision to go because it became clear very quickly that I had found "the one". They have been my manufacturers since day one and I love working with them. Their knowledge and skill is exceptional and their manufacturing is immaculate. It is a privilege for me to work with them and while we have a business relationship, I certainly consider them my friends.
5. Have you always had a love for design and footwear?
No, and I have no formal design background! I have always loved shoes in the way that most girls love shoes but nothing more than that! If someone told me this is what I would be doing at the age of 20 I would have laughed at them and said: "there's no way".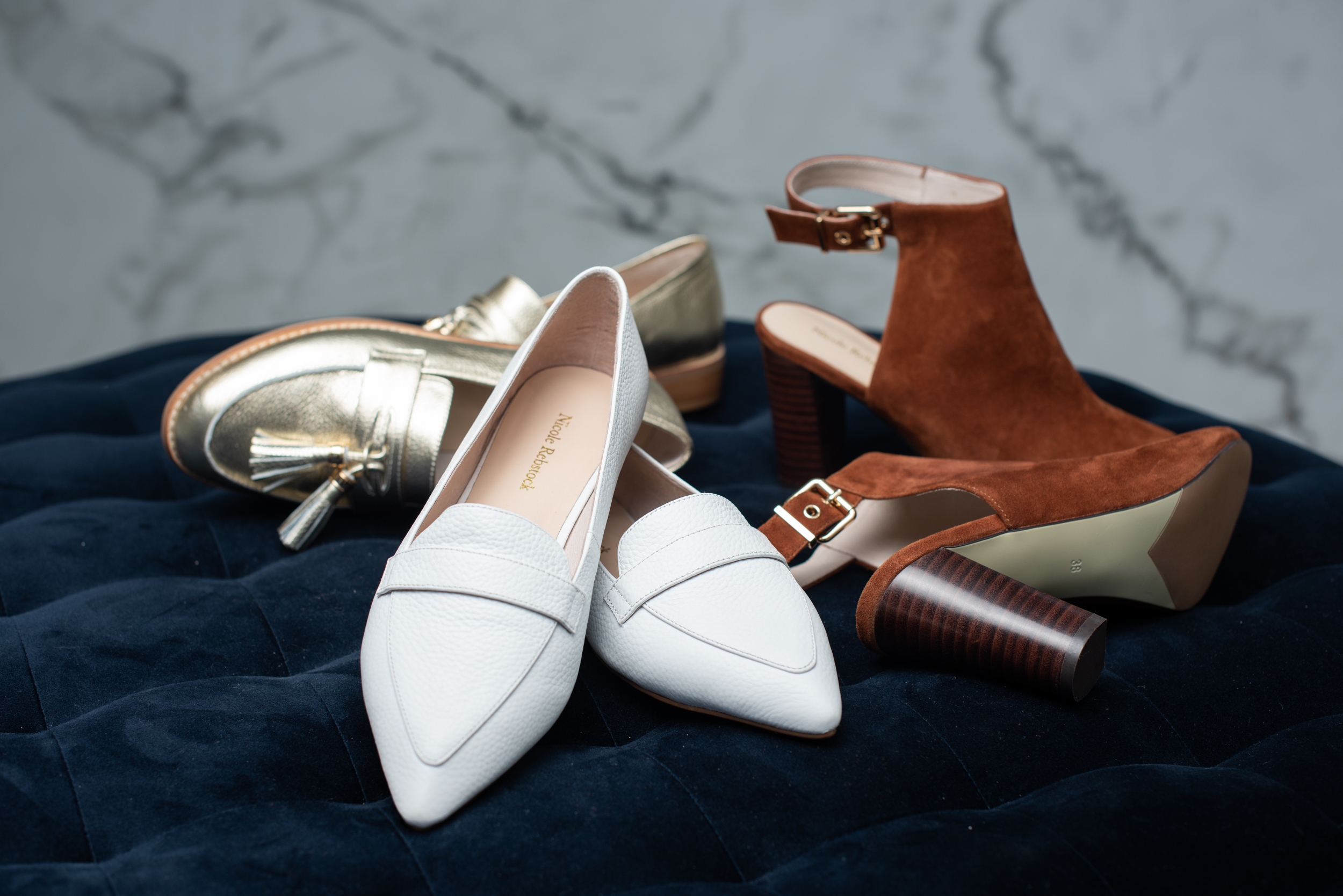 6. It's clear that your designs have a focus on longevity, what steps do you take to ensure this?
There are two parts to this. Firstly, the brand is very much about classic designs, rather than fast fashion. I like to call it "forever fashion". I like to design shoes that will be considered beautiful for forever, rather than on-trend for one season.
Secondly, I always select high-quality materials that I know will last a long time if cared for appropriately.
7. How do you incorporate sustainability into your business model?
Again, I would say there are two parts to this. Firstly, I think our product is inherently more sustainable as we are producing forever in fashion as opposed to fast fashion.
Secondly, I only work with companies that meet our ethical and social responsibility standards. These standards include, among other things, a fair and livable wage, good working conditions and a feeling of belonging in the workplace.
I think people are sometimes unsure about China and its standards both in quality and social responsibility, but having worked there for some time now, it is very clear to me that it is not about what country you are manufacturing in, it's about what people you choose to work with and things have really progressed in China. Manufacturing is not the way it was in the '90s.
I work with a wonderful, family-owned manufacturer in Guangzhou, China, who has an open-door policy which means I can visit at any time. Some of the employees travel for work so the factory also provides housing for employees if they would like to use it. They also provide meals throughout the day for staff. One of the reasons I like the factory is because everyone has a real sense of belonging and they are all good friends. Staff turnover is low in our factory because the staff are happy. It's always nice seeing the same familiar faces each time I visit and it also means that the level of quality remains consistently high.
The owner and manager at the factory are very kind. They always pick me up/take me to the airport when I come to Guangzhou and look after me while I'm there. I have a closer relationship with the manager as we work together directly and we go to the market and select high-quality materials for future collections. My manufacturers have a preferred selection of companies that they trust and work with for components so we often visit the same places. While I'm there, myself and several members of the team perform a second round of quality control on the current production before it is shipped (this happens for every production run we do). I often like to walk around the factory and watch the shoes being made as everything is handmade and it is quite incredible to watch- the level of skill that is required, yet how easily they make it look, when believe me it is not easy at all, it's quite fascinating!
While we do a lot of work together while I'm there, we also have fun! They have the best food in Guangzhou! We always go out for lunch and dinner. I went in January before Chinese New Year and all the staff went out for a big end of year celebration and it was really fun to be part of that!
8. Tell us a little bit about your creative process…
The start of the design process is probably the most fun as you get to play with ideas and decide on colour pallets, toe shapes and look at certain ideas for embellishments that you might tie into the season.
Once I've got a rough idea of where I'm heading with a collection, I start deciding on what lasts (shoe moulds) and heel moulds we will use for the season. While this is informed by trends, I tend to listen more to what customer ask for.
After deciding on the shapes, I then start looking at what the uppers might look like. I'll look at trends and sometimes I will go for a trend but tone it down to keep it a bit more classic. Or I will go for seasonal colours but keep the designs and lines more simple.
The designs and materials then all have to be specified for my manufacturer. The technicians at the factory will then produce samples based on my specifications. They are quite talented designers themselves and sometimes they might suggest small additions to designs. They understand the brand's style so often we will take those suggestions on board!
The most challenging part is getting the last (shoe mould) right as this determines the comfort and fit of the shoe. And when you think about the fact that we all have quite different feet, making one mould that will suit all is a challenge! Often we will make a sample, after sample, after sample to perfect the last. As a rule, the lasts I make are slightly wider fitting as Kiwi's tend to have wider feet. You do have to make lasts that suit your target market! Once the last is sorted, it's pretty smooth sailing!
9. What inspires you?
I think often people don't realise but owning a shoe label is not just about designing pretty shoes. You have an entire business to run and that can be a lot of pressure at times.
My mother and father always taught me to work hard and do the right thing, even when it's not easy. I would say that as a businesswoman, they inspire me a lot as they both worked so hard for what they have.
Kate Spade always inspired me a lot too. The story of how she started the Kate Spade brand resonates with me as people see a pretty shop front with beautiful shoes but when you're a start-up there's a lot of blood, sweat and tears behind the scenes and people don't see that. So it is refreshing when you hear a hugely successful business person bring things down to earth and talk about how they started their business out of their tiny apartment and had boxes stacked up to the ceiling because that is the reality that is so often not talked about!
As a designer, I look up to brands such as Gianvitto Rossi and Jimmy Choo. However, rather than following trends, I'm often tempted to just do my own thing! Sometimes I love certain trends and can tie them in nicely with the brand but there are other trends I just won't follow because I think that while they might be interesting on a runway, I know my customers won't like them.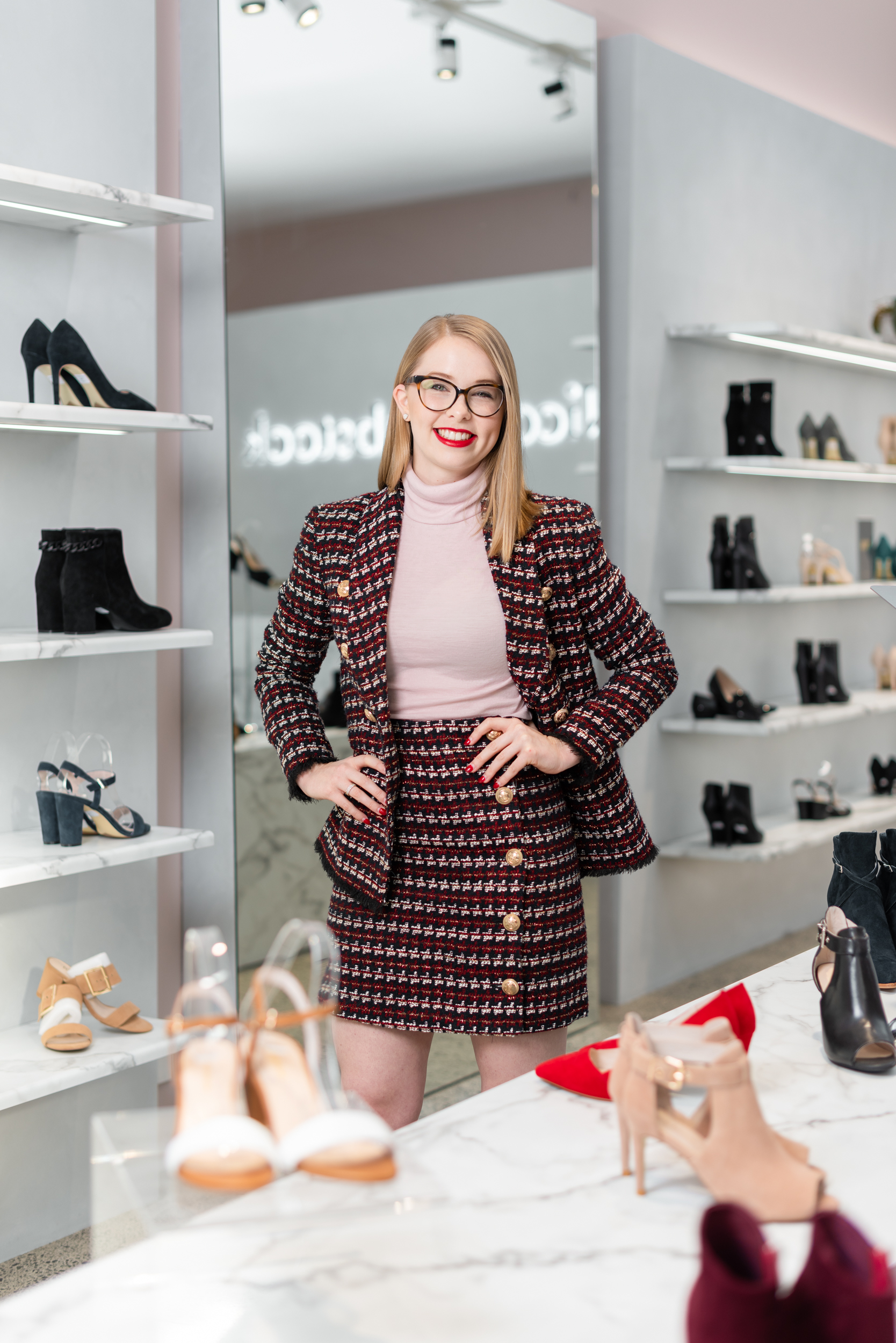 10. What do you think are the greatest challenges you face as a designer. How do these compare and differ from those faced as a lawyer?
Despite the difference in the field, I think there are a lot of similar challenges.
As a business owner, you are trying to grow your brand, which is not so different from working as a lawyer. There too, you have to grow your personal brand, become established as being the best.
I think anyone who is trying to make it to the top in the legal profession or become a market leader is going to face adversity, whether it be from peers, competitors or clients and I think the way you manage that adversity is what makes or breaks you. You have to be able to get back up if you fall and fortunately, you become more resilient as you go!
One thing that differs is the level of risk you take on when starting a business like this. The level of investment required to fund a start-up is significant and even if you are a lawyer going out to practice on your own, the costs are just nowhere near as big. I think it takes a certain type of person to have the stomach for that!
A lot of people say that it's such a shame that I wasted all this time doing a law degree but in reality, it is the only reason I developed the confidence to start this business. It is also incredibly helpful in running my business and as I'm a young female, it helps generate a level of respect when dealing with businesses overseas.
11. Who is the Nicole Rebstock woman...?
Whoever SHE wants to be!
12. What do the next five years according to Nicole Rebstock look like?
I'd like to expand into other areas of the country and also the Australian market. In doing so I hope to develop a team that feels both motivated and has a sense of belonging in their work environment! I also hope that I will continue to have the privilege of working with my current manufacturers!