Meet the talent behind NZ's hottest new handbag label
Auckland-based duo Amanda and Kristin are living proof that being in business with your bestie is just as much fun as you'd think it'd be.
They're the talented pair behind newly-minted, premium handbag label, Mavrick & Mere. Created through their shared passion for high-quality leather goods, handbags and fashion, Amanda and Kristin debuted their inaugural "Kiss Bang" collection in March this year.
Edgy yet chic, the four authentic statement handbags from their collection are crafted from ethically sourced, high-quality, hand-picked leather from Vietnam and cater to four distinct tastes – from sophisticated chic or high-end elegance, to the edgy femme fatale or the girl-next-door.
With an essence that captures the two sides in every woman, Mavrick & Mere handbags are investment pieces that are relatable and compelling, with a timeless aesthetic that will outlast seasons and trends to come.
We chatted to the girls about their inspiration behind Mavrick & Mere, challenges they face within the industry, and what's next for this luxe leather label.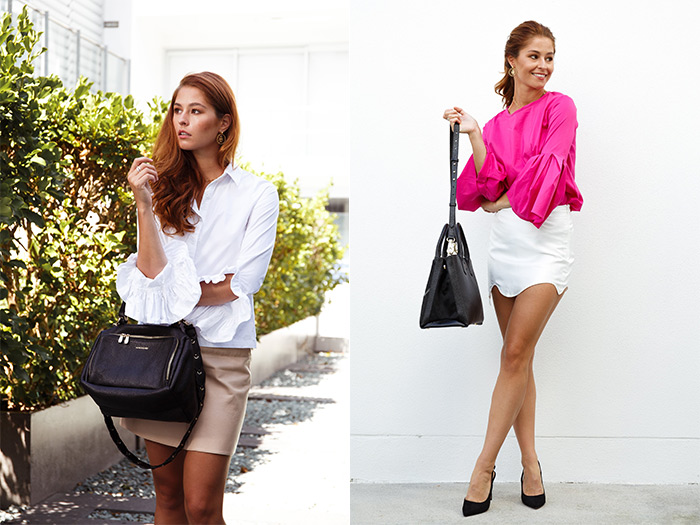 What gets you girls out of bed in the morning?
"The prospect of building a leather bag empire that originated in New Zealand and something as small as walking down the road one day and seeing a stranger wearing one of our bags," says Amanda.
"The desire to grow our business from a New Zealand start up into an international label keeps us focussed on our goals."
Kristin adds: "…knowing we are creating a brand we love, which other women around the world can enjoy and love just as much as us. All women need to embrace some arm candy."


What's been the biggest challenge so far?
"Production by far!" exclaims Amanda.
"Being a perfectionist myself I want to deliver the best possible designed bags and highest quality finish to my customer; this can be challenging when you want custom made features."
"When we embarked on this journey two years ago, we simply thought it was a case of, design, manufacture, sell handbags, but the reality is so much more than we thought, it has been a humbling rollercoaster and a challenging transition from a part time passion to a time-demanding business," she says.


What's been the best reward?
"Seeing our samples come to life and even to have come this far is amazing. Also, it can be a lot easier for an idea to only ever stay as an idea, but we have remained determined and kept pursuing our dreams to make it a reality," says Kristin.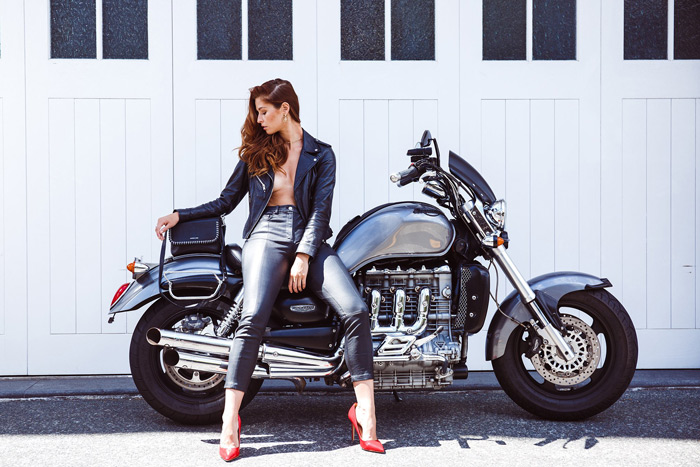 Where do you get your inspiration from?
"You could say art! I always have been a lover of anything creative, which has inspired my love for textures and geometrical shapes and lines and being experimental in these areas. Creating bags that people want to stare at because they are slightly abstract from the norm," Amanda explains.
"I personally like my bag to be the statement feature of my outfit, especially when you are wearing jeans and a tee, we want our bags to lift your outfit from something ordinary to fab! We have really tried to make statement pieces, carrying our custom hexagon logo and geo shapes through the detailing," says Kristin.


What can we expect from the next collection?
Amanda notes: "…more classics with edgy touches. Greater variety in functionality and a broader range of leather items including wallets, belts, laptop and travel bags, the list will go on"
"Our next collection is going to be out of this world! with so much that we have learnt from the last two years, we won't be afraid to really go for it and be experimental with our designs," adds Kristin.
In addition to working on their new collection, Mavrick & Mere are hosting a pop-up shop inside Ponsonby central in Auckland from the 23rd-30th of July. You don't want to miss out on this opportunity to get your hot little hands on these heavenly handbags. Follow the duo on Instagram to be into win their pop-up giveaways!