Kate Sylvester at Sydney Fashion Week: Our favourite looks from the catwalk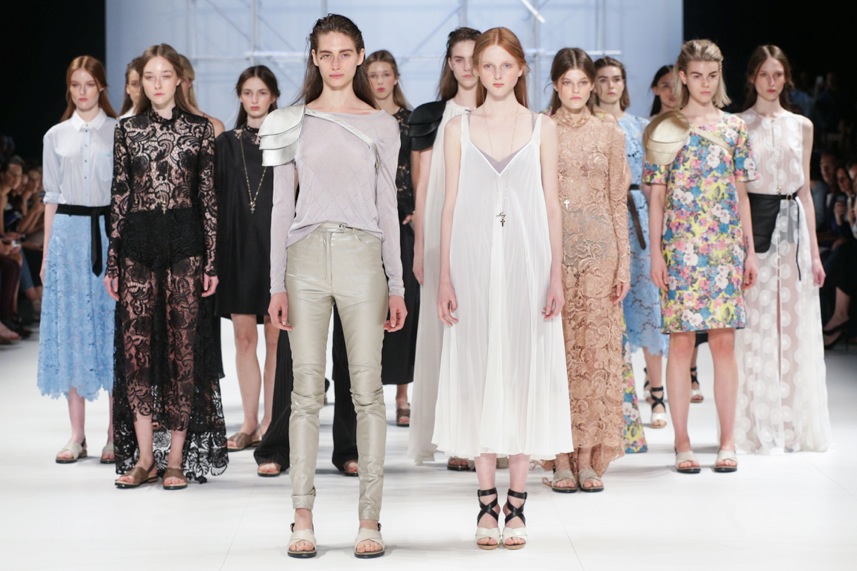 Kate Sylvester's show at Mercedes-Benz Fashion Week Australia yesterday brought her Spring Summer 2015/16 collection beautifully to life. See some of our favourite looks in the gallery below, with images by Lucas Dawson.
For summer Kate Sylvester has taken Romeo and Juliet, one of the most loved stories of all time, and turned it into signature Kate - a nonchalant celebration of casual luxury and sartorial classics that tells a story and captures an emotion for Kate's fans to embrace and celebrate.
Homage is paid to both the 1970's movie by Franco Zefferelli, and the 90's version by Baz Lurhman. From the Zefferelli version we have Juliet's billowy, crumpled nightgowns in silk muslin and achingly feminine dresses in virginal white, hopeful blue, bold green and passionate red. Caramel lace trails on the floor.
Medieval pageantry is updated and interpreted into modern sports-lux jockey silks, a sharp bomber jacket and sexy cross back slip dress feature this bold graphic colour blocking. Romeo's armour is reinvented in matt leatherette and 'dagger' belts are worn for modern day sartorial combat. Chainmail becomes slinky, soft knitwear and cotton mesh is emblazoned with the naïve declaration R4J in grand gothic script.
From the iconic Baz Lurhman movie we have Leonardo DeCaprio's Romeo in all his glory. Kate has updated his floral shirt, dishevelled his DB suits and louche pinstripes. Neckties are slung around necks or nonchalantly used as belts to hold up boyfriend trousers.
Wayne Conway's set of pared back, austere scaffolding evoked a deconstructed medieval castle or modern day trellis for our erstwhile Romeo to scale.
The soundtrack, starting with 16yr old Spooky Black and climaxing with Borns Electric Love captured all the longing, confusion, angst and exhilaration of teenage love. The minimalist set and soundtrack were the perfect foil for the rich tapestry of lace, colour and print artfully styled by Naomi Smith.
Smith cast a beautiful gang of swaggering Romeos and radiant Juliets.
Hair director Richard Kavanagh for Redken created effortlessly tossled quiffs for Romeo and Juliet's cascading locks were nonchalantly pinned back with hair clips created by MNPT Jewellery.
The hair was beautifully complimented by Naomi McFadden for M.A.C.'s glowing skin and just kissed lips. Her bad boy Romeo's wore an X tattoo under one eye.
Kate Sylvester's Spring Summer 2015/16 collection takes you on an evocative journey to rediscover the world's most famous love story. Click here to visit Kate Sylvester online.
Photos by Lucas Dawson.
[gallery link="file" ids="5730,5717,5716,5715,5718,5721,5733,5735,5758,5743,5741,5740,5726,5727,5759"]