Hype DC open their first store in Auckland!
Start counting your pennies and cashing in some of your annual leave Aucklanders because HYPE DC has just opened their first New Zealand store. With over 63 stores in Australia, HYPE DC has established itself as being one of the top suppliers of elevated footwear across the globe. Twenty years since its humble beginnings, the premium sneaker retail is finely reaching New Zealand shores! It's flagship store is located on Queen Street, and not only is it the first store in the country, it is also boasting the new aesthetic treatment that was first displayed at HYPE DC QVB (Sydney) earlier in the year.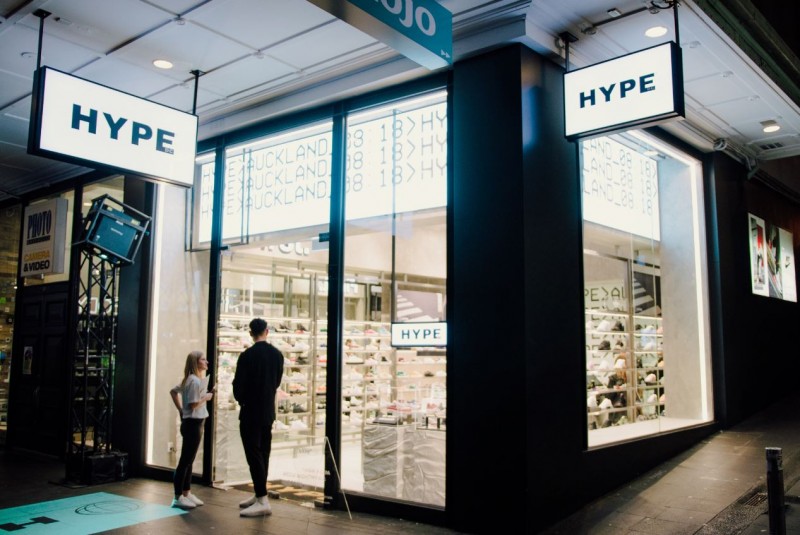 The Remix team were lucky enough to attend the exclusive invite only event which took place in the new store last night. The minimalist store was transformed into a sneaker heads haven, as lucky guests were greeted with their very own customised acrylic shoe boxes. What's better than a personalised sneaker box you ask? Answer; being able to fill them with any shoe style of your choice! This was the first of this style opening for the brand, and it went off without a hitch. Complementary HYPE DC branded Harpoon Cold Brew's and globe white chocolate desserts from Milse completed the offerings.
Sound like you? If you visit the store between Wednesday 1st and Sunday 5th of August, you will get a free short or long sleeve T-Shirt and tote with any footwear purchase! There is also the opportunity to customize your sneakers with the EBS Handjet printer.
From Thursday 2nd – Sunday 4th the first 10 customers to spend over $50 will receive one of the limited-edition acrylic boxes and vac-packed gift packs. So get in quick, speaking from experience – you don't want to miss these epic instore experiences!
HYPE DC
184 Queen Street
Auckland