Clothes not sparking joy? Read on to see Remix's top tips for 'dopamine dressing'
Ever heard of 'enclothed cognition'? You might not be familiar with its scientific term, but you've likely witnessed its power once or twice in your life. This fascinating psychological phenomenon is the idea that what you wear has a direct influence on the way you feel, behave and see the world. We all know the saying "Dress for the job you want, not the job you have", but 'dopamine dressing' or dressing for joy, goes further than just power dressing for a promotion.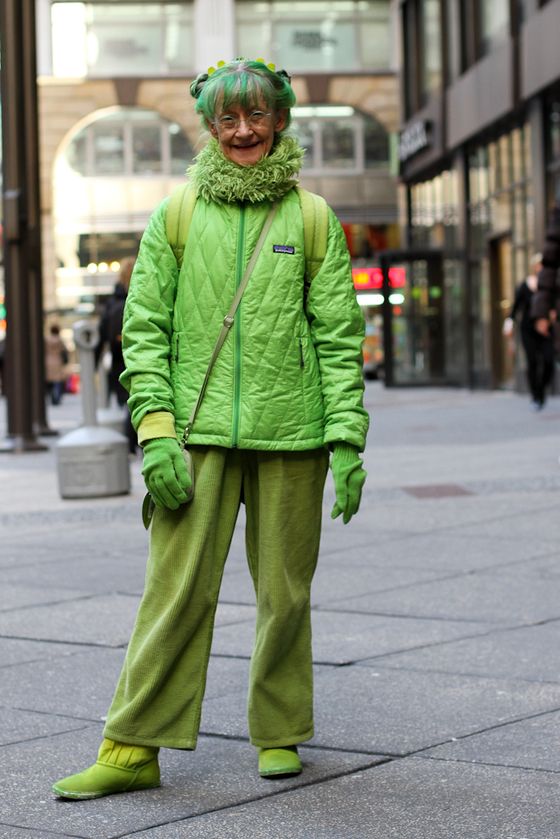 Like the name suggests, dopamine dressing releases a rush of the feel-good neurotransmitter, aka "happy hormones" allowing the outfit you start your day with to bleed positivity onto not only your own self, but the people around you. I'll never forget the day I learnt of the "Green Lady of Brooklyn". Elizabeth Eaton Rosenthal, better known as "Sweetheart" has dressed in green from head to toe for almost 30 years. The now 80 year old artist says, "It makes me feel happy. You can wake up really miserable in the morning and then you get dressed and turn green and it's quite wonderful." Greenifying her style not only brings her happiness, but those around her too. "Everyday I meet just the most interesting people and children," she said. "It's just awesome." Dopamine dressing is infectious.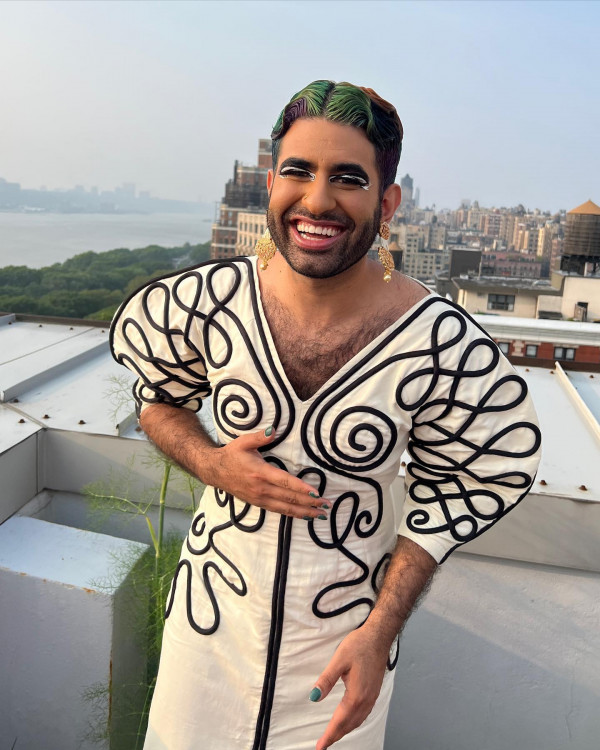 One woman has become an expert on the topic; described by The Times as "the world's first fashion psychologist", Dr Dawnn Karen (professor at New York's Fashion Institute of Technology) explains, "Through our clothing, we can actually have a sense of control". Having control over your mood through fashion might seem a laughable claim, a bit 'woo woo' to the squares of the world, but having experienced it first hand I am a devoted follower; 9 times out of 10 what I choose in the morning will have an effect on my day in some shape or form. I'm not alone.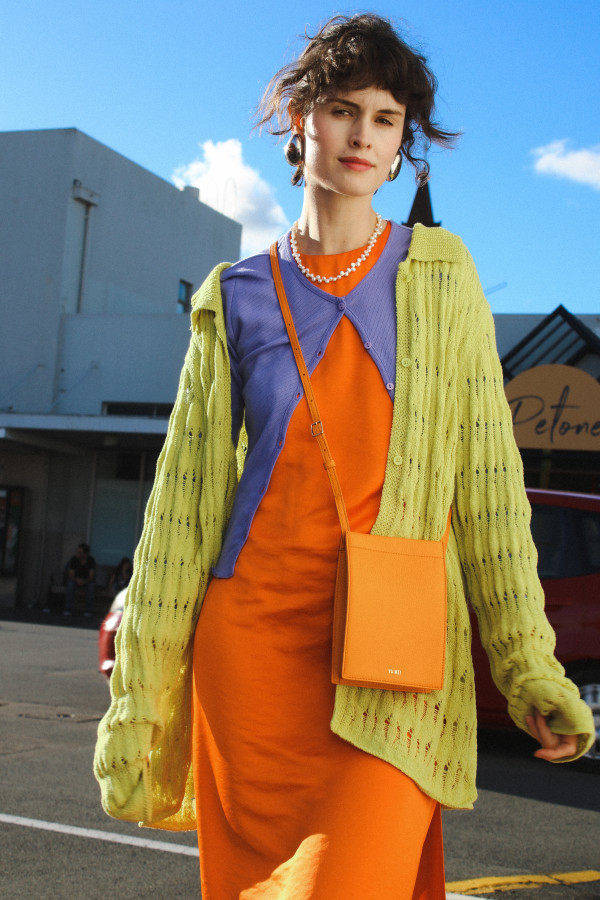 Known internationally for her joyful dressing and renowned styling, local fashion tastemaker Chloe Hill agrees, saying "We're practical [New Zealanders], and often encouraged to play it down, but I wish we had more of a culture of encouraging individuality without fear of judgement! Every individual piece I wear needs to bring me some joy, whether it's a colour I love, a cool silhouette or even a small fun detail. I don't want to waste any time wearing something boring that doesn't make me smile." She's also incredibly deliberate with what she adds to her wardrobe, the Pōneke based stylist explained, "I pick pieces I know I will still feel joyful wearing 30 years down the track. My question when I buy something is - will I wear it lots now, and will I still love it in a decade or two?" Her version of a capsule wardrobe has its go-to formula when she wants to express joy - "A fun printed skirt, a beautiful knit or coat and a couple of accessories to top it off - maybe a printed scarf or a bunch of brooches."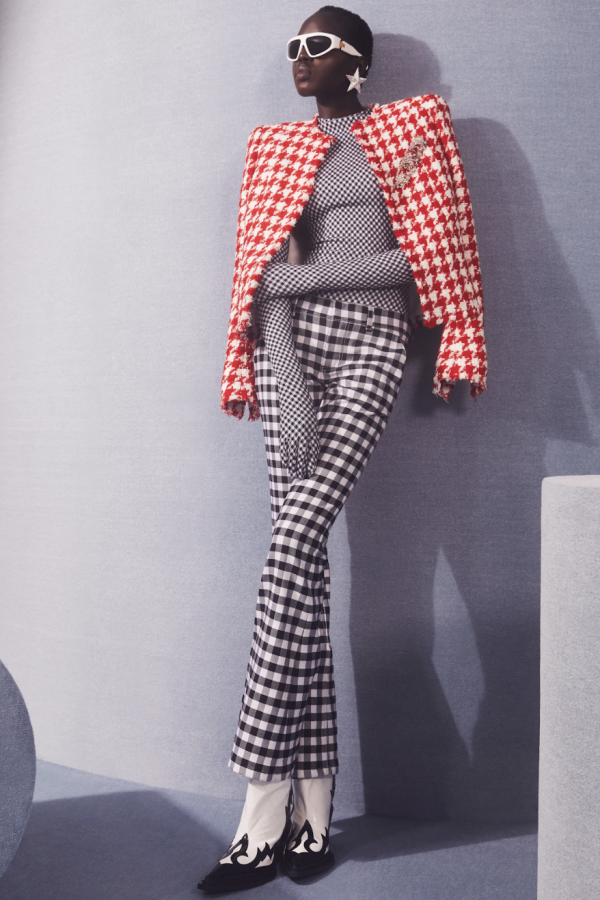 Dopamine dressing means you don't have to abide by the rules of so-called 'good taste', or what I like to call conservative Kiwi style. I consider myself a dopamine-dresser. On a regular basis, my norm-core-challenging outfits don't blend into the status-quo and sometimes they're met with surprise. For instance; wearing a head-to-toe neon orange silk pyjama style set and Gucci rubber clogs on my way home from work recently I was quickly reminded this is not the usual North Shore mum wardrobe for a supermarket run. As wide eyed locals took it all in, with my Jacquemus bag balanced in one arm, and a jumbo pack of nappies in the other, I smiled, fighting the urge to say 'No, they're not pyjamas.' But it was the knowing smile I got in return from a silver-haired elderly woman in the checkout aisle opposite that I'll never forget, with an impressively eccentric seven animal brooches dangling from her fuschia pink cardigan and winged eyeliner peeking out from bright blue wide-rimmed specs. She got it.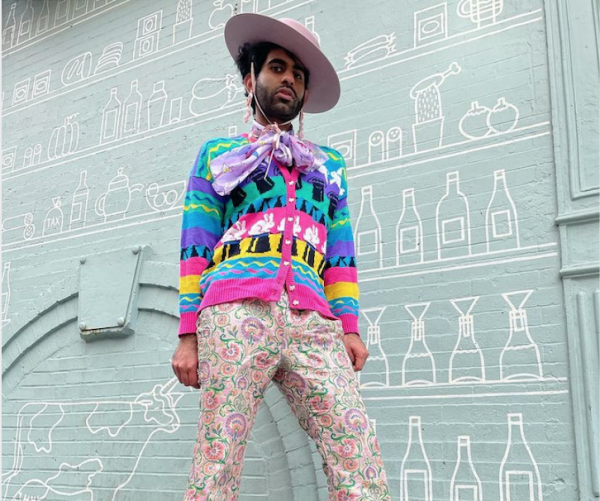 Afterall, there's a plethora of dopamine-dressers out there and our light-hearted looks act as a sort of password, a beacon to our fellow friends clothed in confidence that we're a community, here to serve in more ways than one. Being in the fashion and magazine industry, naturally I have a wider base palette of style in my environment to explore than, say, my friends in IT. Due to the daily consumption of international and new season fashion, we see bolder-than-usual looks as the norm. But this spirit for dressing however TF I wanted, began long before any role in the media. I recall a mufti day at school where I colour coordinated mint coloured cowboy boots (yes, mint) to an off-the-shoulder mint green top and white mini skirt. Did the teachers regard me with ridicule? Yes. Did my school friends eye me with confusion? Yes. Did I spend the entire day awkwardly re-adjusting my top which kept sliding up every time I tried to write anything on my desk? Yes. But during a time when the sinful combination of skate shoes and pink Ralph Lauren polo shirts were the only acceptable showcase on the school quad runway, I remembered the deep satisfaction that I looked… different.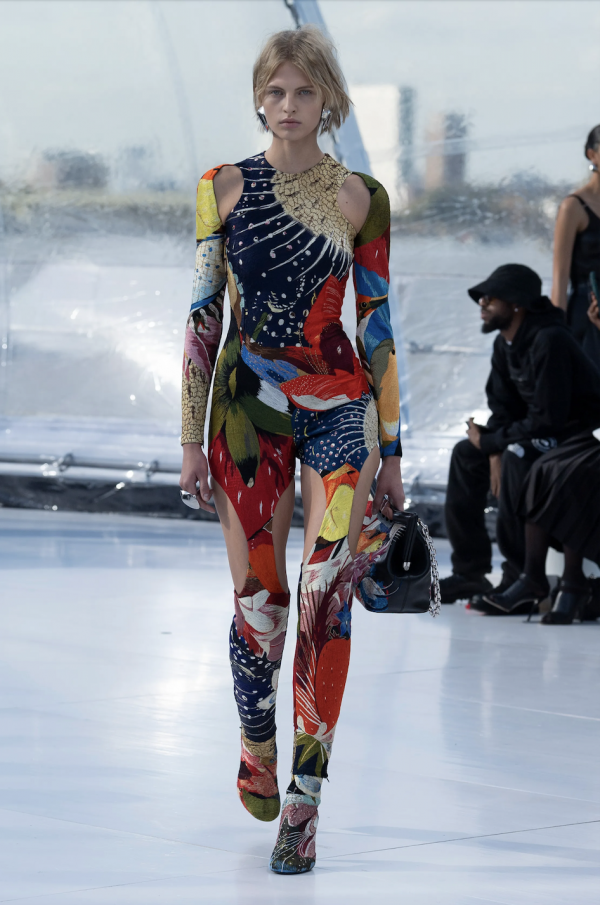 I've been chasing that same high ever since. Having a chance to tell a story through my clothes has become somewhat of a healthy addiction. If you're a beginner to dopamine dressing, I invite you to start with adding more of your favourite colours into your wardrobe - shades that remind you of a happier time, a place or a person. I'll admit I'm still human (and a parent) and I don't shy away from stained black activewear on the weekends, but if I have time to put together a fit that makes myself (and the seemingly grumpiest of locals) smile, I'm in. At the end of the day, we're not here long. We might as well bond over mint-coloured cowboy boots and eccentric animal brooches.