Chanel premieres Karl Lagerfeld's final collection
The Grand Palais in Paris emitted a bittersweet buzz as throngs of fashion luminaries came to witness Karl Lagerfeld's final Chanel show, the Fall 2019 Ready-to-Wear collection. The end of an era.
If reports are to be believed, Karl Lagerfeld knew he was dying when he planned the show in tandem with self-proclaimed right arm Virginie Viard, the newly-appointed artistic director of Chanel. The spectacle of the show itself was accompanied by the ambience of a winter wonderland. A dozen Swiss chalets with puffing chimneys, a setting of snow-capped mountains, frosted firs, and a runway buried in soft powder which drifted celestially downwards. A cosy Christmas vacation, confined within the historic magnificence of the Grand Palais.
The farewell was marked by an aura of tranquil mourning. Inside the frosted haven, the wind chimes began tinkling. Cara Delevingne led the sequence of leggy beauties onto the steps of the ersatz alpine lodge, the 'Chalet Gardenia', preceding a minute of sombre silence. Then came Karl Lagerfeld's signature staccato, a rapid-fire flow of French which needed no help in conjuring the iconic image of a starched white collar and silver ponytail.
The collection embodied the best of Lagerfeld's balance between forward-looking fashion, and timeless style. Bold pops of fuschia and small doses of teal and cerulean blue interspersed a palette of classic neutrals and a plethora of houndstooth. Fanny packs trimmed in shearling, chunky chains and double-breasted detailing granted a nod to current trends, while tweed suits and interlocking C's saluted the past.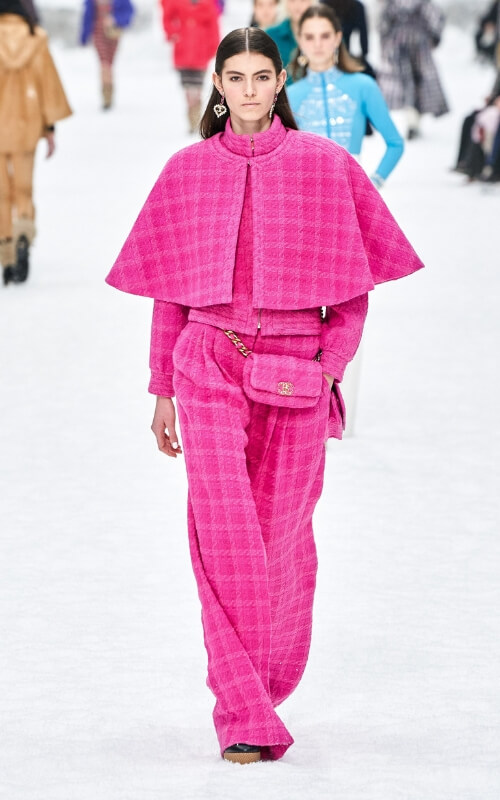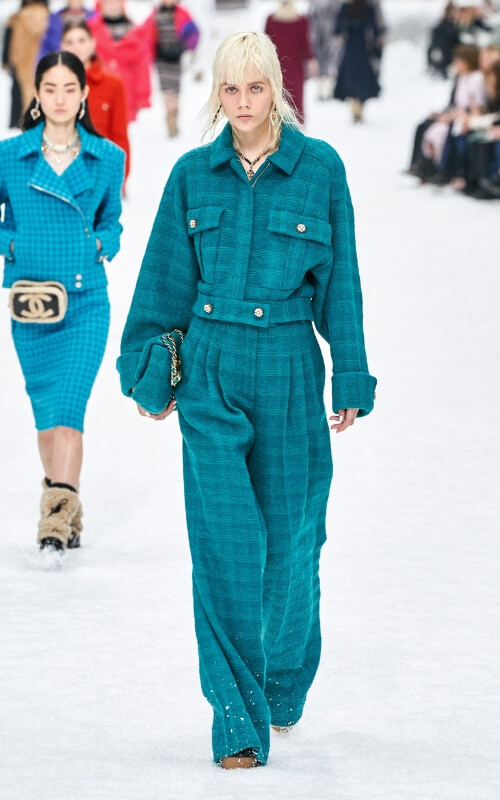 The trouser suits were a definite highlight. Wide-legged trousers, elegant twinsets, voluminous coats and matching fedoras echoed the drama of stylish film noirs, while also exuding the luxury wearability of classic Chanel prêt-à-porter. Ruffled organza, glittering accessories and sharply tailored silhouettes added femininity beneath the oversized tweed outerwear.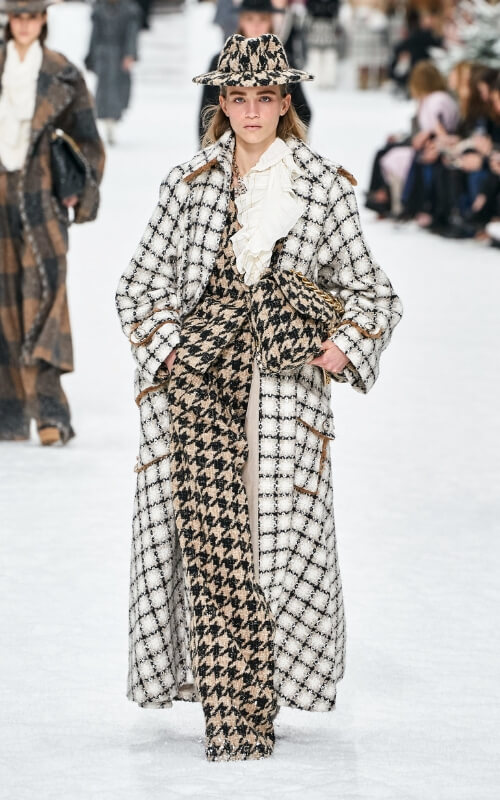 Sparkling crystal appliqué, deft embroidery, chain belts and diamonté monograms offset Lagerfeld's penchant for chunkier pieces, seen with sheepskin snow boots, Nordic sweaters and colourful puffers.
The section of whites mirrored an icicle-esque luminosity, with white duchess satin tuxedos, icy jewels, crystalline bodices and a stunning range of 'snowball' dresses created in chiffon and marabou. For the finale, actress and recent Chanel ambassador Penelope Cruz strutted in a feathery chiffon snowball skirt, complete with a white rose.
As the runway came to a close, the tears welled, the audience rose in standing ovation, and a tangible feeling of closure settled; the end of a chapter for Chanel. The runway may just be another evanescent display; but the legacy of Lagerfeld's creative genius is omnipresent, found in every facet, every fold, of past, present, and future fashion. Needless to say, it was a poignant moment for the industry as everyone from Anna Wintour to Janelle Monáe came to say their final goodbye. On each of the almost 2,660 seats was a gift of Rouge Noir nail polish, Chanel No. 19 fragrance, and a replica of Lagerfeld's felicitous sketch depicting himself walking alongside Coco Chanel, titled "The Beat Goes On". Coco has gone. Lagerfeld has passed. But ultimately, the show must go on.
Imagery sourced from Vogue Runway.