All hands on deck! Chanel's Cruise 2019 nautical wonderland
With winter fast approaching, it's easy to get lost in day dreams full of sunny weather and better times.
Resort 2019 runway shows are the perfect opportunity to inspire some of these daydreams and fuel the planning of your next getaway.
When it comes to fashion shows, leave it to Karl Lagerfeld to pull out all the stops to make his Chanel shows an all-enthralling experience. Chanel's Cruise 2019 runway set was nothing short of dreamy, featuring a real cruise ship named "La Pausa" after Gabrielle "Coco" Chanel's French Riviera holiday home.
The cruise ship sat atop a painted life-like ocean and featured strings of fairy lights all along the top deck with ropes hanging down to the runway, which doubled as the cruise-ship dock. The cruise ship acted as a stunning backdrop for the fashion models, painting the perfect picture of a summer holiday in the south of France.
The show itself was immaculately presented and all the models were looking as chic as we wish we could be, but instead it's turtle necks and jeans for the foreseeable future. To top it all off, Lagerfeld boarded his ship with his models for the grand finale and invited guests to mingle on-deck afterwards for some drinks and nibbles.
The Cruise collection offered a carefully curated selection of colourful stripes, pastel pink tweed (of course), white stockings and berets on every head. We expected nothing less from the classic Parisienne-chic fashion house!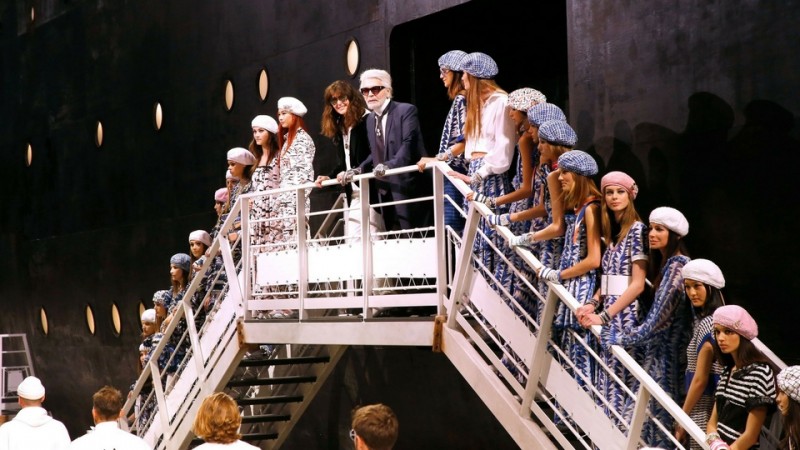 All images from: Harper's Bazaar, Vogue and Twitter