Tahuna Breaks Talk Summer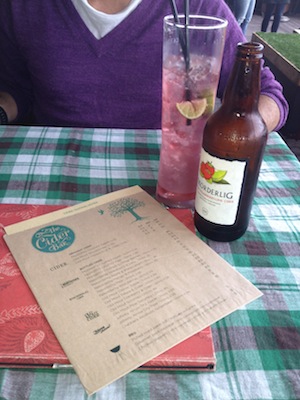 By Kenny Williams. After the mammoth-sized concert last week that was Our:House Festival, many of us were left exhausted with fantastic effort but still sought the comfort of a good Sunday session. Remix Magazine was no different, so we retreated to the cool embrace of Sale St's new Cider Co-Op to celebrate a lazy Sunday afternoon. Upon walking in through their courtyard entrance, the Summer vibe was instantly attractive: good beats played by a DJ at a conversational volume, people sitting around tables and trading stories of Saturday night's scandals and dear lord, the smell of a meaty BBQ teasing everyone's noses. With a quick scan of the courtyard, it seemed that Rekorderlig Cider was a popular choice and I could see why, having been tempted at the sight of a Rekorderlig Strawberry-Lime Cider, garnished with fresh slices of strawberry and lime. It looked far too good not to try! By reading the Cider Co-Op poster, it looked like we were in for a treat as Tahuna Breaks were due to spin a special DJ set. Tahuna Breaks has always been one of the must-see acts of summer, so I was fortunate enough to mosey my way over to their table and have a quick chat with two of the guys from this 7-piece funk band.
Tahuna Breaks has been all over festivals for the last few years. Thousands of people dance to your tunes and your video for 'Move' pretty much exploded on Youtube. What's next for you boys?
Tim Baker (Synth/Trumpet): World domination (laughs). We just finished recording our album, we'll be releasing it about March next year with an album tour in May.
Hey, world domination is possible. You guys do have a following over in Australia but do you have any plans to tour further?
Tim: I think in the pipeline is a European Tour, especially with new album that has a broader sound. We worked with Crazy P, a UK Disco/Dance producer, so the whole album has been co-produced with them. That'll hopefully give us a bit more reach. Adam Fuhr (Keys): I think we're known for our live shows with a lot of energy and a big live sound and we think this new album does capture that. We're hoping to further cement ourselves as a pumping live band.
So when do we get a chance to see this exciting live sound next?
Adam: We'll be playing New Year's Eve at 'Quit The City' in Whitford. Chali 2na [Jurassic 5] is on the line up too, we're pretty stoked about that!
Being a band that accentuates summer times, what would you say is your must-have summer clothing item?
Tim: I'm all about sunglasses. Adam: I'm more of a cap person, myself. I have my favorite corduroy hat, so that's this summer sussed. I might rock out the 'hat with the flap', maybe not? Tim: Someone's gotta bring that shit back, man. Adam: I think Wutang were trying to bring back the 'hat with the flap' with [their song] 'Protect Ya Neck'.
What's your idea of a perfect summer?
Tim: Sun. Not like last year! Adam: I haven't had a swim at the beach in a couple of years so yeah that and not much work!
What's your favorite beach?
Tim: Mission Bay (laughs), nah Matai Bay, Up North. Adam: Tawharanui for me.
What would the taste of summer be?
Tim: A cold, refreshing beer with a nice steak on the BBQ. Sale St's The Cider Co-Op has a very tasty BBQ too with their succulent pulled roast lamb rolls with aioli and gravy being quite a favourite. For more information on Sale St and Cider Co-Op (including musician line-up) visit,
www.salest.co.nz
or the Sale St Facebook Page,
www.facebook.com/salestbar