Rhythm & Alps Drops First Line-Up for the 2022 Festival
The time has come again to start planning your New Year's excursions, and Rhythm & Alps have only gone and made your decision that much easier. The three-day festival welcomes 10,000 partygoers, and more than 6,000 campers to party in the beautiful Cardrona Valley, alongside the iconic Cardrona River to welcome in the New Year. The nationally-renowned Wanaka festival has reigned as the best New Years' party in the South Island for 12 years, and this lineup has only adhered to their championing streak. With an incredible and diverse 40-act announcement, there's no doubt that festivalgoers will not want to miss this.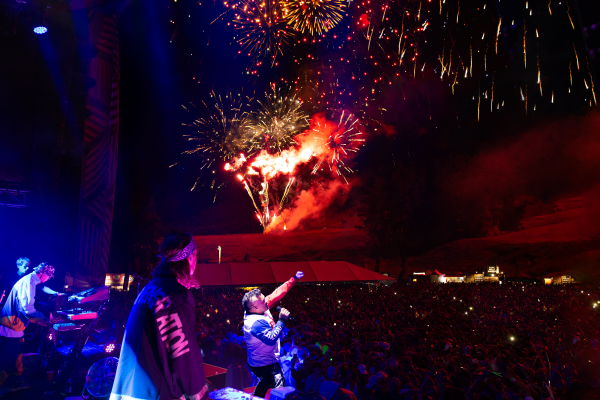 Shapeshifter perform the Alpine Stage, 2021
Image Credit: Lucas Perelini
From the 29th-31st December, attendees can expect performances brought in from all over the globe. Australian smooth and soulful band, Dope Lemon, is set to grace the stage, as well as Melbourne-via-Botswana-via-Zambia poet and rapper, Sampa the Great.
Out of the UK, performers such as iconic global dance music figure, Andy C, and four-time award-winning DJ & producer, Bou, are also on the list, as well as the penultimate in Drum and Bass duos, Chase & Status.
Other dynamic talents from Brazil, Sweden and Germany are set to perform, and, of course, some of our homegrown talents, including Drum & Bass artists Concord Dawn & Paige Julia, indie band Flaxxies, and blues and funk-rock luminaries Kora.
Rhythm & Alps 2022 Festival Line Up in Alphabetical Order:
Alice Agnes, Andy C, Aunty El, Becca B, Bou, Chase & Status, Concord Dawn, Cosmos Midnight, De-Tu, Deadbeat, DJ Marky, Dope Lemon, Flaxxies, Friction, Halfqueen BRB Babyfacekilla, Harriet Jaxxon, K+Lab, Kings of the Rollers + Inja, Kink, Kora, Kornel Kovac, Kravis, Lil Bubblegum, MC Jewels, Memphis LK, Molly Payton, Motez, Moxie, Mr Meaty Boy, Ninja Las Vegas, Paige Julia, Patella, Pino, Pitch Black, Sally C, Sampa the Great, Sinjin, Sofia Kourtesis, Wattson, Workforce
A second lineup is set to be announced in late August, so keep your eyes peeled and your cards at the ready!