The inimitable Emilia Clarke opens up to Remix
Hailed for her leading role in the fantastical world of Game of Thrones, Emilia Clarke's latest gig takes her to the inspired streets of Rome. The British actress opens up to Remix about being the face of Dolce & Gabbana's newest fragrance, and how it feels to be back in Italy.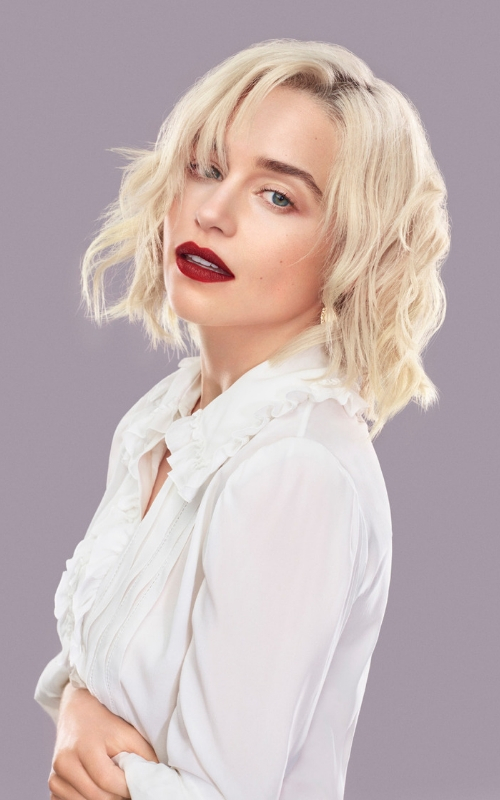 What made you want to work with Dolce & Gabbana?
"They represent strong, empowered, happy women, and an authentic Italian feeling that I feel really proud to be a part of."
What do you love about the new fragrance, 'The Only One'?
"It has some really beautiful notes that just linger in a room. It's a very seductive smell, and it definitely has power. It also has a richness to it that I love. Smell is a really powerful sense and familiar smells can hold such memory. Finding a fragrance is one of the most fun things you can do. You have your clothes and your make-up, but you need to take time to find the fragrance for you. I like the idea that generations will come from wearing this fragrance and might associate it to one person that they love."
How did it feel to be back on set with film-maker Matteo Garrone and of course the Morelli brothers, but this time in Rome?
"To be with Matteo and the Morelli Brothers again is wonderful, it feels beautiful. The shoots are so fun, working with both of them. It is so Italian, authentic, real and honest."
Can you tell us a little but about the mood of the campaign?
"We are in a trattoria in Rome, so it's about food, conviviality, it's about family and femininity. It feels very, very Italian."
How do you prep for shooting a high-profile campaign like this? What was it like singing on camera for the first time?
"When I got to Rome I just took on the character. Dolce & Gabbana is such a joyful brand - it celebrates everything beautiful. I love how they incorporate family in the photos and it feels like a wonderful cross-section of all the kinds of people in Italy. There's such fun around all of it, you feel a part of Italian life when you're filming the campaigns. I had heard the song before we shot the campaign, and had done a good amount of research on it, so I was able to relax into it while singing with the crowd."
And how do you feel about shooting with 'real people'?
"Getting to shoot with real people, in a real setting, in Rome, is just wonderful. When you are representing a brand like Dolce & Gabbana that is so authentically Italian and stays true to its roots, being able to work with real people is the real deal."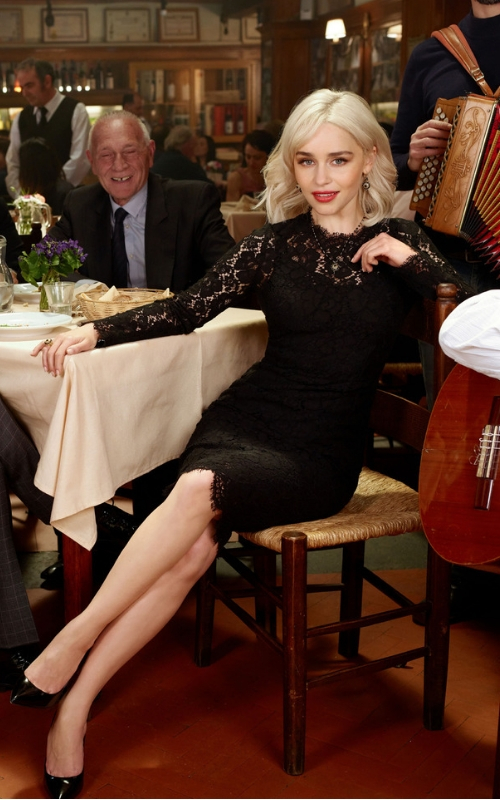 When do you feel at your most feminine?
"I think femininity is a state of mind – if you feel it, you are it – but using the right fragrance also helps!"
What are the smells that characterise Italy for you?
"Coffee and the inside of a gelateria – those are the smells that remind me of Italy."
Would you ever like to move to Italy?
"Yes, I would move to Rome in a heartbeat. History is so important and in Rome it is everywhere. It is such a beautiful reminder of the culture and history, which are the backbone of the country. Italian people are so lucky that everything is still there today. I did some filming in Italy years ago, and the thing that struck me the most was that the people I worked with and met were so real with their emotions. They let it all out! When they feel something good, they really feel it and they let you know."
What do you feel when you wear Dolce and Gabbana fragrances?
"Perfume is definitely an accessory to an overall look. I think there is something wonderful about watching someone walk away and leave a little hint of their fragrance behind."
What are your beauty staples?
"My mum always drilled into me to cleanse, tone and moisturise, and not to wear too much make-up and your skin will be good. I cleanse, tone and moisturise twice a day, every day. I also always wear SPF because I think it's just sensible. I always carry a red lipstick in my bag; you never know when you might need a little help from some red lipstick."
Any other products essential to your beauty regimen? What are they and why?
"I like a good cat eye – so liquid liner and Dolce & Gabbana Passioneyes mascara, lip balm and a dry shampoo. I also do silk pillowcases."
What is your favourite make-up product?
"Definitely Passioneyes Mascara from Dolce & Gabbana. The best part is that you can keep layering it. It lengthens, defines and always looks natural – not like some others that give you that gloopy, clumpy look."
Do you have a signature make-up look?
"Nude eye and a red lip can take you anywhere. What I really like doing is a good, strong lip colour, and then just Passioneyes mascara."
What are your best beauty secrets?
"Genuinely, the first thing I always say is drink loads of water, eat your greens, and get as much sleep as you possibly can. Of course, I cleanse my skin thoroughly as I have so much make-up put on my face throughout filming. I also always keep as much moisture on my skin as I possibly can."
Do you follow a specific diet?
"I just try to eat as much of the good stuff as possible. If it is bright, colourful, seasonal and yummy, then I go for it. That being said, I don't go by the Hollywood rules. To be frank, I don't put too much importance on it. I say eat the damn chocolate – if it feels good, eat it! Because your smile when eating the chocolate is much more beautiful – regardless of how many inches you think you'll keep off your waist if you don't. My personal mantra is 'Don't be mean to yourself'."
What do you do to maintain your physique?
"It changes all of the time. I don't think there is one sport that works for all; every human is different. I see people running and I think 'I'd like to do that', but it's just not for me. I tend to do whatever feels good that day, as my schedule changes all the time. Sometimes I am up at 3am for filming. I never want to have a routine and then miss something and feel bad. Feeling bad outweighs the good that you do. If I wake up and I'm feeling good, I will have a boogie in my bathroom – because that's fun – or go for a nice long walk, do a bit of yoga. I think anything that can get you out of your head is good - even just a walk. I like to walk everywhere. I've got a 'London walk' and I'm very fast!"
When did your career really take off?
"Game of Thrones is where my luck began. I was a year out of drama school, doing a bunch of jobs. When I first left drama school, I told myself I would give myself a year to only take jobs that really excited me. There were a couple of things I said 'no' to. I just wanted to give myself a chance to see what was out there. It was the end of that year when I went into Game of Thrones. I was walking from the tube station to the house of Nina Gold, the casting director, and I told myself I had to find any confidence that I had from the depths of my toes, as this was a job I really wanted. I just tried to play the truth of the part, even though I am pretty different from the character I play in Game of Thrones."
Do you feel comfortable on set?
"Yes, but it is one of those things you have just got to do. At the beginning, I was obviously way more nervous walking onto a set. You always get nervous, but then you listen to some music, crack a few jokes and you lighten up. At some point, you realise that everyone is nervous and that you are all making it together."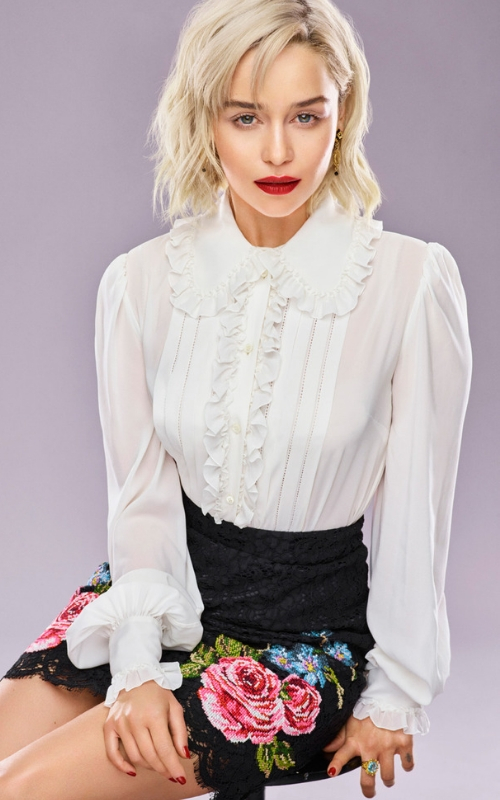 What kind of roles would you like to play in future?
"As varied a range of roles as I possibly can. I always want to keep learning and growing. There are so many great women out there. Every time I read a novel, there always seems to be a part I feel I could play. My 'dream job' changes all the time. One sure thing: I would like my older self to play Bette Davis' character Margo in All About Eve – my favourite movie of all time. Right now, I'm itching to get back on the stage. I'm not sure what the role would be, but it would be on the stage."
What type of roles do you like best?
"I just want strong projects. It's the unknown that really interests me. I'd like to do a mix of funny and independent projects. My big thing is I want to work with people who I know I can learn from. I want to learn as much as I can about the industry."
Who is the woman you look up to?
"Aside from my kickass mum, Emma Thompson is someone I really look up to. I think she is incredibly beautiful and incredibly true to herself. She looks alive, happy and vibrant. Being as natural to yourself as possible is so important. You can enhance that with beautiful skincare and make-up, but you don't have to change anything."
Who are the most inspiring people you've worked with?
"Game of Thrones has been my entire career my entire adult life and so now for the first time I am making my first adult choices as an actor outside of the show, which is really exciting and scary at the same time."
Could you describe your perfect day?
"When I'm in London, I love to walk around with friends and family. I think you are so much more honest when you're walking. I have had all my big, meaningful conversations when I was just walking around parks, feeling free. Often, I sit down for breakfast with friends and then suddenly it is 5pm and we realise we have been sitting and talking for hours!"
Looking back, what advice would you give your younger self?
"It's not as bad as you think."
How do you find a balance when filming?
"I am a creature of habit. If I have to go stay in a hotel or I have to go away from home to film, I like to take my life with me in a little bundle. Everywhere I go, I try to I have my stuff around me to make it feel like home. Quite often, we have to go and do work that can be incredibly nerve-wracking, like walking into fires, so it's nice to come back and feel like you are in a familiar environment."