Emilia Clarke on being a girl boss, her love life & Game of Thrones if she wrote the script
Mega Game of Thrones' babe Emilia Clarke is usually one to keep quiet, the 29-year-old actress has no Snapchat account, has used her Twitter account for one post, and never updates her Facebook page (however, we did just find her hilarious Instagram account) - needless to say, we're desperate to hear Emilia's thoughts on pretty much anything and everything.
Over the five past seasons of Game of Thrones, fans have come to know Emilia as the powerful Khaleesi of the Dothraki, with a fearless attitude and full of ambition, but the 'Queen of Badassness' – a title given to her by her loyal fanbase - finally gives us a glimpse of personal life in an interview with Glamour Magazine.
Turns out Emilia has always been a #girlboss. When asked what she learnt from her mother she says – 'My dad worked away a lot, on tour, so my mom would pick my brother and me up from school. She'd be on a conference call on loudspeaker while hanging out with us, so I'd be listening and saying things like, "I don't think John knows what he's talking about." I absorbed a business mentality. In terms of feminist issues, my mom never told me, like, "It's gonna be tough. You've got boobs." But I saw that there was no difference between my mom and my dad in terms of what they were capable of because of their genders'.
But like many of us, she didn't go straight to the big leagues, surprisingly before she became an actress, she worked as a telemarketer to pay her rent - 'I was up selling for charities: "Thank you for giving five pounds a month; have you considered giving six-pounds-fifty?" Soul-destroying. People responded by saying things like, "You evil person. I've just lost someone close to me." I did four shifts and walked out.'
So has someone snapped up Esquire's 2015 Sexiest Woman Alive yet? When asked about her love life she says 'No. I'm just chilling. I've got a good thing going.'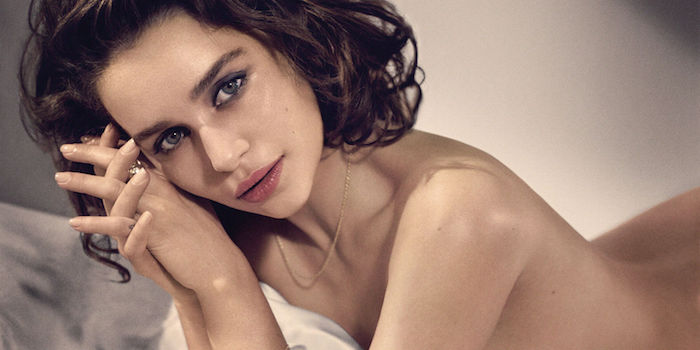 And if you (somehow) needed another reason to love her; she even has the same tattoo artist as Drake. 'He gave me a bumblebee [on my pinkie finger]. Up next is a dragon—obviously a metaphorical dragon, a single-line drawing or something. I'm not getting a cartoon dragon on my tits!'.
With the sixth season of Game of Thrones set to air on the 24th April, how would Emilia write the show if she were in charge of the storyline?
'I want to see Daenerys and her three dragons share the throne. Eat goat they've barbecued. And bring back all the pretty boys, get them to take their trousers down, and be like, "I'm now the queen of everything! I'd like close-ups of all the boy's penises, please.'"
Images: esquire.com, fanpop.com