pictures with pebbles: pebbles hooper opens up to remix about her latest artistic flare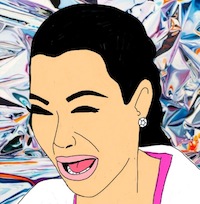 Remix loves
Pebbles Hooper
. Not only is the
WORLD
heiress and former founder of
Pencil Boutique
one crack-up lady to follow on
Twitter
with her brutally honest and refreshing remarks, but she's also super talented. Her latest venture,
Pebbles Art
, has taken off and has everyone talking about the awesome impressions of celebrities, including
Kim Kardashian
,
Lana Del Rey
,
Kanye West
,
Kate Moss
and
Britney Spears
(shaving her head)
among many others. Pebbles had a chat with
Steven Fernandez
about her latest passion and plans in the pipeline for what has rapidly become a commercially successful notch in her belt…
Tell us a bit about Pebbles Art. If I were blind, how would you describe them to me?
It's basically how I would draw people as accurately as I possibly could but with a very 2D version on a basic computer app with colourful backgrounds. Although describing them makes them sound a lot less interesting than they are!
What's the process? What goes into making these? Without giving away your tricks!
I just draw people with interesting faces. Very basic process, lots of lines and colouring in and staying inside the lines.
How did you get into producing these pieces and what prompted you to start selling them?
I started when I was experimenting with my new Samsung Galaxy Note. The app was so hard to use it made my pictures look pretty grotesque, then I started sending them to the celebrities in the pictures and then people contacted me to buy them.
What's your favourite piece you've made so far?
I personally love the Steve Buscemi I drew. However he's been one of the less popular ones, but it's definitely my favourite because of his googly eyes.
Have you had feedback from anyone you've ever done a print of and they haven't liked how they looked? Who? What didn't they like?
Not yet…
You had the Pencil Boutique for a while there. Is it still around and are you still involved? You had some awesome stuff!
Pencil is sadly no longer. It was a beautiful store that I loved growing and working in but it was becoming difficult to grow further so I decided to move on.
Then obviously you're connected to another kind of well known business called WORLD. Do you have any day-to-day involvement in WORLD? Be honest - can you just go in there anytime and raid the racks? Do you?
In an ideal world (mind the pun) walking in and taking whatever I like would be the case. However it's never been that simple. I help with some of the social media aspects of the business but in all honesty the team behind WORLD are so talented I have no place. But that's cool, I love everything they do.
Favourite artist? Most overrated artist?
Peter Stichbury is my favourite artist. I don't really know the most overrated one. Art is so objective *yawn*.
You're definitely worth following on Twitter! Do you get many people taking your tweets seriously and having a go? Any standout stories?
People don't really take me seriously on twitter anymore, although I've been told someone from Destiny Church called TVNZ to complain about when I was on U-Late telling Brian Tamaki how much I hate him, which was pretty cool.
Pebbles Art has already grown rapidly. What's next for your work and online store?
At the moment I'm just focusing on keeping up with sending orders to the right people and getting the T-shirts launched this month.
Keen to check out more of Pebbles Art for yourself? Check out her online store, 'Like' the Facebook page and follow her on Instagram at @PebblesArt for all the latest work she's producing.