Our Chat With Tahuna Breaks
If you've been cruising around the country soaking up the summer festivals, there's a pretty high chance you've crossed paths with these boys.
Tahuna Breaks
, the six-piece boy band from from Ponsonby's Tahuna Street, have been making tracks up and down New Zealand, bringing their eclectic mix of huge tunes to their loyal Kiwi fanbase. Fresh off the back of another massive stop at the Mangawhai Tavern on January 25th as part of the
Corona Summer Tour
, frontman
Marty Greentree
spoke to us about the band's history, the band's future and the band's rider.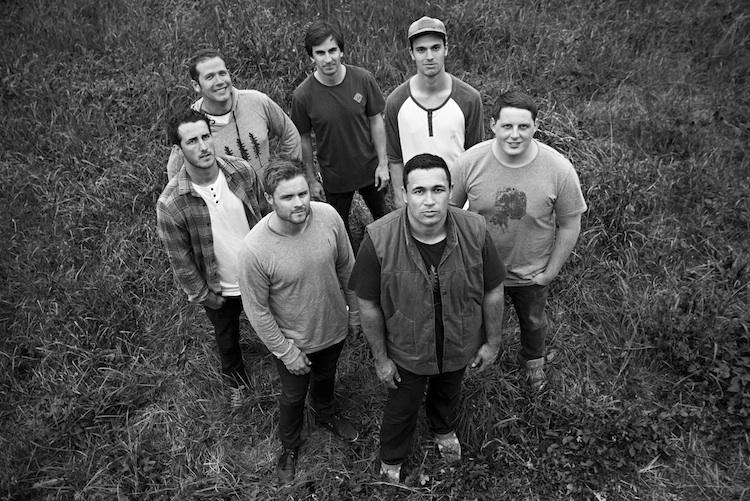 How has your summer been?
Fulfilling. It feels to me like we have played the perfect balance of beach spots and festivals in the North and South Islands, not too many gigs that you start getting over it, but enough to stay excited and looking forward to the next one.
Where's your favourite spot to play on your New Zealand summer tours?
Anywhere where people are happy, hydrated and in the mood to party. That's the truth, too many good times! We get amongst it and give it a good nudge every time we play. The location doesn't matter, only the vibe and in New Zealand during summer the vibe is consistent.
What does your rider consist of?
- 8 dozen beer - 1 x Bottle Vodka - 1 x Bottle Whiskey - Ginger ale, Lemonade and Red Bull - A food platter of crackers cheese grapes meat selection. - Some Hubba Bubba Bubble gum and Chupa Chups lollipops for Tim. - Some clean towels
In three words, how would you describe your music?
Mongrel bastard funk.
Do you feel your style is changing as a result of becoming more popular or are you sticking to your roots?
When we started we played a bit of everything. Funk, dub, rock, acoustic shit, all sorts! Our style has changed over the years, but I don't think it's as a result of becoming 'popular' but more to do with experience and learning what makes us tick as a band. We made a conscious decision to do what's most comfortable and natural for us: playing live and bringing party vibes, being upbeat and energetic and making people dance. We just want to make music that fits our agenda so we're pretty happy to keep it on the funk/dance/disco tip for however long we keep going.
Where did the name Tahuna Breaks come from?
The first place we started jamming at was a flat on Tahuna Street in Ponsonby. The 'Breaks' part I'm not really sure but I think one of our surfer mates suggested it and we just went along with it.
How long have you been playing together?
Almost ten years.
Where is your hometown?
From Auckland. I grew up in Onehunga and now live in West Auckland.
How did you guys come together as a band?
I knew Tim Gemmell's (drummer) family through his cousins that I flatted and played rugby with. We attended a few mutual soirees and I was known to get a bit excited when there was a bit of singing round the campfire with a few brews. At the end of 2004 I returned from Europe and was up to stuff all when Tim invited me to jam with him and his mate from school James Winkle (bass, guitar). Rest is history!
You've gone from writing songs in a storage shed to playing at the biggest New Years festival in the country. How did you guys find performing at Rhythm & Vines and Rhythm & Alps for the first time?
For sure it felt awesome and very comfortable. Rhythm & Alps was a highlight for us, we had a great timeslot and performance-wise things just ran as good as they could for us.
Your last show was Rhythm and Alps, how do you adapt from playing big crowds to smaller ones?
With bigger festival-type shows where you have the luxury of big production - lights and all sorts of bells and whistles – it's easier to have drama and dynamics in a song, so the more dance and electronic flavoured songs are easier to pull off. I also find you tend to move around on stage more to try and cover the whole area and engage the audience. With the smaller shows the 'raw sweaty balls-out funk' fares better and there is more energy and intimacy from the crowd. For me it's about putting the right energy into different parts of the songs so it's presented best for the situation. We just go hard and give it death , whatever the gig and try win and engage the crowd.
Do you have anything exciting lined up for 2014 you can share with us?
Heaps of new tunes! Get more information on these guys through their
official website
and the latest updates on what Corona's up to through their New Zealand
Facebook page
.