New York based Kiwi Simon Oscroft talks us through his new band, MOTHXR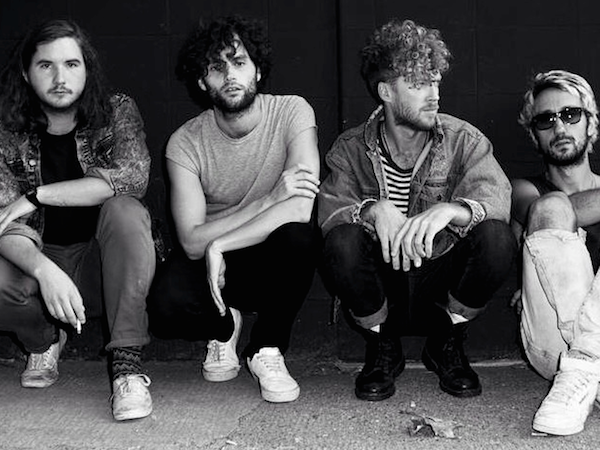 Words by Fiona Connor
Musical success isn't unfamiliar to Simon Oscroft. Of former Midnight Youth glory, you will remember Simon as the guy with the curly blonde locks and effortless indie style. His days of playing with his other Kiwi bandmates may be over but his passion for creating music and captivating an audience has never been stronger. As almost by fate Simon found his new bandmates after making some new friends while working in a bar in New York City. He says 'friends are hard to come by when you're living in Brooklyn' so it was a stroke of luck that his new mates were collectively into expressing their love for music just as much as he was. After their first session together, enlightened by their new sound, they decided to form a band. Living in Brooklyn means Simon's lifestyle allows him to be creative and grow his ability to pursue his love for music. As the group gain more and more notoriety the opportunities seem endless as Simon explains there are no limits when chasing your dreams in the U.S.
Tell us about your new band
My new band is called MOTHXR and we're based in Brooklyn. Jimmy and Penn were heading to L.A. to mess around and record some music in an Air BNB apartment and take a break from New York. They hit me up to borrow a microphone, as I was living there at the time. Darren was at the end of a tour and was in L.A. also. We hung out the first day with a guitar, a laptop and a synth and accidentally made a song. The rest ensued and we made a record and became band. We're going to put out an E.P. or a full length early next year - or both, and already have a bunch of U.S. tour and festival dates plus Mexico and a few European dates.
What impact does it have on the band to have former Gossip Girl star Penn Badgely as lead front man?
Yeah, my friend Penn is also an actor. The positive impact is that we can have our music heard by a few more people through Penn's social media. The tougher part is that on first impression, there is a stricter criteria from listeners who know Penn as an actor only. However, once his talent for singing becomes obvious it's all peaches and roses. He played and sung live whilst playing Jeff Buckley in a bio-pic film two years ago which everyone should check out.
Why is it important for MOTHXR to self-release music and do you see a change to involve a record label in the future?
We have self-released up to this point because there's no need for a larger power whilst a band is building its sound, working on playing live, and learning to grow into the band. It will one day be necessary, once it has large exposure. We are indeed making a change and will be putting out our record early 2016 with two record labels. One being 'Kitsune' in Paris, an amazing label, which is also a fashion label. They're visionary and work in a very indie way to make the best collaboration possible with the artist – we're excited to have Europe be in such good hands. We have a U.S. label to be announced very soon, too.
Do you have a message you hope to put across to your listeners?
We don't necessarily intend to send any messages, it's more that we hope the recipient gets an audio experience that pleases not just the ears but the mood and the mind, and gets taken there by the means of a new aesthetic they may not have heard before.
Your producer, Jimmy Giannopoulos, is a part of 'Lolawolf' led by Zoe Kravtiz. Does this mean rubbing shoulders with Zoe too?
We're good friends with Zoe and party together all the time. It's a large circle of friends here in Brooklyn, we all share each other's art, go to each other's shows, hang and work together. Brooklyn is very communal like that.
What opportunities does New York offer that you might not get in NZ?
It's all about the glass ceiling really; a typical jargon word or complaint people have about certain industries. But the music industry in America, in particular, has no limitations besides the sky. So the chance to potentially have a huge audience hear and engage with your music or art is the reason for the move. Plus New York is the definition of city and I'm a city kid. Also, the largest music industry in the world comes with more opportunities to make a living from music - and every hard working musician deserves the chance to buy a house, have kids, or to fulfill whatever common desire they may have whilst practicing their art as a career not just a hobby.
What are the main differences you have found between New York and New Zealand living?
The main difference is that you are surrounded by globally successful people on a very regular basis. Which is obvious, being a city this important on a global scale - but its more that there is no ceiling, and 100% capability for large scale success. Eating and drinking out is far more common, as apartments are generally small so you hang outside the home. Also - given that I don't sleep, I need a city that doesn't either - we spend most of our time out of the apartment at night, and in the apartment during the day.
What do you miss about New Zealand when you are not here?
I miss my mum and dad mostly and my mates whom I've grown up with. It's hard only being able to see your family once every 2 years. I was just back for a month, and enjoyed the summer and got to see and feel all the other amazing things that I remember and miss about New Zealand.
When will you feel success as a musician?
When I can buy my parents a house. Or potentially and unfortunately more realistically when my rent is covered by an income from music - plus enough to eat and drink something nice every night. And/or when I'm only having to wake up at midday and never having to commute to the office yet still paying those bills with my songs. Getting there slowly. Check out MOTHXR singing their track 'Easy' live on Perez Hilton TV:
Watch Live here
Check them out on Facebook
here