Inside Miranda Kerr's Grace Kelly-inspired wedding
Miranda Kerr married her long-time beau in a secret ceremony almost two months ago, but now she has released insights into her big day, and the inspirations behind one of the most memorable dresses we've seen in a long time.
If we could combine all our favourite elements from high-end weddings, into one elegant ensemble, it would look so much like Miranda Kerr's recent nuptials to Snapchat boss Evan Spiegel. From the extravagant Dior gown, to the floral backdrop, Kerr's wedding set the bar very high for the rest of us!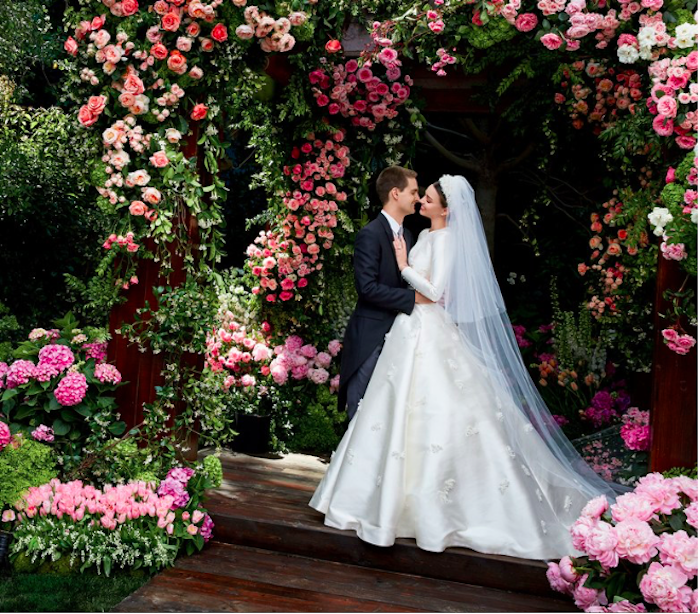 Kerr has previously mentioned that she takes inspiration from fashion-greats, such as Audrey Hepburn and Grace Kelly, and from her own grandmother; taking their fashion styles and merging them with her own. Her wedding dress was a perfect example of when historical fashion meets a modern-day style icon. The gown was a delicately crafted Dior Haute Couture piece; specially designed by Maria Grazie Chiuri herself, and clearly inspired by Grace Kelly's memorable 1956 wedding dress. Kerr's dress featured heavy silk, and floral detailing throughout the train, accompanied by a traditional veil and floral crown adorned with pearls. The whole affair could be taken straight from a fairytale; and the terms emotional, elegant and dream-like can't help but slip into our descriptions.
https://www.instagram.com/p/BWou22-grq3/?taken-by=mirandakerr&hl=en
For the latter part of the wedding, Kerr changed into a shorter and lacier Dior number. Again, expertly constructed by Chiuri, to allow Kerr to dance the night away.
The couple said 'I do' in their own garden, in front of an intimate gathering of close friends and family. Kerr's six-year-old son, Flynn, served as ring bearer, and later joined the newlyweds for their first dance.
The wedding was a private affair, with the couple protected from the eagle eyes of the press. A white canopy was hung across the entire garden venue, and a total ban on social media was imposed - including Spiegel's own Snapchat!
https://www.instagram.com/p/BWouRpDACXm/?taken-by=mirandakerr&hl=en
Miranda Kerr and Evan Spiegel's wedding has our creative minds in overdrive and our breath truly taken away. So, all we can say is congratulations to one of today's most elegant couples.
https://www.youtube.com/watch?v=qlB0m541Q3A
(imagery by Patrick Demarchelier for Vogue & Cheriss May for theknotnews.com)