Me and Earl and the Dying Girl: The Sundance Film Festival winning new flick & an interview with director, Alfonso Gomez-Rejon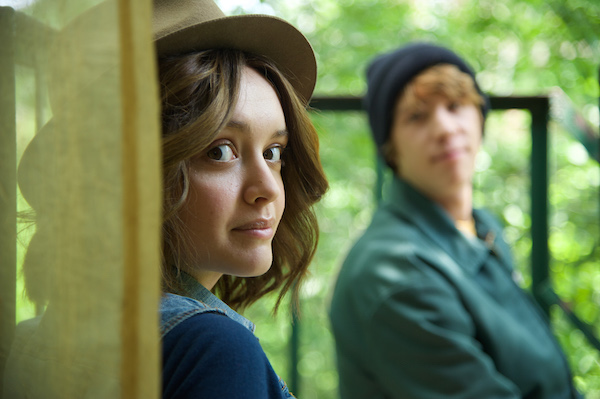 We're pretty fond of most films that even get nominated for Sundance Film Festival awards, so when we heard that the new coming-of-age story,
Me and Earl and the Dying Girl
was the winner of the Grand Jury Prize AND Audience Award at this year's Sundance Film Festival, we began the countdown for the film's release – which is thankfully this Thursday. Me and Earl and the Dying Girl is the uniquely funny, moving story based on the novel of the same name by Jesse Andrews. The film follows Greg (Thomas Mann), a high school senior who is trying to blend in anonymously by avoiding deeper relationships with his peers as a survival strategy for navigating the social minefield that is teenage life. A boy who even describes his constant companion Earl (RJ Cyler), as more of a 'co-worker' than a best friend. But when Greg's mom (Connie Britton) insists he spend time with Rachel (Olivia Cooke) – a girl in his class who has just been diagnosed with cancer - he slowly discovers how worthwhile the true bonds of friendship can be. We chat to director
Alfonso Gomez-Rejon
, who has previously directed episodes of hit series 'Glee' and 'American Horror Story', about the new flick below…
What was it that attracted you to this film?
The script was funny in an unusual and unpredictable way, as well as refreshingly honest. At first, it reminded me of the wonderful John Hughes movies I grew up on, but then it very gently took an unexpected turn and became so much more than just a comedy. I had just lost my father and I felt that if I could make this film, it would be a way for me to express my own personal losses and transform them through humor.
Greg tries to present himself to the world as the person he wants people to see, rather than the person he actually is, does he have a lot to learn?
You can't sustain an act like that forever. You'll have to eventually pull off that mask and deal with exposing yourself to rejection or, worse, indifference. Once you start to show who you really are, then the real world can react accordingly. Not everyone will like you and you'll say things that you'll regret. But you will grow from it. Greg starts to face real-life challenges when he becomes close to Rachel. He's been living in a world of his own, walking around with an art-film score in his head. Now he is engaging with a world where reality isn't of his design.
You cast three young actors at the beginning of their careers: Thomas Mann as Greg, Olivia Cooke as Rachel, and RJ Cyler as Greg's best friend Earl, what do they bring to the film?
Like the characters they play, the actors are all funny and brutally honest as human beings. There was never a false note in their performances. The heavier scenes could have easily crossed into sentimentality, and I wanted to avoid it feeling manipulative. If that had happened, I felt I would have failed as a filmmaker.
Is that why it's not a love story?
Maybe in 5 or 10 years, they could have the greatest love story of all time. But at this point in their lives, I wanted to see a deeper, more unusual connection. It's not often you meet someone who accepts all of you.
What is Greg like when we first meet him?
Greg wants to coast through high school. His priority is to go as unnoticed as possible and not offend anybody. He's afraid to call anyone a friend, even Earl, who he has been making secret films with since they were kids. He doesn't want to get close to anyone who might hurt him later. He has no idea how funny he is—which is always the funniest kind of person. He has a unique voice. There's something refreshing about his honesty. The first thing he says to Rachel is: 'I'm here because my mom is making me.' Rachel has probably received a dozen calls that day from people who are feeling sorry for her. She needs what Greg brings her instead of the canned sympathy and platitudes she's getting from everyone else. He's the perfect distraction. Their friendship becomes unexpectedly effortless.
What is Rachel like before her illness?
Rachel has never been focused on being popular. She is an artist and young artists are often outsiders, and now she's maturing quickly. When you that think your life is about to be cut short why not spend it with people as genuine as Greg and Earl? [video src="https://www.youtube.com/watch?v=2qfmAllbYC8" size="auto"] Me and Earl and the Dying Girl is released in cinemas nationwide this Thursday.