Inside the dreamy, most-instagrammed wedding of all time
If you're on the hunt for the ultimate wedding inspiration, look no further.
Fashion it-girl Chiara Ferragni wed Italian rapper Frederico Leonardo Lucio (Fedez) in a dreamy ceremony over the weekend. The couple celebrated with 160 A-list guests in what has been dubbed the 'Italian royal wedding'. Custom Dior, ferris wheels and fireworks made it a spectacle that no-one will forget in a hurry! We wouldn't expect anything less from the influential power couple on their big day.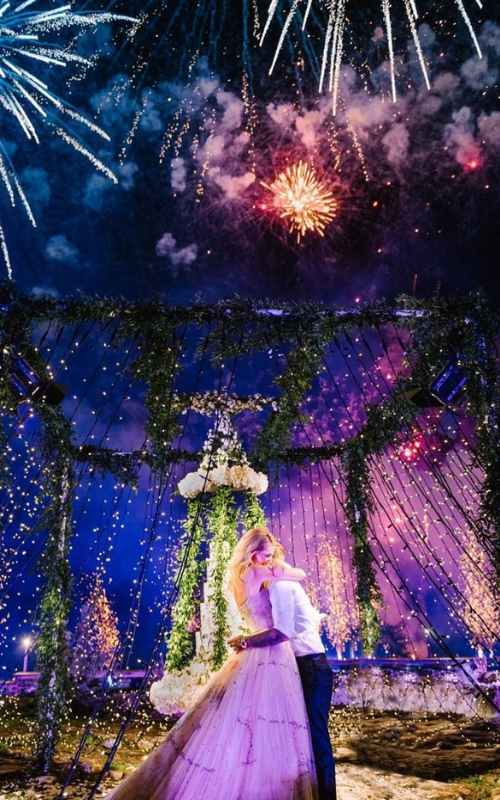 Chiara is one of the most successful fashion bloggers worldwide; founder of hugely popular website The Blonde Salad, and designer of her own clothing line. Fedez; her hunky long-time partner and father of her seven-month old son, Leono Lucia, is a hugely popular Italian rapper and previous X-Factor Judge. With a whopping following of 21.1 million between them, the nuptials were never not going to be glamorous!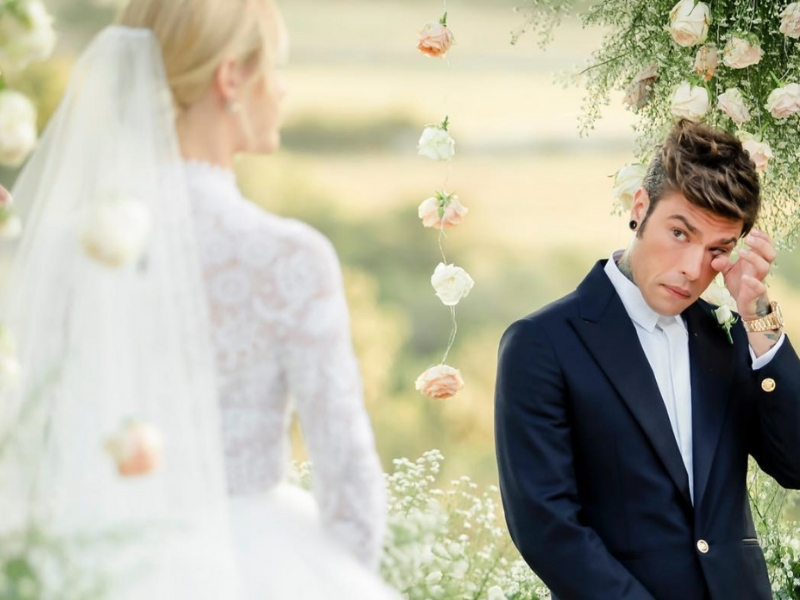 The lucky guests, including fashionistas Gilda Ambrosio and Rumi Neely, were flown on private Alitalia planes to the wedding destination: the grandiose hotel 'Dimora delle Balze' in Noto, Italy. The planes were branded with wedding hashtag #TheFerragnez, and Ferragnez branded food, drink and merch were served on the party flights. Upon arrival, life-sized mascots of Ferragni and Fedez greeted guests.
The lead-up to the official wedding day consisted of numerous celebratory events whilst instagramers worldwide watched on in awe through live stories and posts. An emotional rehearsal dinner was held the night before the main event at Noto Bassi di Palazzo Nicolaci. Chiara donned a sparkling pale pink and gold beaded, custom-made Prada dress, paired with kitten heels and a bridal pouch; the outfit of our fantasies!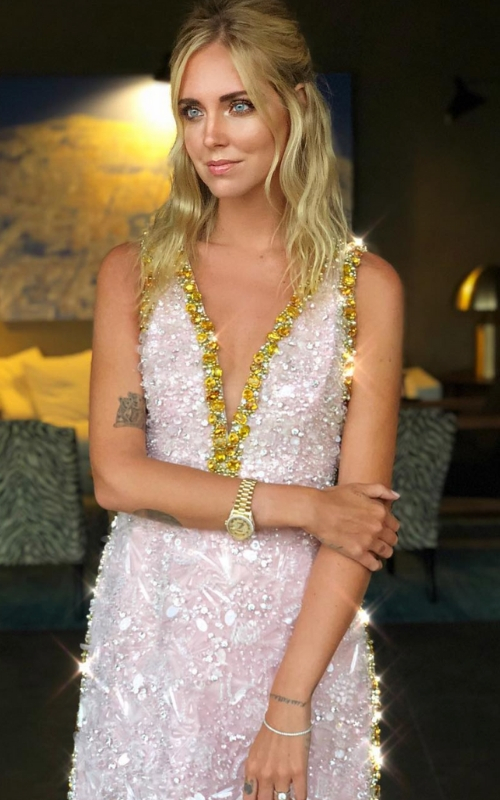 The castle-like wedding location was nothing short of magical. On the big day, extravagant blush and white floral pieces were displayed, creating a secret garden. The aisle featured arches with roses and hydrangeas, and the altar was covered in classic white roses, resembling a dreamy film scene.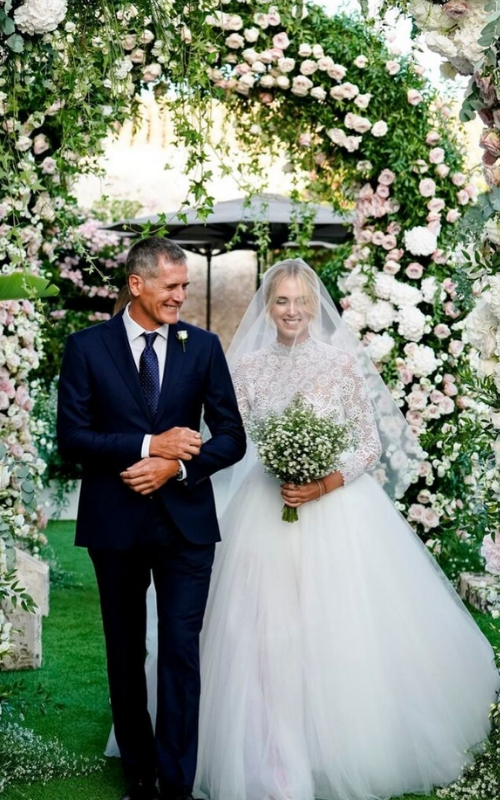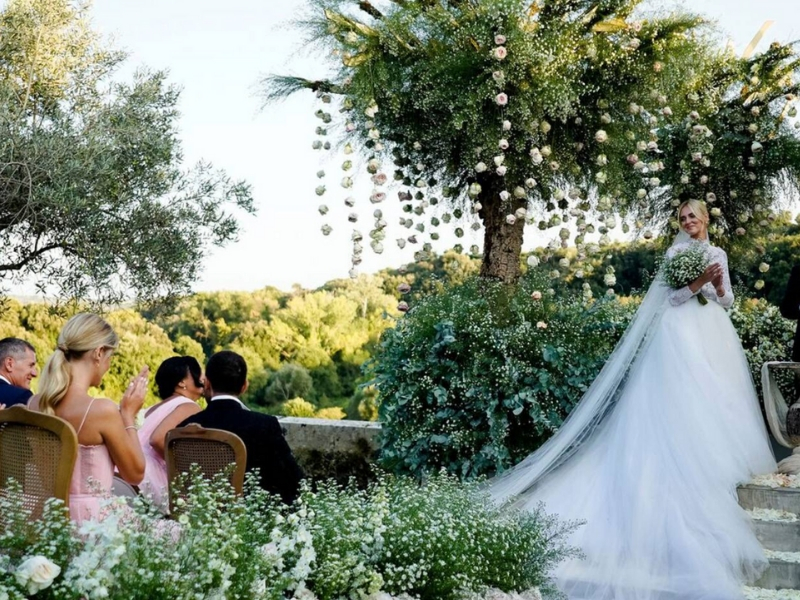 Fedez looked very handsome indeed in a suave Versace suit, whilst Ferragni wore a Dior Haute Couture design made by talented Dior Creative Director Maria Grazia Chiuri, who also attended. While the creation looked like a gown, it consisted of a croquet bodice with mock neckline and a tulle overskirt with train. It was a modern and romantic twist on a traditional wedding dress. Chiara complemented the look with a stunning, natural look by Lancome. The bridesmaids all wore pretty pink Alberta Ferretti dresses and little Leone was looking very dapper in custom Dior! Once the couple were officially wed, colourful smoke bombs billowed behind them, creating an even more picture-perfect backdrop for the teary-eyed guests to admire.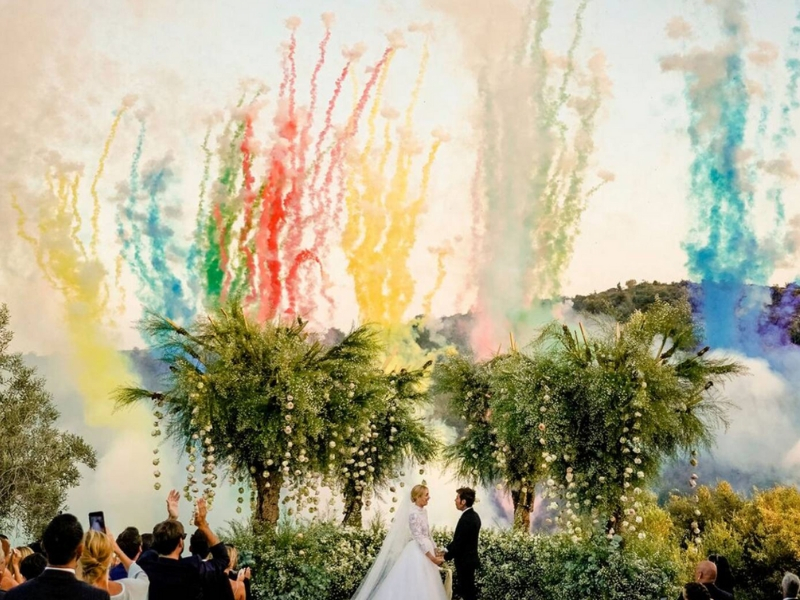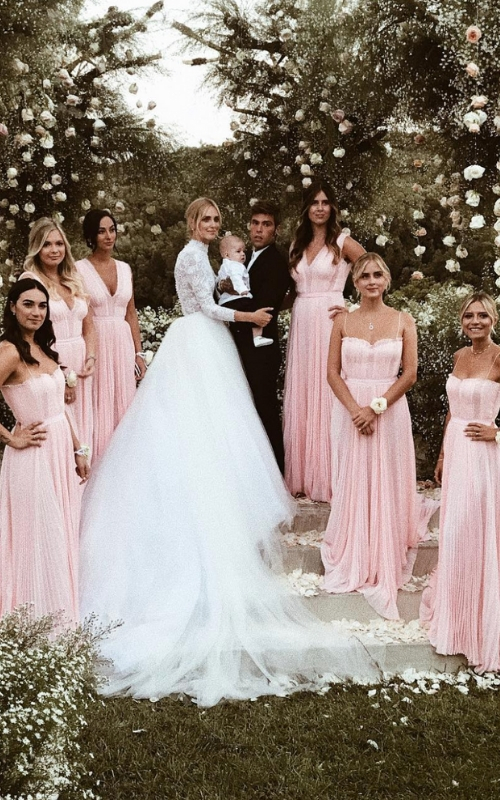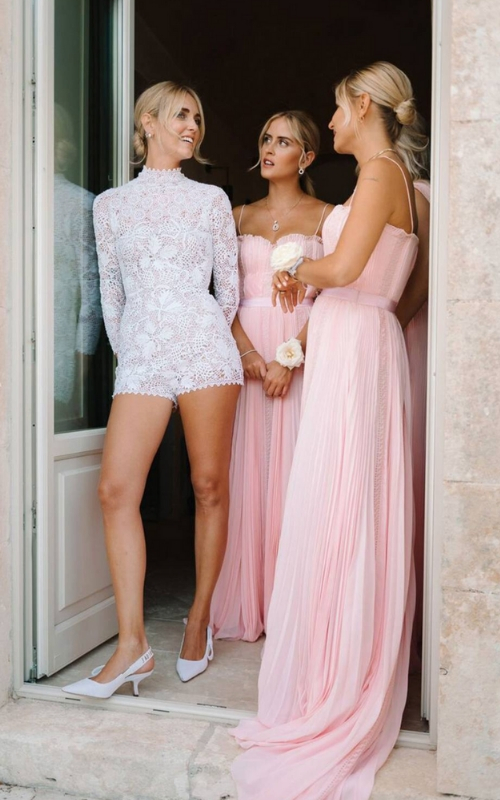 The second Dior gown of the night was all about the detail. Chiara wore a cream colored gown for the reception, featuring embroideries of the song lyrics Fedez sung onstage at one of his concerts to propose to Chiara (Favorisca i sentimenti). I know, our hearts are melting too! The bride also wore custom white Dior slingback heels with her name on the back. The towering wedding cake was surrounded by hydrangeas and roses, and featured the same hand painted love symbols on her dress.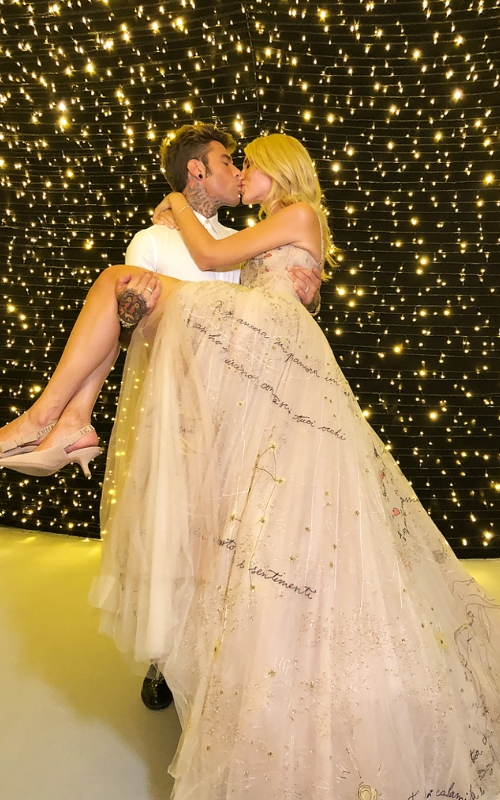 By now, you're probably feeling a wee bit envious of the picture perfect couple and the wedding that was. There's more! Celebrations continued with an after-party like no other. Chiara and Fedez created their own Coachella inspired private carnival; The Ferragnez Luna Park, featuring a ferris wheel, carousel, more merch and another tremendous display of fireworks. Fedez took to the stage for a performance, with Chiara dancing alongside. The bride wore her third Dior haute couture design for the night; a ballet-inspired mini dress with a heart embroidered on her chest, along with Dior flat, nude slingbacks.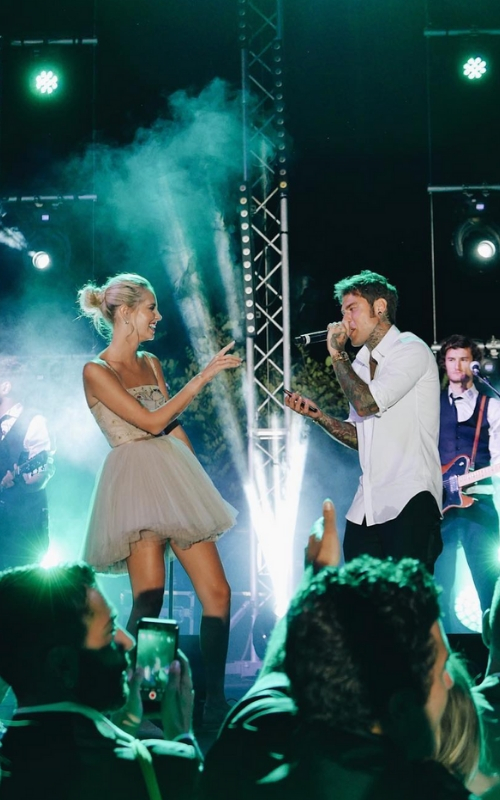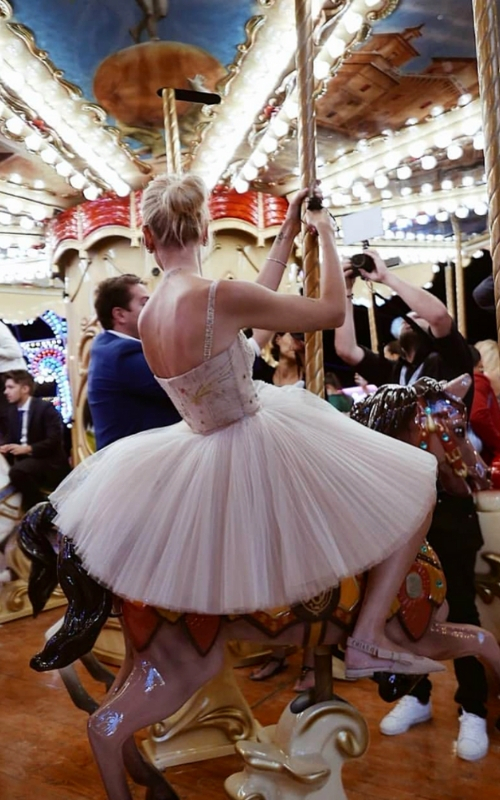 According to Vogue, there was a reality film crew documenting the whole night, so here's to hoping we can soon relive the entire dream wedding day celebrations from our living rooms at home. For now, check out the rest of our lookbook below, and head along to Chiara or Fedez's instagram accounts to see all of the videos and and photos from the extravagant fairytale wedding.