Dom Dolla "Music was my way of surviving"
Life has been something of a roller coaster for Dominic Matheson as of late. Despite never owning a pair of decks, the artist transitioned from his unofficial title of High School DJ to a global sensation with his catalogue fast approaching one billion streams alongside two platinum, three gold-certified singles and a Grammy nomination. The artist, better known as Dom Dolla joins our Zoom call cross-legged and relaxed, seated on the floor with all the charm and humility of the quintessential Aussie bloke.
Dom, I read you were born in Manilla and raised in outback northern Australia, tell me about this.
I was born in Manila in the Philippines, then I lived in Darwin in the NT (Northern Territory) until I was like, 13 or 14 I think. Then I moved to Melbourne, where I discovered dance music and house music and just became obsessed with collecting records and leaning into that culture. That's where I sort of spent the majority of my adult life until recently when I moved to Los Angeles.
And you started DJing at 15?
I moved down to Melbourne and started sneaking into clubs, underage and obsessively collecting music, DJing was the natural next step. I feel like I was really lucky to move to somewhere like Melbourne, the city has such a strong house techno contingency and culture. It rubbed off on me pretty bloody quickly.
Can you take that a bit further? Tell me about the moment you first found yourself drawn to music.
Honestly, I was quite young. I was two years younger than all the other kids in my year level at school. When I moved down from Darwin, I got put up a grade or two and ended up being roughly two years younger than everyone else. Everyone in my year started going out and having parties, and I was like 'shit, I'm in the deep end here' Music was my way of surviving that, I was just trying to fit in really.
Amazing, were you charging them a fee at this point?
(Laughs) No, no I didn't feel competent enough that I could charge. I actually just borrowed the equipment from a friend of mine, they'd been given some decks from an older brother or a step-parent or something, he wasn't interested so I was like 'Can I borrow these!?' Interesting fact actually, I've never owned decks in my life, I've never owned any DJ equipment. I went from borrowing decks to playing in clubs, I couldn't afford my own and by the time I could, I was touring so much it didn't matter anyway. Maybe I should go buy some….
Maybe you should, was there a pivotal moment, a specific day even, that you decided a music career was worth pursuing?
When I finished high school, I went off to study design. I became a graphic designer and started my own freelance design firm. I specialised in typography and logo development. 2D art and posters. I ended up working at Frontier touring and Mushroom Records, I used to design all the tour posters and the merch for all of the international artists touring Australia. I think I could have had, well actually, I believe I did have a successful career in design in my early twenties. I was designing flyers, and logos, all that sort of stuff during the week but over weekends I was running club nights and DJing, I couldn't afford a graphic designer so I just designed all the posters myself and that's where I met my manager James. He was a DJ at the time too. I began to obsessively teach myself how to produce and write music when I was at home. I started posting it on the internet and it was blowing up. I had all these people coming to me, offering to manage me but I was like 'nah' I turned to him (James) and said 'Look, I know that you've got the chops and I'd love for you to be my manager' funnily enough, music management was something he was really keen to get into. After about three months of us working together, James turned to me and said 'Look, you're doing this design thing and you're doing really well at it but, I'm gonna give you an ultimatum. You have to quit design, I want you to do music full time. If it doesn't work out you can go back to it, you've got that safety net' It was a big risk because I wasn't earning much money, to be honest, I was earning little to no money from music at all and I had quite a lucrative thing going with design. It was a pretty scary thing to do but within a couple of months, I was playing interstate and even getting booked internationally within around 12 months. I was like, okay! It was worth it. That transition freed up so much time for me, time to write and get better as a producer. I'd been DJing for a long time so I felt like my competence as a DJ was up there but as a producer, I was always learning and evolving.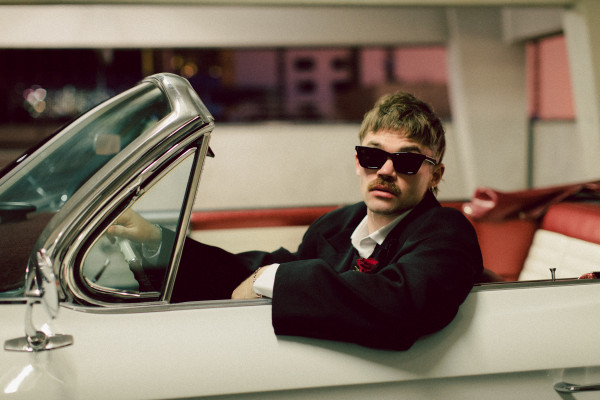 I'd be interested to hear your thoughts on the influence of social media within the industry, as someone who has been making music for a long time you've likely seen a shift. Now we are seeing songs top the charts after they go viral on TikTok, have you noticed any positive or maybe negative effects on the industry?
Definitely, we're in a sort of savage attention economy where you've got less time to get people's attention. When you're posting things or editing things for social media, it's almost like 'get to the hook, what's the most important thing, or the most important value proposition' which is a shame because obviously, there's so much creative context and art and beauty in music or video, whatever medium you're conveying to the audience, that gets lost.
It sort of strips music of what it is at its core doesn't it?
Exactly! But at the same time, the mediums in which we consume media are always going to be evolving and changing, you know, from cinema to television, to big LCD TVs to everyone filming in vertical for phones to, I don't know, next are probably going to be things planted in our brains. I feel like it's always going to change and it's always going to evolve and it's our job as creators for those mediums to just adapt, and I feel like those people are the people that are going to last are the people who are open to adapting and are quite agile in their mindset. I think people that are willing to be versatile are the people that are going to last. People who become a bit jaded, fed up or tired are unfortunately the ones who won't. That being said, I don't judge or blame anyone for being fed up because it's constantly moving so fast. I get excited by change, instead of resenting it. I've just gotten used to this way of doing it, and it's going to change again but I feel ready for that.
Your latest single 'Saving Up' was recorded in Brighton, with friends and it explores the theme of prioritising relationships. You've said you wrote this while you were feeling homesick, is that why it's such a positive and uplifting song?
I grew up obsessed with an electronic dance act called Simian Mobile Disco in my early 20s. I went and saw them at Big Day Out when I was 18 and they were playing this fully live modular set. They've got this record called Audacity of Huge and it's probably one of my favourite dance records of all time. Lyrically, it's based around this wealthy and successful guy who has everything he wants, everything you could ever want. He buys it, but he can't get the girl of his dreams. I think the Lyric is 'I got it all, Yes, it's true, So why don't I get you?' I was fishing around for a lyrical concept, I'd written a melody for 'Saving Up' (Dom gives Phoebe an example of how the hook sounds) I was writing it with Clementine, a friend of mine, and I thought, fuck, I love that Audacity of Huge song, I'm gonna flip the concept on its head and write it from the perspective of a woman who is with a really, really wealthy guy who is obsessed with collecting items 'if you're going to be saving up, save some love for me' was the concept and I felt like it tied well into where I was at the time. Really, focused on my career not from a financial sense, but just like head down on the road. My friends weren't around, my family wasn't there and I just felt like it was quite a serendipitous, you know, tie together.
To finish, tell me about a career highlight, or a few.
Honestly, for me, the thing I'm most excited about and a real pinch-me moment that I've got coming up is probably my hometown shows in Melbourne, Australia. We've got two sold-out shows in Melbourne at the Sidney Myer Music Bowl and we broke the record for the fastest the venue's ever sold out. It's been open since the 50s and everyone under the sun has played there. I knew that I had a lot of hometown support and I was really excited to get home but I had no idea it was on that level. All my family and friends and relatives have been like 'We couldn't get a ticket! Can you get us one!?' So that's probably what I've got coming up on the horizon that I'm most excited about. I think in terms of what's happened so far, this year, getting to work with Nelly Furtado and help her with her music, having her feature on my Dom Dolla stuff has been an incredible pinch-me moment. It's moving so fast that I honestly can't keep up. The amount of shows and how fast things are going and how stacked the calendar is, I lie in bed sometimes after getting off a plane and things just kind of click for me, I'm like 'Wow, I can't believe that happened' but then, you know, I've got to be up in five hours to get on a flight to go somewhere else. I feel like summer in Australia will be an opportunity for me to chill and reflect and enjoy myself, I'm really looking forward to that.