Banksy in the big apple: The new documentary screening on Rialto Channel this week.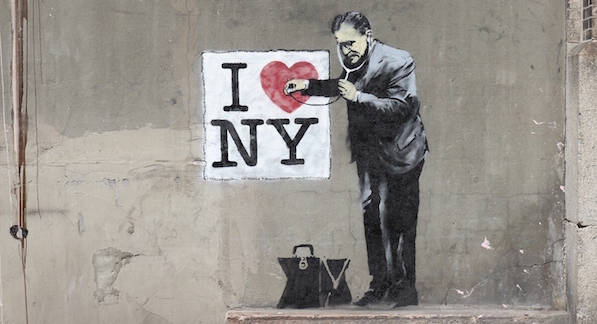 The
Rialto Channel
always manages to find the most interesting and engaging docos for our viewing pleasure and once again, they haven't let us down! As part of Rialto Channel's Double Exposure series,
Banksy does New York
will be brought to our screens on Friday 9
th
of October. The perfect way to witness one of the biggest and most controversial street artists in ways you've never seen him before. Using the lens of social media, director, Chris Moukarbel attempts to show the world Banksy's residency in New York in 2013 through the eye of the public. Throughout the year Banksy managed to capture the interest and the hearts of New Yorkers by creating an art scavenger hunt for the locals. The Big Apple became abuzz with people talking about the artist and posting to social media when they managed to find a piece. There were negative and positive reactions to the artwork, ranging from it being ripped from the walls and painted over by other graffiti artists to being admired by young and old and even some entrepreneurial types charging people to take photos of the art. Check out page 260 of our new issue for the full low down. Despite the film being created after Banksy had left New York it still has a sense of immediacy by using social media images and other Internet footage to make the film feel like it was produced whilst Banksy was still there. The use of social media to convey how people felt about the artwork was also a bold step for Chris but it truly paid off. The film is captivating, real, and eye opening and it'll be one to talk about with your friends for years to come. Whether you agree with his political and social messages or not there's no denying that Banksy is an influential character that everyone can discuss.
Banksy Does New York screens during Rialto Channel's Double Exposure series, Friday 9th October at 8:30pm, Sky Channel 39.
[video src="https://www.youtube.com/watch?v=kzPGOCYET9Y" size="auto"]