Words by Flora Cheng. Love him or loathe him, you can't take your eyes off
Matt Bowden
. As the former frontman for drug law reforms in New Zealand and the mastermind behind some of our country's most notorious legal highs, Matt Bowden is nothing short of infamous. Now reincarnted as THE rock musician
Starboy
, he opened up to Remix about his touring rock opera, new album and pending autobiography…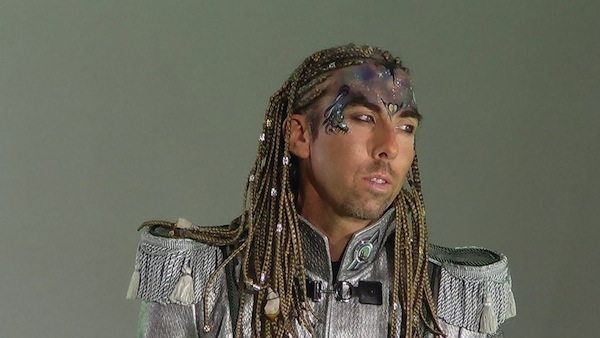 Can you tell us a little about how your musical persona 'Starboy' was born?
The Starboy nickname predates the Facebook era, when ravers enjoyed the anonymity of the online handle. Night people knew each other by these internet pseudonyms and I was Starboy. Partly derived from my company name Stargate, it just stuck. My magpie tendency with sparkly clothes probably helped. I can't use my Matt Bowden name, because the media always prefix with "Drug Kingpin" or "Drug Lord" or "Pope of Party Pills" or some other rubbish so I decided if they are going to create some larger than life fictionalised character out of me then I'm just going to supersize it and franchise it you know? Capitalise on the theatricality of the situation and turn it into a brand, so I started wearing costumes and masks when I performed so I didn't look like the guy on the news.
How would you describe Starboy's musical style?
I describe it as Psybaroq, a cyborg of psychedelic and orchestral prog rock. A piece might start as an indie rock song then breakdown into orchestral strings and horns and build back up through drum and bass synths to a rock sound again, driven by the incredibly talented technical drummer Jasper de Roos. It is staged against a backdrop of psychedelic effects and tape delays from Stu Fu and has Stephen Small's manic piano wizardry sprinkled over the top. We are just shuffling bass players as Stephen Pether wants to spend some family time so Dan Antunovich stepping in to pound the sound on tour. Interested to see how others describe it!
Has it been a difficult journey getting your music out there?
I have always heard this music in my head, all epic and layered but didn't think I could get it out, so I decided I would try to rewrite drug laws in New Zealand instead. I had a vision to make suggestions that would be promulgated through the UN to lead the world out of the war on drugs. Delusional, right? Fifteen years on ... It was pretty cool when our government listened to the message and agreed to implement the model, but when the UK All Party Committee advised their government to copy NZ and then after being invited to talk to the European Commission and Australian leaders I pinched myself a bit, but the incredible response our solution received at United Nations took the cake, I just thought 'Holy Crap.' I was shocked that it actualised so quickly from pipe dream to bold statement to historical fact. Just thought 'my part of the mission is completed.' There is a point where you realise that with a mustard seed of faith you can move mountains. You observe that principle and then your are confident about anything. Some people said I was delusional but I think it has gone beyond that. Getting the album out has been difficult as I kept getting distracted but now that I can focus on it is getting real easy!
What was it like releasing your initial EP 'Induction'?
'Induction' was the process of completing a short introductory piece to put me in the framework of recording, mixing, mastering and releasing. I highly recommend it as an exercise: release an album. Everybody should do it. Frank Zappa did dozens! Your next album 'Homecoming' was a steampunk music video and mini movie; can you tell us a little about the inspiration and concept behind that? We made a three part mini movie, I think it is the biggest rock video project in this part of the world, so many people worked so hard on it, it's a visual representation of the retro futuristic sound the classical with retro rock and electronic just lends itself to a steampunkesque aesthetic - film company Stake did an amazing job, we just want to encourage people to let the imagination flow and dream bigger than life and dont be scared to jump off the edge of the cliff to seize your dream, you have to watch it - if you like classic NZ rock videos or scifi fantasy stuff or want to hear the sound look up Starboy Eternity Trilogy on YouTube.
Starboy's Steampunk Burlesque Circus Express showcase was a massive success, was it a labour of love putting it all together?
My wife Kristi and I love theatre and burlesque and so the show is a rock concert with FX and theatrics and dancers and the video elements, we are starting to tour internationally and want audiences at festivals to be saying 'hey what about that kiwi band with the cyborg hakas and flamethrowers, let's go see them again.' Our take home message is creativity and expression is the best buzz, you don't need alcohol and drugs.
You've branched out and spread your music overseas, what has it been like putting yourself on the international market?
Being from Aotearoa means we have freshness, we are different, our music has Te Reo elements and the JGeeks bring the tribal vibe and promoters love that. We play off The Lord of the Rings thing a bit, so we are a touring chunk of Middle Earth. You sort of borrow and redefine pop culture as you go. This tour we are starting now will be our first European tour, hitting World Bodypainting Festival in Austria with Stereo MCs, T in the Park Scotland then hit the studio in Ibiza then do Steamfest Brisbane, then get ready to go do again next year.
How does your fan-base in NZ compare to your fan-base overseas?
New Zealanders already had an impression of me from my activism whereas overseas I can be a performance artist first and activist second.
What was your initial thought and reaction when your single 'Flying', released on October 2012, debuted at #5 in the NZ Singles chart and #29 in the NZ Top 40?
Having a song in the charts is great encouragement from the community that people are actually enjoying what you're doing, and to me it said, 'Bluddihell, you can drop in a 2 minute screaming guitar solo and still chart if it is cool enough,' which everybody said was impossible you what I mean? Of course my daughter went from starring in my video to starring in somebody else's video which hit number 2 shortly after so that put me in my place but thanks New Zealand anyway for support!
What's coming up on the horizon for Starboy?
Basically, we want to build up the show and tour it, commit to it for three years and see how noticed we can get - keep putting out albums and see what we can build up. Ideally I want to make a living entertaining with music so I can donate the majority of my other business to charitable purposes and community projects so other countries have something really decent to copy. My management people suggested I put out a book. When I thought about it I realized I had run up against CIA, KGB, IRA, Interpol, and various criminal groups across a number of continents and had enough people die or get executed around me! All the crazy stuff I spent years working so hard to keep out of my clean cut image would apparently make good reading as a rock n' roll biography if it was all censored and anonymised and so on, so we are working out how to do that without getting in trouble!
For more information on Starboy and all his upcoming projects, visit his website or official Facebook page here.