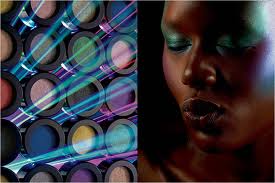 Mimi Kelly is the artistic director/owner of Killer Hair, Newton. She's an award-winning hair colourist and makeup artist. Every week Mimi will be doing what she does best ... give her opinion.
Electric Cool Eye Shadows
This limited edition of twelve pearly finish eyeshadows are multi-dimensional and lightweight for superior blending power. With a firm mousse-like consistency they glide on with ease. You can achieve a high shine neutral with 'Pure Flash' a soft champagne or 'SuperWatt' a shimmering taupe. If you want a colour pop try 'Highly Charged,' a violet purple shot with pearly pink, or 'Switch to Blue' a bold cobalt. On sale now for $44 each.
Nail Lacquer
M.A.C's release of its first permanent nail collectio brings about new shades and some best sellers from past limited edition collections. With thirty colours in 3 finishes it means you can fall in love with a shade and not fear it selling out. There's everything from shimmers to glitters, neutrals to fashion trend faves. My picks - Fiesta Ware' a creamy pastel coral, 'Coffee Break' again a cream finish in a mushroomy mid brown, GORGEOUS! There are also a few like 'Snob' and 'Saint Germain' that come in a lipshade so you can do your matchy-matchy thing. On sale now for $26.