Hilton Auckland's Afternoon Tea has had a makeover with Karen Murrell
Hilton Auckland's beloved Afternoon Tea experience is one that we all know and love and the craft of pastries and savouries only goes hand in hand with the beauty realm, making its collaboration with lipstick aficionado Karen Murrell the perfect dining experience. Seamlessly infusing the beauty world with the art of an Afternoon Tea, 'Kisses by Hilton' is three tiers of beautiful colours and boastful flavours elevated with nods to Karen Murrell's clean and natural beauty brand. Perched on Auckland's Princes Wharf, Bellini at Hilton Auckland promises panoramic sea views to accompany your dining experience, allowing you to truly wind down whether attending a ladies' lunch, a romantic date or simply treating yourself.
Expect carefully crafted savouries crafted by Culinary Director Des Harris and Executive Chef Juan Patino from sausage rolls to delicious pinwheel scrolls paired alongside top-tier loose-leaf teas. For those who have a sweet tooth like us, there's no shortage of decadent desserts thanks to Hilton Auckland's Pastry Chef Hiranya Ratnayake. Captured in the pastries is the essence of the Karen Murrell brand, delivering mille-feuilles with cinnamon-infused chantilly cream, nodding to the cinnamon used in Karen's lipsticks, and a Blush Velvet cake that brings surprising bursts of caramel pops to convey the texture of KM's lipsticks. The delectable Chocolate Hazelnut Tart, inspired by the elegant casing of a Karen Murrell lipstick, is made up of flavours from dark chocolate, roasted hazelnut and raspberry Chantilly tart, then finished off with a slice of dehydrated orange: another nod to a key ingredient in the beloved KM lipsticks. Guests will also be able to take home a specially crafted Karen Murrell Natural Lipstick, also titled 'Kisses by Hilton,' giving the perfect finish to an already delicious experience.
"Lipstick, like exquisite food has magical transformative properties which is why I was so excited to collaborate with the Hilton on this immersive experience. I did not however expect such an exceptional outcome that captivates all of our senses, it's a truly sensational dining experience." - Karen Murrell.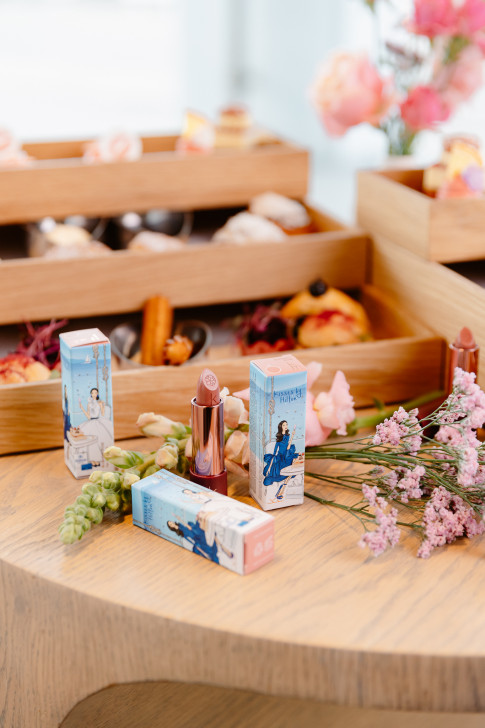 The 'Kisses by Hilton' Afternoon Tea is available at Bellini Bar in Hilton Auckland, running from September 1st until November 26th, priced at $89 per person and available Thursday through Sunday, 11 am to 4 pm.
Make your reservation now at the link below.