A beauty editor weighs in on the iconic Clarins Double Serum
Beauty may thrive on trends, but certain products—much like fashion's equivalent to the LBD—never go out of style. Consistently holding their own, even against the most hyped-up new releases, they're the ones that experts and obsessives return to time and time again. What earns them such loyalty, you ask? Well, they legit work. Case in point: Clarins Double Serum.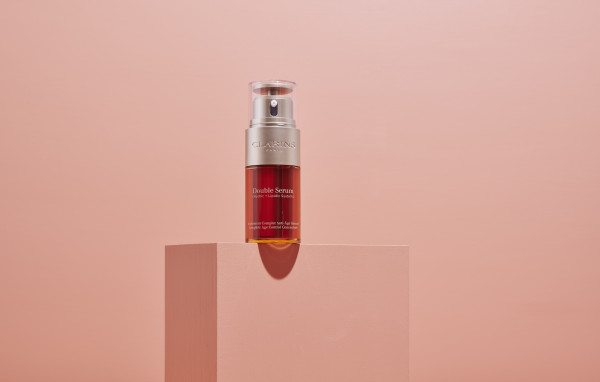 The cult-favourite Clarins Double Serum is the brand's number-one seller - and for good reason. It's lauded by its army of loyalists for making skin visibly soft, hydrated, refined, and radiant. Born in 1985, the now iconic plant-powered serum was originally conceived as two separate serums: one with water-soluble (hydric) ingredients, and the other with oil-soluble (lipidic) ingredients. The two serums were to be combined by mixing a dosage of each before pressing into the skin - hence the name, Double Serum. In an industry-leading move, Clarins launched a bi-phase serum with an innovative dual-chamber bottle that dispenses the perfect ratio of water-soluble and oil-soluble ingredients, combining the benefits of 2 serums in 1, for maximum efficacy. Its power lies in the science-led formulation, which leverages 21 natural plant extracts to act on all signs of skin ageing.
Today, it sits firmly in the ranks of the top-selling products around the world with one sold every five seconds globally.
My first encounter with Clarins Double Serum was as a child. My mum has used the serum religiously since as long as I can remember. But admittedly, I'd never tried it. When I first got into skincare, I thought I was much cooler and up with the latest products than her. Sorry mum. But, alas, here I am years down the track, armed with the knowledge that new doesn't necessarily mean good (after a few poor purchases). Read on for my review of Clarins Double Serum.
My review
I'm lucky that my skin is on the normal side – not sensitive, not oily, not too dry—just smack bang in the middle. That said, I definitely notice when products improve my skin, and likewise do nothing.
I've been trialling Clarins Double Serum for the past three weeks – here's what I've noticed...
1) The best part is undoubtedly the "radiance" effect. It's also the first thing I noticed after only a couple of uses. My complexion looked fresh, glowing and dewy – but not too shiny. I put this down to Double Serum's star ingredient, Turmeric extract. Brimming with antioxidant and anti-inflammatory properties, it's renowned for providing a glow and lustre to skin. I was pretty chuffed with just this benefit to be honest. I'm always chasing that lit-from-within glow, and it's as close as I'm getting to a tropical holiday right now, so I'll take it.
2) At week three my skin is silky smooth! It feels plump, hydrated, and healthy.
3) While I haven't been using it long, I swear my skin texture looks more refined. I have an uneven skin tone and enlarged pores in some areas (particularly around the nose), and it looks to have diminished slightly. I'm eager to see what it's like after a couple of months' use!
So, my verdict? Turns out mum really does know best.
I'm really impressed with the results of Clarins Double Serum so far. It's easy to see why it's one of the best-selling serums. I will most definitely be adding it to my line-up, which already includes the new Double Serum Eye (the two work best when used in tandem).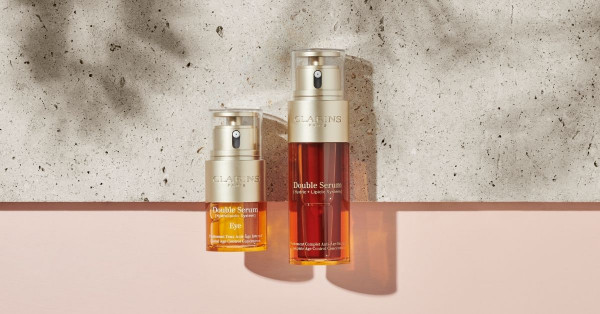 Did you know?
Clarins created the most natural formula possible that includes organic ingredients sourced from fair trade practices, whenever possible. The formula includes nine organic ingredients of which three are fair trade certified.
Double Serum's eco-friendly bottle is made from recycled materials, and now requires less packaging. The dual-chamber bottle delivers just the right amount of product for your skin's needs to prevent overconsumption.
Plant-powered, yet science-driven, Clarins will always use a natural ingredient over a synthetic one - but only if it delivers the same level of efficacy.