Work from anywhere with the HP Envy x360 Convertible laptop
Now more than ever before working from anywhere has become the new normal, whether you're a creator on the road, an office goer splitting your time between the HQ and home or simply a cafe dweller working on all of life's day-to-day admin. If this sounds like you then the new HP Envy x360 13", designed on the Intel® Evo™ platform with powerful 12th Gen Intel® Core™ processors, is your one-way ticket to on-the-go work, play and everything in between.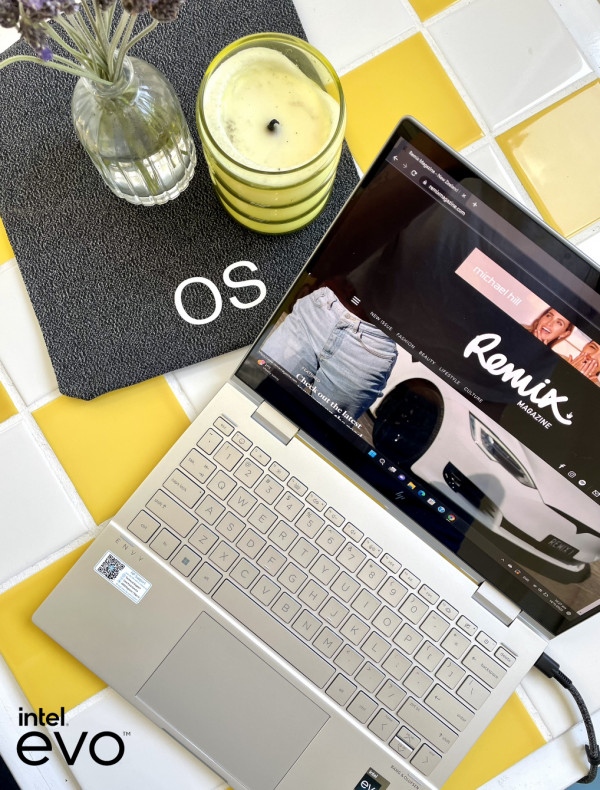 To put the new convertible HP Envy x360 to the test, Remix Deputy Editor Orion went on the road with HP to Uluru, Australia, and out and about at her 9-5 to find out if you really can work from anywhere. Discover Orion's favourite things about the HP Envy x360 and why from a writer and creatives perspective it's the best laptop in the biz.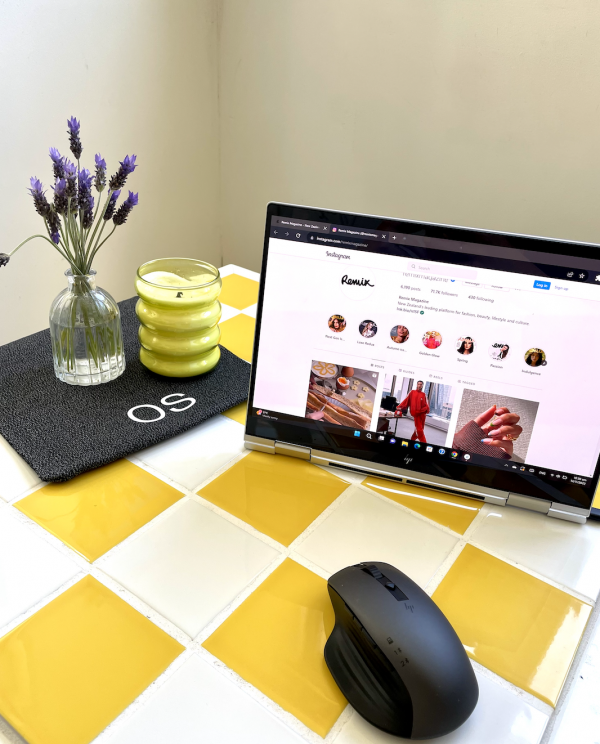 Battery Life
As someone who isn't great at remembering to charge any device, the HP Envy x360's battery life was a huge pulling point for me. Engineered for mobile performance on the Intel® Evo™ platform, the HP Envy x360 offers up to 20.5 hours of battery life, meaning you can go over two days at your 9-5 without a single charge. Whilst on the road (and watching a lot of Netflix in the airport terminal) the Power Saver mode came in handy as it extends the battery life for longer, meaning you don't have to worry about missing the end of any blockbuster. I'm also often on the go in my daily life, running to meetings or working from various locations resulting in a lot of laptop travel. With more important things on my mind, I usually end up throwing my laptop in my bag, not thinking about the consequences it may have on the battery life. Luckily, the HP Envy x360 is equipped with a special Intel® DynamicTuning Technology in-bag detection mode which adjusts the PC's power to avoid overheating or battery drainage when put upside down in a bag, likely next to handfuls of old receipts, lipsticks and croissant crumbs.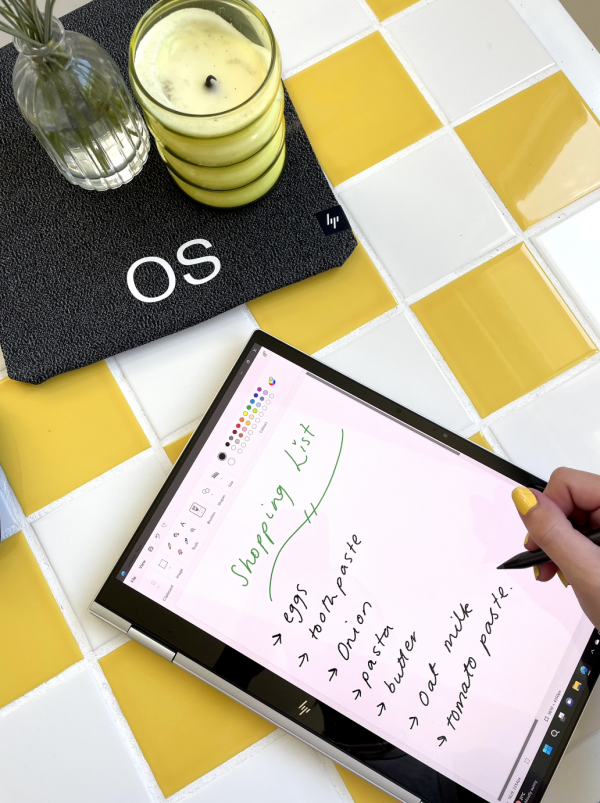 Convertible
My favourite feature of the HP Envy x360 is the endless ways you can use it. I love how easy it is to turn it from a laptop with a keyboard into a tablet by simply folding it in half. Aside from typing emails and writing, I also love to draw, create and write lists, so using the tablet function has come in extremely handy. Because of the touch screen, I can easily zoom into projects, scroll Pinterest for ideas and with the help of my handy dandy wireless Bluetooth pen, I can draw with precision to get up close and personal with a project.
As I said previously, I'm no stranger to watching a cheeky season (or four) of my favourite show in bed so turning the PC into tent mode has come in very, very handy. By folding the screen back on itself to create a triangle shape you get both incredible stability and endless Netflix scrolling capabilities as the 4k OLED display auto-corrects to whichever format you wish to use.
Another top tip, if you're short on space in the kitchen but love to cook along with a YouTube video or an online recipe, fold the keyboard back on itself to create an "L" shape and prop it up on a windowsill or shelf and reap the benefits of not spilling spices or sauce on the keyboard.
Zoom Zoom Zoom
We're all now accustomed to a virtual meeting, but as all tech goes there are often a few pain points involved. One of the main differences I found when using the HP Envy x360 in comparison to any other devices was the picture clarity and sound when video calling. Offering Backlight Adjustment to autocorrect video images in any environment and complete with a very flattering video filter option, I haven't had to worry about where in the house or office I have to sit to take calls.
Living in a house with three others (they're also musicians) means there's always some kind of noise going on which is where the Bi-directional AI noise reduction saves the day. By using directional beamforming mics and quad speakers I don't have to worry about putting headphones on or clients hearing the riff-raff in the back.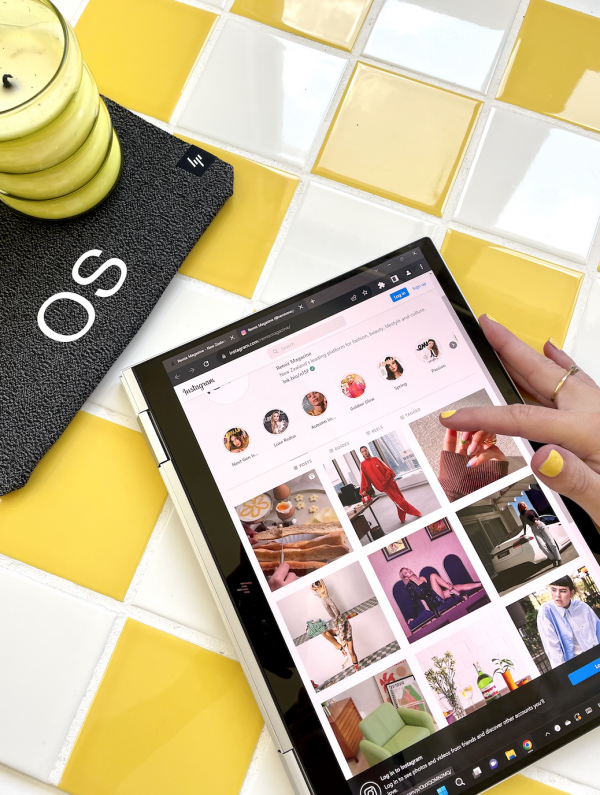 The design
I'm not afraid to admit that when it comes to basically anything, the aesthetic of a product plays a huge part in purchasing. The sleek and slim design is not only nice to look at, it also makes it easier than ever to slip into your chosen storage space. I have the silver version of the HP Envy x360 but there is also a navy blue option to ensure there's no compromise on your office space theme.
As someone who also turns their document size up to 125% the 13.3-inch screen is the perfect size for hours of work and many more hours of video viewing.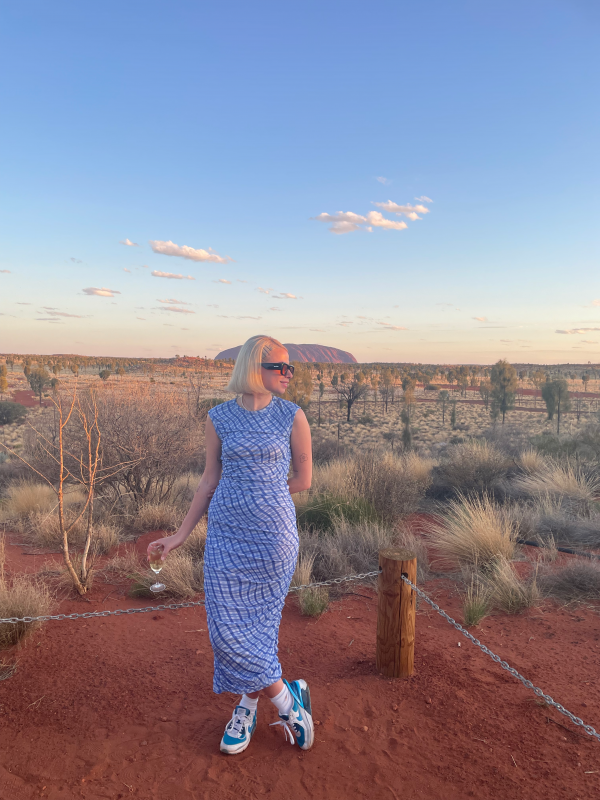 The trip to Uluru
Listed as one of the world's most famous natural landmarks on earth, Uluru is on many people's must-visit bucket list. Located in the heart of Australia's Northern Territory, Uluru plays a hugely important part in the country's history. To many, it might seem like a large, beautiful rock, but to the indigenous Anangu culture, it is a living, breathing, cultural landscape and the resting place for the past ancient spirits of the region.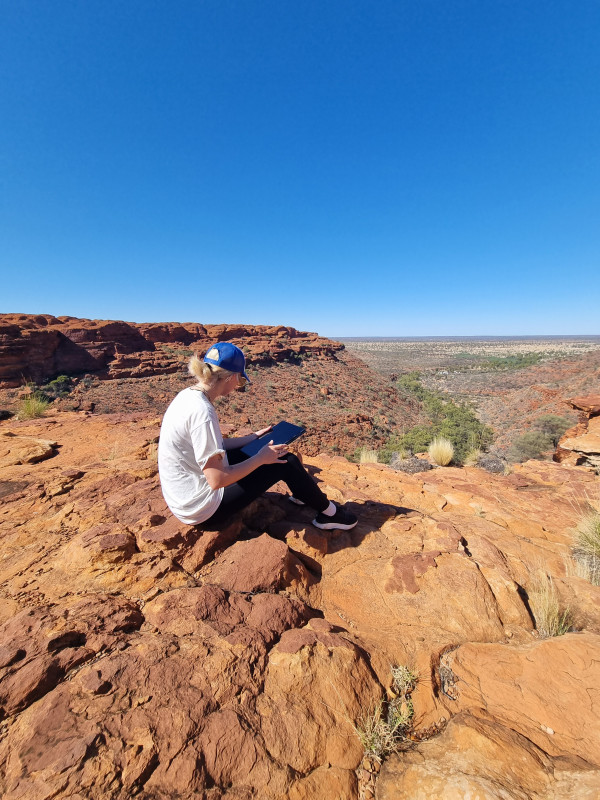 My three-day trip to Uluru was packed to the brim, resulting in an experience like no other. The team and I trekked around the 9.4-kilometre circumference of Uluru, stopping to learn and listen to our wealth of information tour guide. We dined like Kings and Queens under the night sky and were treated to an in-depth astronomy session. Because of where Uluru is situated in the Northern Territory there is little to no light pollution, making for a night sky that looked more like fairy lights illuminating a Christmas tree. On day three we put our fitness to the test and climbed up the 270m high Kings Canyon where we were greeted with a view so vast I could almost see home.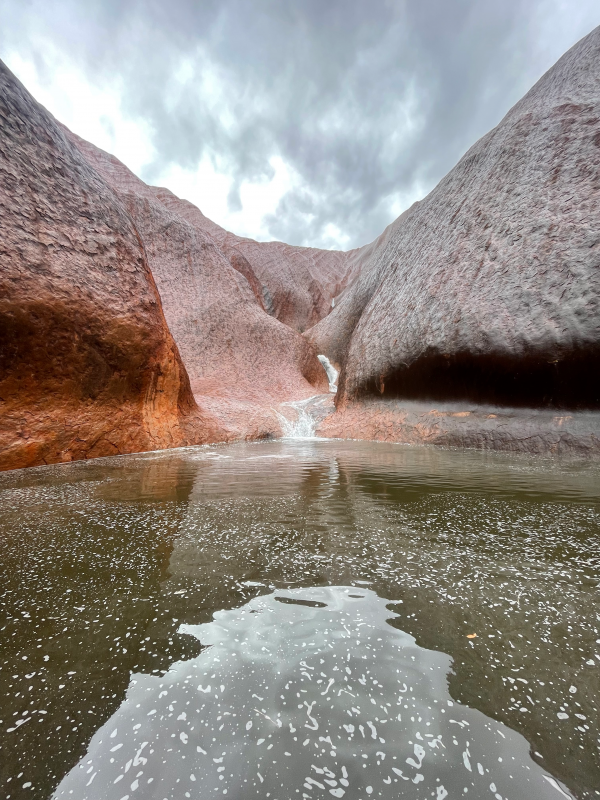 Uluru for me has always been somewhere I would have loved to visit and thanks to Intel and the HP team I was able to tick it off my list! Aside from the pure beauty and jaw-dropping views around every turn, Uluru for me was a big educational experience. From learning about the landscape to hearing about the indigenous heritage stories elders have passed down throughout generations I count myself incredibly lucky.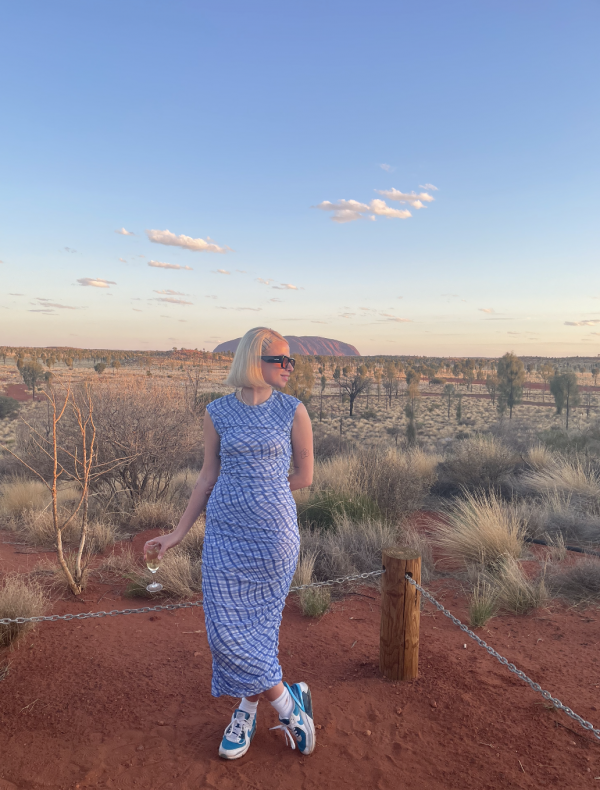 One of my favourite experiences would have to be dining outside at dusk, watching the sun set across the land creating a panorama view that was so out of this world I literally had to pinch myself. A big thank you goes out to the Anangu people who allowed us to visit and explore this sacred place.
Take a look below at how Orion used the HP Envy x360 whilst in Uluru…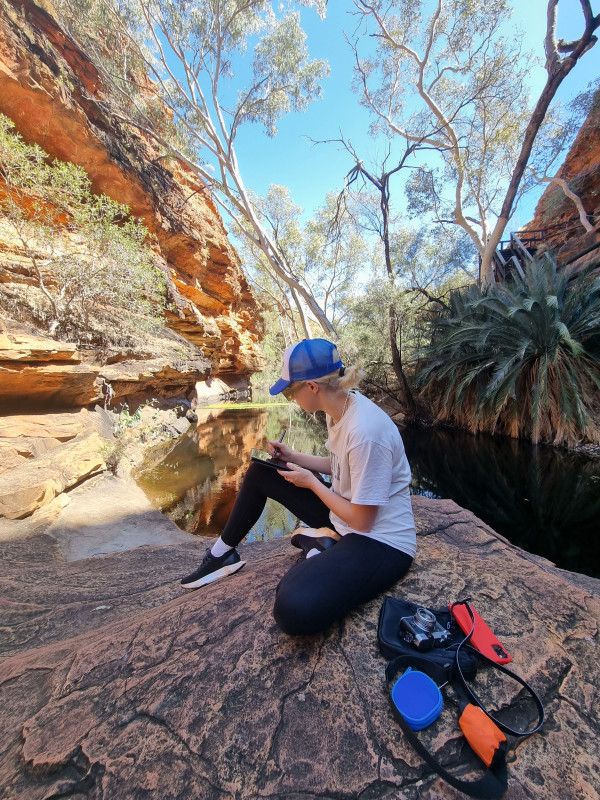 Whilst on the road I used the tablet mode to take pictures and write notes. I was so surprised at how lightweight the device was, even on a long walk stored in my backpack.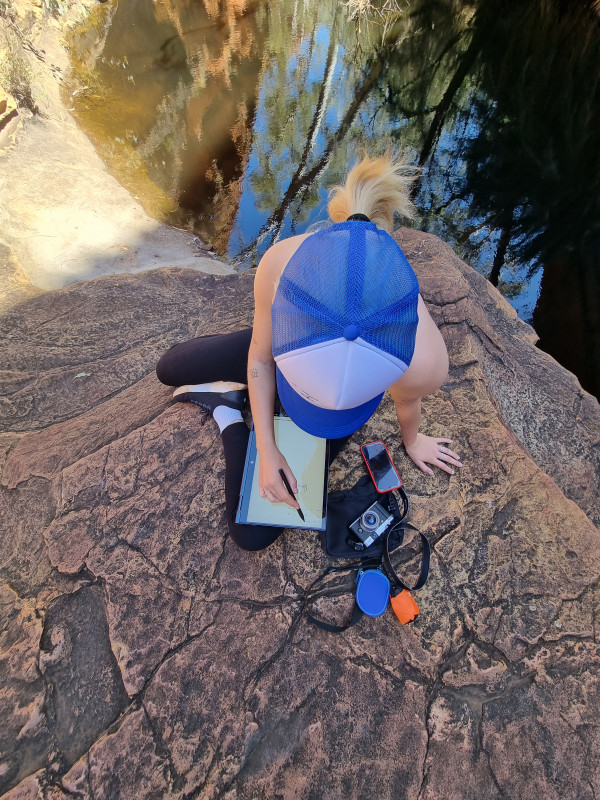 If you're on the hunt for a new device then the HP Envy x360 laptop is your one-way ticket to multifunctional, on-the-go work and play.
Check out the full range here