Remix Drives: The new Ford Mustang
One of Remix's most favourite drives is an American icon - the Ford Mustang. The sporty coupe with the long hood and short rear decks has always been a competitor with many other sweet drives, but with the ongoing revolution of the mighty Mustang, it is definitely not driving out of style.
The sculpted, sleek and sophisticated automobile is streamlined for both dynamic performance and a distinct aesthetic - catching eyes as you ride down every road! You are spoilt for choice between the glistening Mustang Fastback with a fixed roof, or the fanciful Mustang Convertible.
Coruscating colours of the Mustang will ensure that the parking lot is no longer a maze to find your swish drive. Favourites include Ruby Red, Whiter Platinum and Lightning Blue (pictured below). Take a trip down the wild alley, because there is no doubt that this soulful coupe will garner enough glares.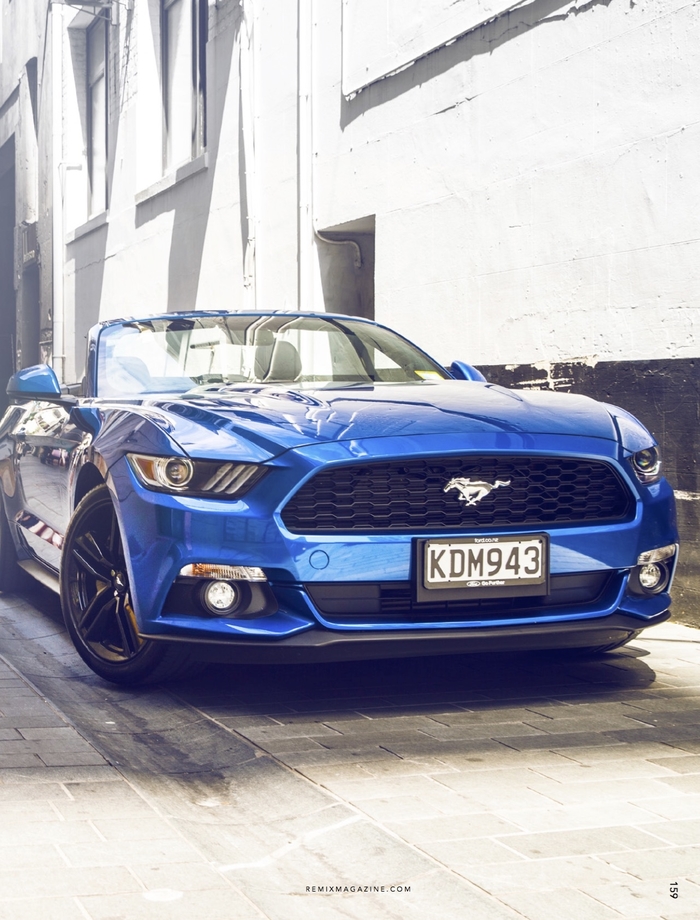 The Ford Mustang masters the art of exhilaration, delivering the robust 5.0L V8 Engine, which will loudly boost you right off the mark. Otherwise, take the other option of the Turbocharged 2.3L EcoBoost engine which distributes electrifying power and acceleration, combined with superb economy.
Talk about the evolution of the Mustang… the evolution of technology has allowed for enhanced improvements in the car, booming the performance of every trip. The Mustang's Track Apps suite delivers feedback on what your car is doing, how it's performing, and how you are performing. Customised steering is also an option depending on your comfort and mood. Pretty suite if you ask me!
Damn right these wheels can drive that drive, but it also can talk that talk! SYNC 3 is a fully integrated voice activation system that allows you to safely use your fav devices while you have your hands on the wheel and your eyes on the road. At the touch of a finger on the *" touch screen, you will have your favourite beats queued in no time!
Don't forget to grab yourselves a copy of the latest Remix issue and head here to check out more.