Recipes that incorporate in-season Autumn produce
Don't let those brazen feijoas steal all the limelight - there is other fresh produce ubiquitous at this time of year, here are a few ways to enjoy them…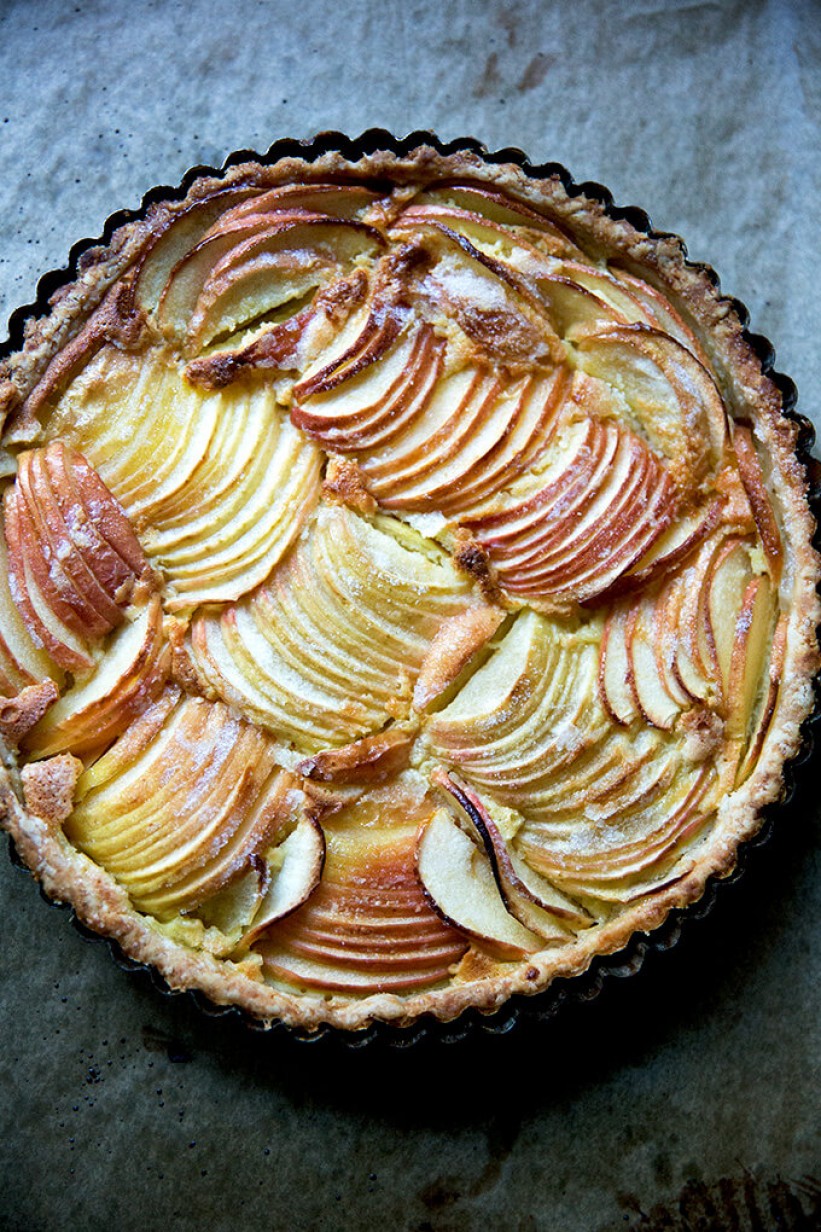 Apple
Ingredients
For the tart dough:
1 1/4 cups (160g) all-purpose flour

1 tablespoon sugar

1/4 teaspoon table or kosher salt

8 tablespoons (4 oz | 114g) cold, cubed butter, salted or unsalted

1/4 C. + 1 T. (71 g) ice water
For the apple tart:
3 to 4 apples, I typically use Honey Crisp; use what you like

1/4 cup (2 ounces) butter, salted or unsalted

1/4 cup sugar
For serving:
1 cup heavy cream

confectioner's sugar to taste

flaky sea salt, such as maldon, if you have it, kosher or other salt if you don't
Method
Make the pastry: In the bowl of a food processor, pulse the flour, sugar and salt together. Add the cold, cubed butter to the food processor. Pulse at 1-second intervals until butter is the size of peas—should be about 10 quick pulses. Add the ice water and pulse again about 10 times until the mixture is crumbly but holds together when pinched. Lay a clean tea towel on a work surface. Dump the crumbly dough mixture into the center of it. Grab the four corners of the towel together and twist to create a beggar's purse, pressing the dough into a round.

On a lightly floured work surface, roll out the dough into a 12- or 13-inch round. Use as much flour as needed to prevent the dough from sticking, and every few rolls, flip the dough over. Transfer dough to a tart pan with a removable bottom. Fit the dough into the pan, trimming the edges. (Save the scraps; see notes above.) Transfer to freezer for 30 minutes.

Preheat the oven to 400ºF and place a rack in the center of the oven.

Prepare the apples. Cut the "cheeks" of the apples off the core into four pieces — each piece will have one large flat side. Lay each piece on its flat side and slice thinly, keeping the slices together as you go. Arrange the slices around the tart in any pattern you desire, fanning the apples as you go. You may need to cut some of the apple fans to fit.

Sprinkle evenly with the 1/4 cup sugar and 1/4 cup cubed butter. Transfer to a rimmed sheet pan. (I like to line with parchment paper for easy cleanup.) Transfer to the oven for 35 to 40 minutes. I have been switching the oven to convection bake for the last 5 to 10 minutes and increasing the oven temperature to 425ºF to get some nice caramelization on the apple slices. This is unnecessary — the uncaramelized apple slices taste delicious, too — but I find it visually appealing and tasty.

Make the whipped cream. Place the heavy cream in the bowl of a stand mixer and whip until soft peaks begin to form. (You can do this by hand, too, with a bowl and whisk.) Add confectioner's sugar — start with 1/4 cup and add more to taste. Add a big pinch of sea salt and beat to combine and until the peaks begin getting firmer. Taste — the mixture should be slightly sweet and the salt should be noticeable, though the whipped cream should not taste salty.

Serve the tart warm or at room temperature with dollops of the whipped cream.



caster sugar 1 cup

vanilla essence or extract 1 teaspoon

self-raising flour 2 cups

desiccated coconut ½ cup

thread coconut ½ cup

feijoas 10, peeled, sliced

caster sugar ¼ cup

cinnamon ½ teaspoon

icing sugar for dusting

Butter 220g
Method
Preheat the oven to 180°C and grease and line the base of a slice tin around 18cm x 26cm or similar.
Cream butter and first measure of sugar with an electric beater until pale and fluffy, add vanilla and beat well. Using a spatula, stir in flour and desiccated coconut to form a soft dough. Divide mixture into thirds, then combine two of the quantities to make one large and one small portion.

Press the larger amount into the base of the lined slice tin and smooth with wet fingertips of the back of a wet spoon. Bake for 10-12 minutes until just starting to turn golden. Add the thread coconut to the remaining dough and mix well, then chill in the fridge for 10 minutes.

Toss feijoas with the second measure of sugar and cinnamon. Arrange evenly over the partially cooked base, then crumble over the coconut dough.

Bake for 25-30 minutes until golden and puffed. Dust with icing sugar and serve warm with ice cream or allow to cool and slice.



Figs
Figgy Foccacia
Ingredients
1 medium-size red onion

3 tablespoons olive oil, divided

Coarse sea or kosher salt and freshly ground pepper to taste

Plain cornmeal

1 pound bakery pizza dough

8 fresh figs, halved

1 tablespoon fresh rosemary leaves
Method
Preheat grill to 350° to 400° (medium-high) heat. Cut onion into 3/4- to 1-inch slices. Brush onion slices with 1 Tbsp. olive oil, and season with sea salt and freshly ground pepper to taste. Grill onion slices, without grill lid, 3 to 4 minutes on each side or until tender and lightly charred.

Preheat oven to 425°. Lightly dust work surface with cornmeal. Stretch dough into a 10- to 12-inch oval on work surface. Place dough, cornmeal side down, on a greased baking sheet; drizzle with remaining 2 Tbsp. olive oil. Rub oil into dough. Arrange fig halves and grilled onion over dough, pressing lightly. Sprinkle with rosemary and salt and pepper to taste.

Bake at 425° on lowest oven rack 15 to 20 minutes or until golden.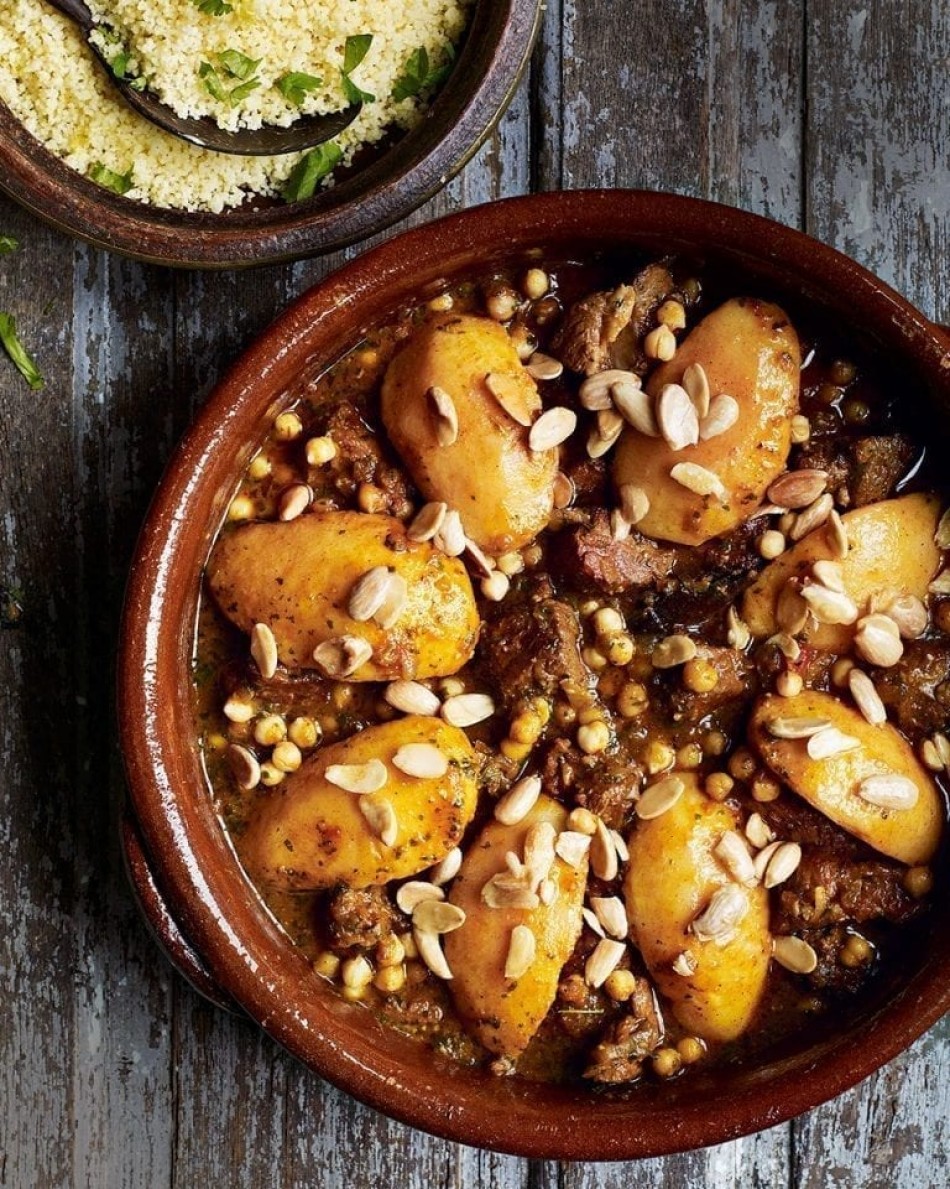 Quince
Lamb and quince tagine
Ingredients
3 tbsp olive oil

1kg lean lamb shoulder or leg, cut into chunks

2 onions, thinly sliced

5cm fresh ginger, finely grated

200g skinned chopped tomatoes, fresh or from a can

Small cinnamon stick

1 tsp ground ginger

4 tbsp clear honey

1 small preserved lemon, flesh discarded (from the international section in large supermarkets) or 2 strips lemon zest, finely chopped

750ml lamb or chicken stock

¾ tsp salt

½ tsp black pepper

400g can chickpeas, drained

Pared zest and juice 1 lemon

½ tsp black pepper

1kg quinces (about 4 medium)

40g butter, plus an extra knob

2 tbsp caster sugar

¼ tsp ground cinnamon

50g blanched almonds, toasted in a dry frying pan, then split in half




For the chermoula
3 garlic cloves, roughly chopped

2 tsp ground cumin

2 tsp ground coriander

1½ tsp paprika

1 tbsp harissa paste

Good pinch saffron strands

2 tbsp lemon juice

20g fresh coriander leaves

20g fresh mint leaves

4 tbsp olive oil

½ tsp salt




For the buttered couscous
350g couscous

½ tsp salt

450ml boiling water

25g butter

Finely grated zest 1 small lemon
To make the chermoula, blend all the ingredients to a smooth paste in a food processor.

Heat 11⁄2 tbsp of the oil in a large flameproof casserole. Fry the lamb in 2 batches until browned all over, then lift onto a plate. Add the rest of the oil and onions to the pan and fry over a medium heat until soft and browned. Add the grated ginger, cook for 1 minute, then add the tomatoes, cinnamon, ground ginger, 2 tbsp honey and 2 tbsp chermoula. Simmer for 2-3 minutes, then return the lamb to the casserole and add the preserved lemon/lemon zest, stock, 1⁄2 tsp salt and the pepper. Part-cover, then simmer for 1 hour.

Stir in the chickpeas and simmer, uncovered, for 30 minutes more until the lamb is tender and the sauce has reduced a little more.

Meanwhile put 1 litre cold water and the lemon zest and juice in a saucepan. Peel, quarter and core the quinces, putting them in the pan as you go, to stop them browning. Bring to a simmer over a medium heat and cook for 10-15 minutes until just tender when pierced with the tip of a knife. Drain well and transfer to a deep frying pan or sauté pan. Add the butter, the remaining 2 tbsp honey, the sugar, cinnamon, 4 tbsp of the lamb cooking liquid and the remaining 1⁄4 tsp salt, then cook gently, turning now and then, until the juices are sticky and reduced and the quinces are tender.

Shortly before the lamb is ready, put the couscous and salt in a large heatproof bowl, then stir in the hot water. Cover with a clean tea towel and leave for 5 minutes. Uncover, then fluff up with a fork. Melt the 40g butter in a large pan, add the couscous and stir over a low heat for 2 minutes until heated through, then fork through the lemon zest. Melt the knob of butter in a pan and fry the almonds in it for 1 minute.

Stir the remaining chermoula into the lamb and adjust the seasoning to taste. Arrange the quinces over the top, scatter with the almonds, then serve with the buttered couscous.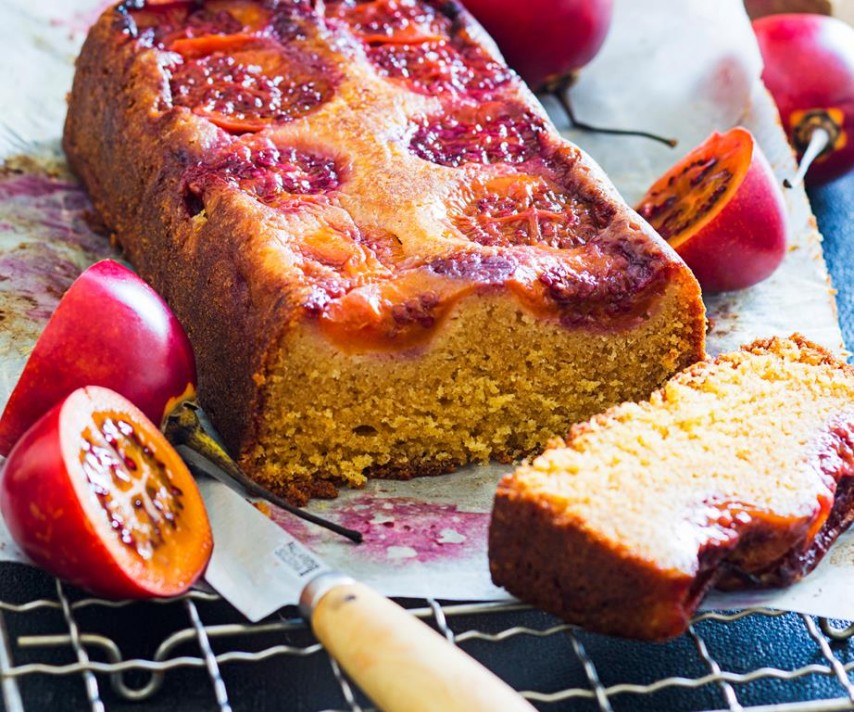 Tamarillo
Ingredients
145 gram butter, softened

1/2 cup caster sugar

2 tablespoon honey

2 large eggs

2/3 cup plain flour

2 teaspoon baking powder

1/4 cup almond meal

splash of milk (optional)

5 large tamarillos, peeled and cut into 3 thick slices
Method
Preheat oven to 180°C. Grease and line a 25cm x 13cm) loaf tin. Dust the bottom lightly with flour.

Cream the butter, sugar and honey until light and fluffy. Add eggs, one at a time, and beat until combined (don't worry if the batter curdles). Fold in the sifted flour, baking powder and almond meal, then mix. The batter should be light and somewhere between a stiff and dropping consistency. If it's too stiff, loosen by adding a little milk.

Put the tamarillo slices in a single layer on the base of the prepared tin. Scrape the batter over and smooth. Bake for 45-50 minutes or until an inserted skewer comes out clean.

Leave to cool for 15 minutes, then invert onto a plate so that the cut tamarillos face upwards.