Meet the Melbourne-based Maximalists: Josh & Matt
Known on social media as the couple with the coolest home, Josh and Matt are the Melbourne-based creative duo taking wild and wacky interiors to a whole new level. We chatted to the self-proclaimed maximalists to discuss their favourite interior pieces, their top tips for those wanting to spice up their space and the best places to find those must-have items.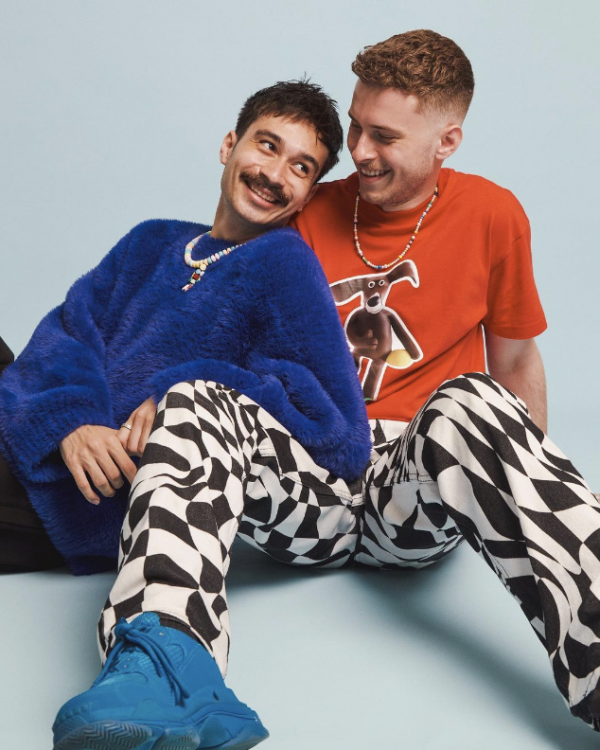 You've just moved house – congrats! What's your favourite item in your home?
Thank you! That would have to be our Ploum sofa by Ligne Roset. It has been a dream piece ever since we first sat on one a couple of years ago and we finally had the space in our new apartment so we went for it. It is the most comfortable couch ever, we say it's like sitting on a giant marshmallow!
Describe your interiors style in three words…
Dynamic, eccentric and joyful.
Have you always been lovers of interiors? How did you get into the scene?
Ever since first moving in together we've been exploring the world of interior design with a goal of creating a home that reflects who we are. We're both very much homebodies so it's just really important to us, having a home we enjoy living in. Josh also studied interior design at uni so our homes have enabled us to experiment with some of the stuff he has learned, while sharing and discussing tips and tricks along the way which eventually led to the apartment we have today!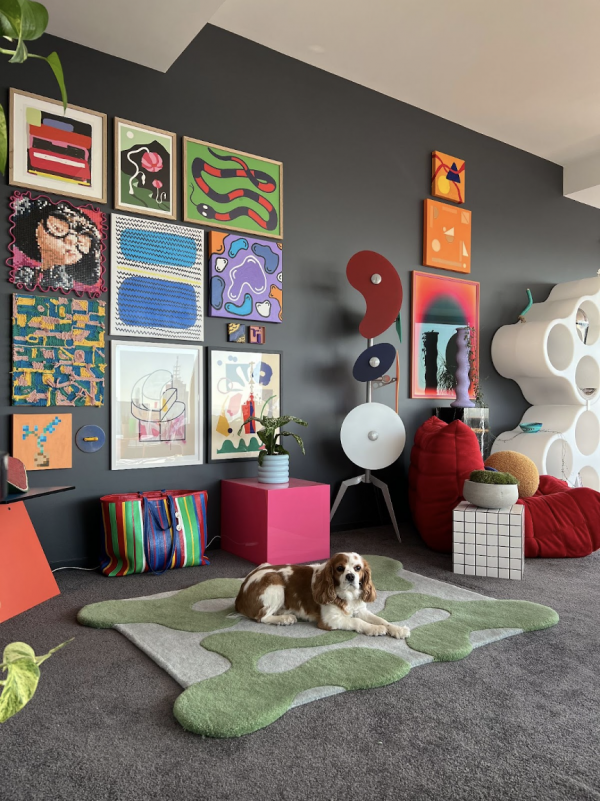 How did you first meet?
We first met through a mutual friend who put us into a messenger chat together because they thought we'd be a perfect match. We hit it off and the rest is history!
Your Tiktok has blown up! How did it all start, and what was your reaction?
When we first moved to Melbourne we began creating videos about all things art and creativity as that's a huge passion of ours. At the same time, we started working on our home decor brand and launched our range of ceiling mobiles and later, candles. We were so amazed at how quickly we were able to build a worldwide community of art and design lovers. We still can't believe this is our life now and are thankful we get to share our apartment with such amazing people every day.
What's been a real pinch-me moment in your journey so far?
Earlier this year we had the opportunity to design some packaging for Kiehl's Bush Heritage campaign to raise money for their conservation efforts. We were so happy to be a part of it and couldn't believe our design was in Kiehl's, Myer, David Jones and Mecca stores all around Australia. Sustainability and looking after the environment is a cause close to our hearts so it was a privilege to use our art to bring awareness to that conversation.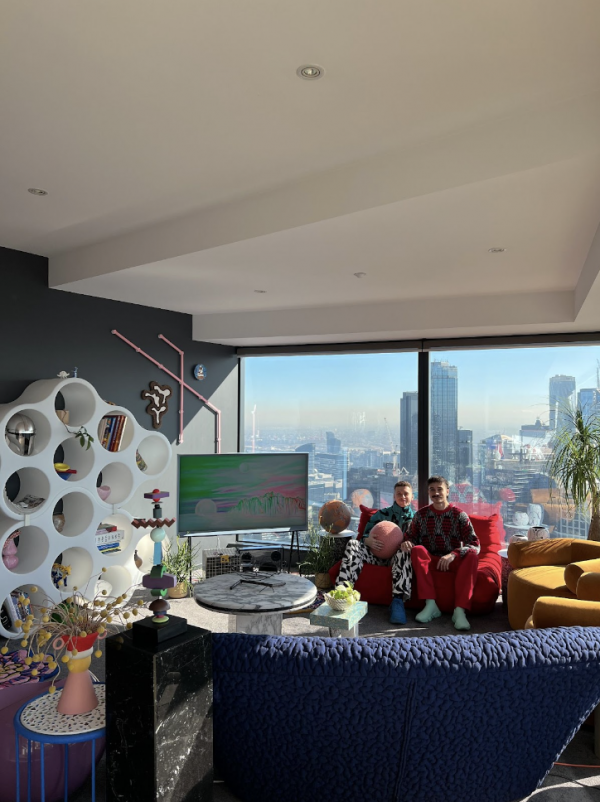 What are the most underrated items or decor pieces that people should have in their homes?
If you've seen our content this will not surprise you, but we believe ambient lighting is the most crucial aspect of creating a cosy atmosphere. We'd recommend checking out your local vintage stores or online marketplaces to find really unique lamps that make a statement during the day and create a beautiful ambience at night.
Do you have any tips for people who struggle to settle on a style for their home?
Your home should be a reflection of who you are and the things you love. Don't worry about what's trending. Instead, curate a space that is perfect for you, and you can never go wrong. Think about pieces of furniture, art or clothing that you are drawn to and try to break down the elements like colour, material, design style or era. This will give you a great set of keywords to begin your search. We also say use your own passions as inspiration – we love colour, Star Wars, cars, the space age etc, and you'll find all those elements throughout our apartment.
Talk to us about 'the search'. How do you manage to find the perfect pieces to suit the vibe of your home?
We definitely take it to the extreme! Sometimes it takes us days or even weeks to find the right piece for a spot. We think one of the key reasons our apartment has such a unique vibe is because we love sourcing vintage items and pieces created by independent designers from around the world. Etsy, Facebook Marketplace and our local vintage stores are our main go-tos. It does take time so you have to practice patience but it's so rewarding when you do come across that special piece.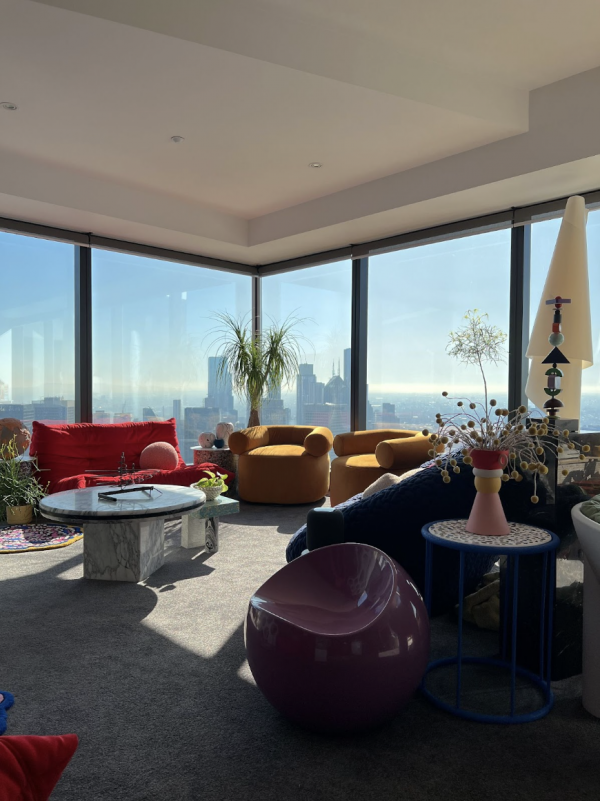 What's a dream decor piece that you would love to see in your home?
We are really big fans of Verner Panton's designs. His use of colour, organic forms and 'out there' ideas are exactly our style. We'd love to someday own a Living Tower – one of his seating designs from 1969 that seems like the most fun way you could possibly sit!
What's a brand that you would love to collab with?
We absolutely love Porsche's cars and the way design, colour and personalisation are at the heart of everything they do. It would be an absolute dream come true to work on one of their art car projects one day. They collaborate with artists from around the world to create a one-off car with often completely custom interior and exterior finishes – your imagination is the only limit sort of thing, a perfect fit for us!
Are there any Josh and Matt plans in the pipeline that we should be getting excited about?
We are in the process of setting up our largest art studio yet! When we first started on TikTok our art studio was in our second bathroom so to now have a whole room is a total game-changer. We'll be exploring digital design, 3D printing, painting, sculptures, furniture upcycling… the list goes on! So you can definitely expect a lot more fun, colour, art and creativity ahead.