A Remix-approved guide to getting engaged in Fiji
Planning on popping the question to "the one?" But not quite sure how to seal the deal in the most romantic of ways? Perhaps you're considering jetting off to a sunny location to ask the big question. Not to worry - Remix has you covered with some of the most magical locations for the most important question you will ever ask, and they are only a three-hour plane ride away in sunny Fiji. If luxury and lavishness is your style, or you're after something a little more laid back with a side of champagne, we have something for all types of engagements.
We tapped three couples who recently got engaged in Fiji and asked them about their special proposals. Read on, or cheekily send this to your partner if you're waiting for the question yourself, to find your dream engagement location in one of the most romantic places in the world.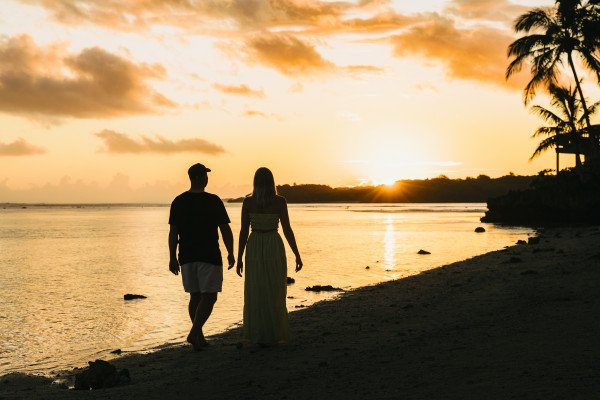 Photograph by Andrew Lewthwaite
Private island extravagance
If you're in this to go the whole nine yards and plan the most extravagant proposal you can think of then a private island escape is our top pick for you. Just a brief 15-minute scenic flight from Nadi or Denarau will have you landing in pure bliss on the private island of Yadua, which is part of the Mamanuca islands. This well-worthy splurge is the ultimate romantic getaway and comes with a picnic lunch, a bottle of champagne and snorkelling gear.
Yasawa Island Resort is another fabulous option for a private island proposal. With 12 beaches to choose from, enjoy a dash of adventure while you get dropped off via speedboat to a secluded spot. Armed with a champagne picnic lunch, it will be just you, your partner and the swaying palm trees - the perfect recipe for the big, YES!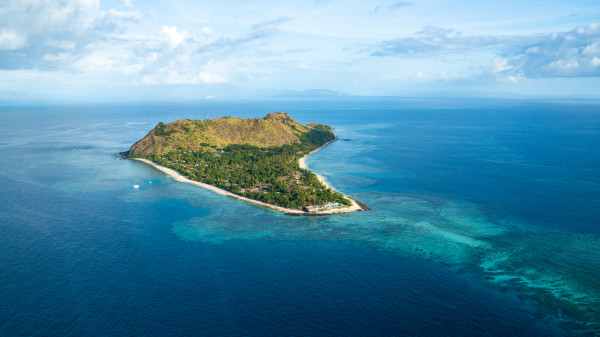 Supplied by Tourism Fiji
Love is in the air
If you're looking for something a little bit different, why not take your future bride or hubby-to-be high in the sky for a scenic proposal whilst flying over a heart-shaped island - Could you get any more romantic!? Book you and your significant other a quick trip or a longer scenic flight with Heli-Tours Fiji or if you're up for a little adventure, try a mystery tour with Pacific Island Air. With volcanic peaks, lush forests and deep blue hues of the pacific ocean, this proposal is bound to get you the answer you're looking for.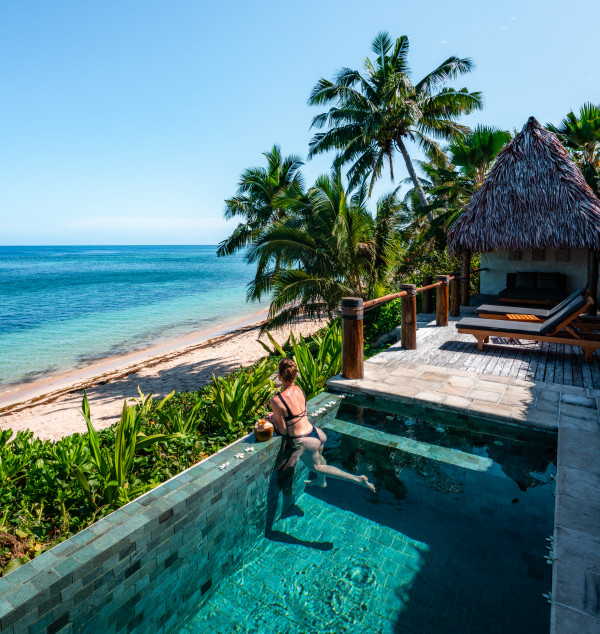 Photograph by Brook & Radha Sabin
Proposal with a side of party
If you and your soon-to-be fiancé are a party pair then Malamala Beach Club is our pick for you. Celebrate in style with a cocktail in hand at the world's first beach club. Couples can purchase a day pass to receive access to the resort's sandy white beaches, infinity-edge pool and the most instagrammable views of the Mamanuca Islands. In a place where romance meets celebration - hire a private cabana for the day and soak up the club atmosphere with your loved one for a proposal with a side of party.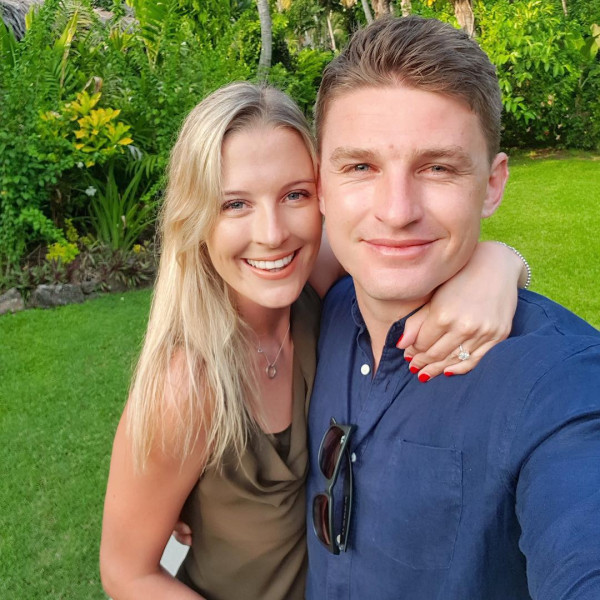 Via @hannahlaity
Adults only
Winners of the Most Outstanding Luxury Hotel in 2021, Tokoriki Island Resort is a lavish adults-only resort that promises the utmost in luxury stays. Just like Hannah and Beauden Barrett, propose to your loved one while you stay in a Beachfront Bure, accompanied by a tropical outdoor shower so you can bathe under the stars, surrounded by tropical greenery. Completely disconnect and spend uninterrupted one-on-one time with your new finacé no access to television, internet or cell phone signal, while lounging on the outdoor hammocks with stunning ocean views and tropical sunsets.
Hannah - "Beauden surprised me with a trip to Tokoriki Island Resort, and then proposed whilst we were sunbathing by our villa pool! Fiji is the perfect place for a proposal, especially at some of the outer islands which have beautiful white sand beaches and crystal clear water."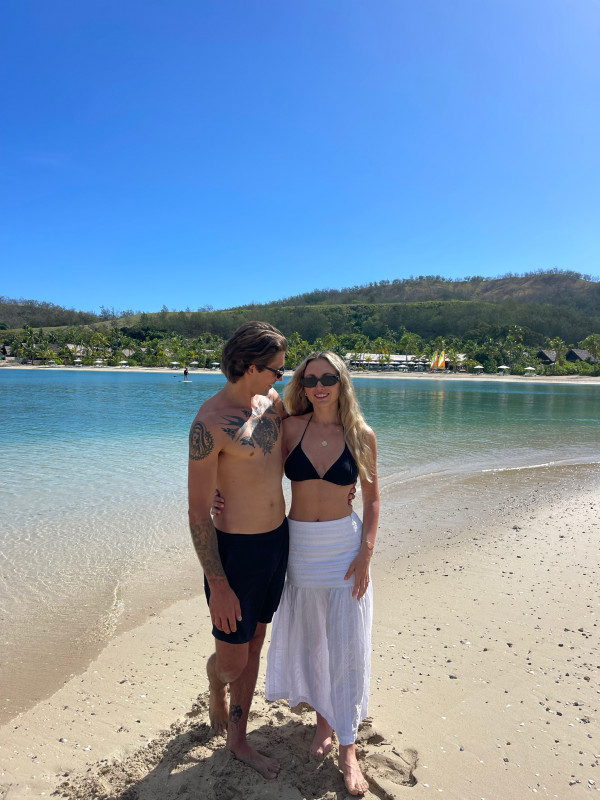 Annalise & Matt
Annalise and Matt have been together for six years and got engaged at the Six Senses Resort on Malolo Island.
Matt: "I proposed on the beach under the palm trees at Six Senses Resort, Malolo Island. We stayed at the resort at the start of 2020 and it quickly became our favourite place. I knew from our earlier trip that was where I wanted to propose to Annalise one day."
Annalise: "We started the morning like most others, coffee in bed and a beach walk. I was about to go and run and jump in the ocean when my sister asked if we wanted a photo together, Matt said yes so I wasn't going to miss out on this rare opportunity. I was just in my bikini and my sister 'coincidentally' had a spare skirt with her that she asked me if I wanted to wear for the photo… I didn't think too much of it until I felt the nervous energy in the air, haha. It was really special as both of our parents were in Fiji with us and once Matt had asked me they came over to celebrate. My mum had organised a champagne breakfast on the beach and then we spent the day drinking cocktails by the pool. It truly was the most perfect day."
Annalise: "The proposal was definitely a surprise! We had already been in Fiji for 10 days so I thought if Matt was going to propose on the trip he would have already haha."
Matt: "I'm glad I caught Annalise off guard and managed to surprise her - but there's a story behind why I proposed so late in the trip… The ring came from overseas but there were shipping delays and the ring hadn't arrived in New Zealand by the time we flew to Fiji. A friend picked the ring up from customs and it was dropped to a mutual friend who was heading to Fiji the following week. By the time it arrived on the island, it had been passed between six different hands."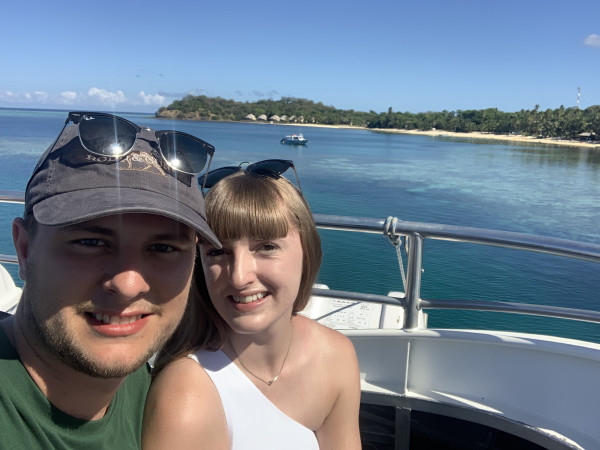 Isobel & Cam
Isobel & Cam have been together for nine years and got engaged on Mana Island.
Isobel: "We were staying on Mana Island where my partner Cam holidayed a lot growing up. We took a walk down to the sunset beach at sunset and found a private spot where he popped the question! I was definitely hoping this trip would be the one! We've been together since we were 16 and after going through school, university, flatting, first jobs and then covid it finally felt like the right time."
Briana & Angus
Briana & Angus have been together for four years and got engaged at a holiday home on Denarau.
Briana: "We got engaged on Christmas eve, at our holiday home in Denarau. We have a fire pit that overlooks the water and we went down there for a sunset drink... little did I know, he was about to propose to me. Although my family were nearby, for the most part, it was just the two of us which was so special. So I would say, doing it somewhere private so you can enjoy that time together afterwards is really special. We also got engaged just before the sunset and it made for the best photos afterwards, so timing is key!"
Briana: "I would absolutely love to get married in Fiji, it has got to be one of my favourite countries in the world. The people are so special and the landscapes are so beautiful. It is definitely a location that we will be considering when we start planning our future nuptials."