WIN two pairs of adidas X9000 for you and a friend...
It's time to level up, on and off the field...
WIN a pair of adidas X9000 for you AND a friend - head to @remixmagazine on Instagram, tag a friend in the comments of the adidasx9000 photo. You must be following @remixmagazine and @platypusshoesnz to be in to win.
As 2020 ticks on, the line between sport and gaming has blurred even more than the lockdown months blurred into one…
Whether you've spent the 'year of restriction' levelling up on your fastest kmph run, or nailing that corner goal on FIFA, the new adidas X9000 kick has the style and strength to serve all, no matter what game you play.
Hailed as the new MVP of footwear, you may be asking what makes these shoes of the future so damn good? To start with, its disruptive design and advanced technology makes it a symbolic force of progressive footwear.
Inspired by video game culture, the designers at adidas clearly understood the need for fusion of sports with precise data, thus creating the X9000 series. The X9000 shoe grants you with exceptional ability to transition between the virtual space and the real world, offering walkers and runners a like, a glimpse of the future.

The X9000 is available in the almighty X9000L3 and X9000L4...
These kicks will keep you moving forward, literally and figuratively. Plugged in to the fast pace of modern life the adidas X9000L3 shoes are designed for the chaotic high energy of our hyperconnected world.
Floating geometric triangles and supportive underlay make up the mesh upper while the outsole tread pattern was inspired by computer-generated data. Not only is the glitch-like outsole a reminder of The Matrix-esque futuristic dimension we're close to living, but the tread also provides reliable traction on the city streets, the real streets though... not the ones in The Matrix…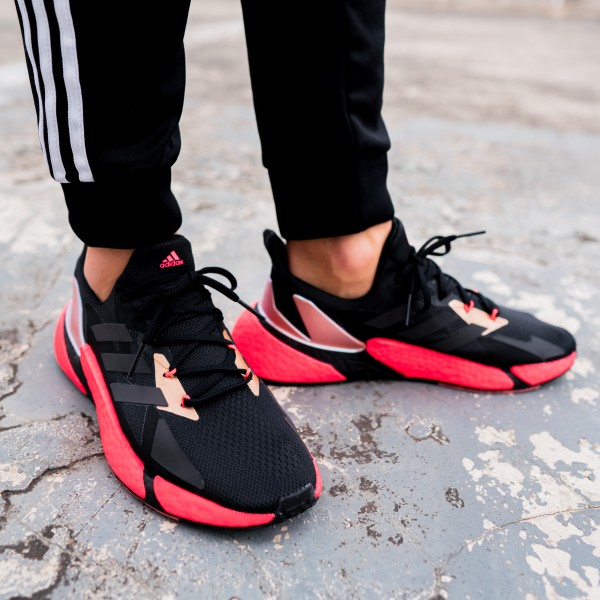 We know now, that life is a game that moves as you play and the adidas X9000L4 has responsive cushioning in the forefoot and lightweight cushioning in the heel to keep your stride smooth and comfortable, no matter the game.
If they weren't already cool enough, the thermoset rubber reflects iridescence under light, reminiscent of the neon night scene in a cyberpunk world. A regular and lightweight fit with lace closure, these make for adaptive running shoes with a responsive BOOST midsole, meaning you can turn your street stride into a sprint should the situation call for it. While the elastic fabric at the ankle makes it easy to put on and take off, allowing runners to level up any time.
We're plugged in and ready to play, are you?