Will.i.am on the art of being an individual
The entertainment world hasn't ever seen someone quite like will.i.am. In addition to being a seven-time Grammy Award winner and the frontman for the Black Eyed Peas' 35 million record sales, William James Adams Jr. is today one of the most prolific innovators in the fusion of fashion, music and design. On the eve of his latest release, a bespoke eyewear collection in collaboration with Specsavers, will.i.am took Remix editor Steven Fernandez on a tour of his Hollywood office and opened up about the art of being individual.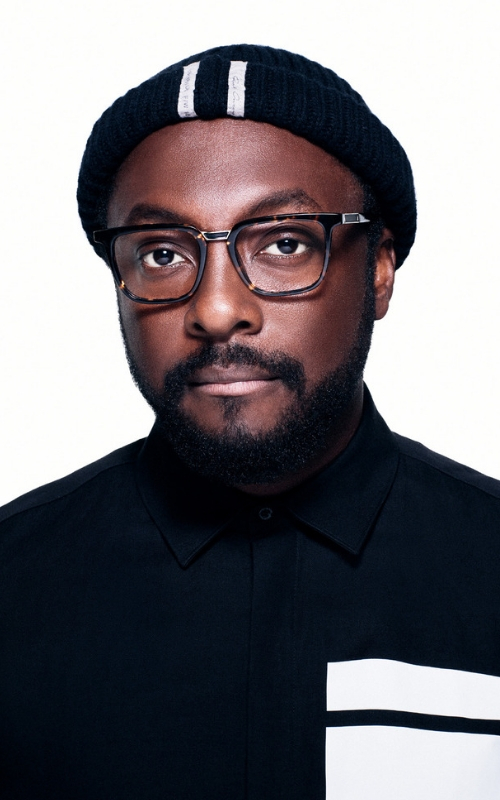 Eyewear has always been a huge part of your visual identity. Why was now the right time to collaborate with Specsavers to release a collection of opticals?
I am blessed to have an awesome team that is focused on growth and innovation. The opportunity was brought to my attention to have optical frames in stores where optometrists give out prescriptions and suggest solutions. Then on a business level it's also a new price point for us; this collection is a lot more accessible to a lot of people around the world who may not necessarily be able or willing to spend a lot of money on eyewear.
You have experience designing eyewear, don't you, with your own ill.i range?
With ill.i we just set out to make some frames we liked. If we barely broke even, we didn't care. If we lost money, we didn't care. Just as long as the shit looked awesome. And awesome in stores. It was like The Black Eyed Peas in the beginning. We felt good about it so we put it out there.
Your first recordings were kind of like that too, right?
Exactly; our first two records were made for people just like us and we didn't care if only five people came to the shows! Then next thing you know, 'Where Is The Love?' came out and it took us by surprise how people reacted.
Kiwis were some of the first to really embrace The Black Eyed Peas.
The first. New Zealand was into our underground stuff before Fergie or Elephunk, like Bridging The Gap and Behind The Front records.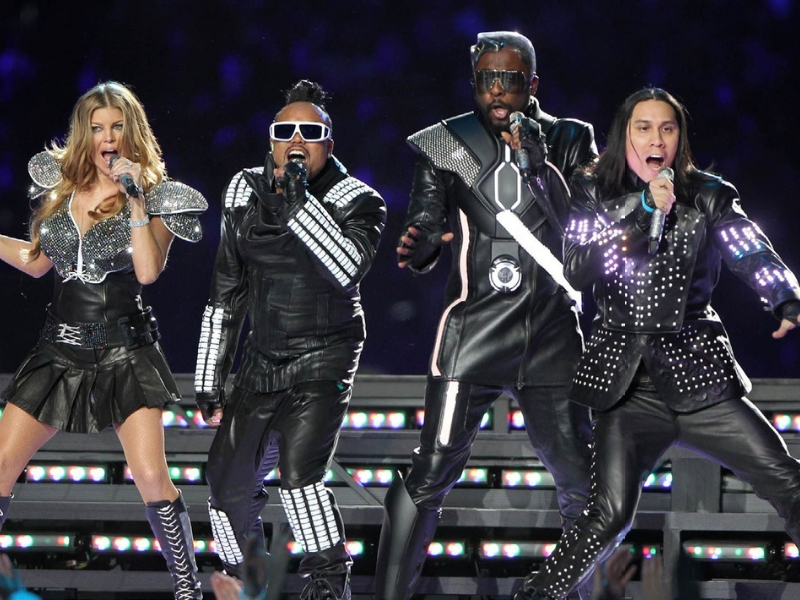 What is it about your Specsavers collection of eyewear that is quintessentially you? What are the unique elements that reflect your style in the range?
You know, the frames in this collection are all variations of designs that I have worn and loved forever. If you look at my first ever record and the eyewear I'm wearing on the cover, the frames look like styles in this collection. They're timeless, and even when my style has evolved I have always gone back to them.
But then you've updated them with modern designs and materials.
Yeah, we have put a contemporary spin on it with futuristic angles and details; I love the matte and the blue transparency on some of the frames.
A lot of people don't know this, but you actually attended the Fashion Institute of Design and Merchandising. Do you use any skills you learned there in your designs?
Fashion school is different than reality. Designing for the world today is very hard to teach; it's easier learnt by experiment and failure along the way. I mean now there are new courses that address the current world of fashion and all that. A lot of these designers aren't even sketching shit anymore! I didn't learn to design from sitting there with a pen and paper sketching, you know?
Men look up to you and your style, because you don't stick to the norm and you go against the grain. Why do you think that is?
I think it's because I don't give a fuck. I mean that in the best way; I think the best dressed people are those who don't think about it too much and are just comfortable with themselves and what they want to wear. A friend of mine posted a picture on his Instagram yesterday, showing a book called The Subtle Art of Not Giving a F*ck. I hit him up on DM saying the fact he's reading a book about not giving a fuck means that he actually gives a fuck about not giving a fuck, which totally defeats the purpose of not giving a fuck. He was telling me I have to read it, but I don't want to read it, because I don't give a fuck, which is the whole purpose of the book! More people need to stop giving a fuck about what other people think of them and just express themselves however they want. Think about how much better the world would be if we didn't dress and act and behave to please other people. The reason why people care about what other people think of them is because they're the ones who are critical and cynical about others.
It's a reflection of what's going on internally, right?
Guys that feel weird about expressing themselves are like the macho dudes. They're the guys that write on the bathroom stall, they're the guys that are cynical, those are the guys that need to read a book about not giving a fuck.
When you're designing a collection like this, it's really open and collaborative, it's a team effort - but where do you get your inspiration from?
From what's not happening. I get inspired when I see incomplete thoughts, then I aim to complete them. I find it easier to walk into a situation where there is an incomplete thought, then brainstorm and complete the thought, than to walk into a blank room. In a blank room, sure I could create something from nothing, but it's usually going to be so over the top that I'm the only one who gets it.
Your head office here in Hollywood reflects that too, that way of working.
That's the reason the majority of the building is like a gallery in white, because this is the blank canvas. It's a blank canvas in collaboration to complete thoughts.
Have you got points of reference in your team or people who tell you when an idea is too much or might not work?
Yes, that person is me.
That's you to yourself?
Yeah, sometimes the team are the ones who tell me I need to do things and I'm the one saying it won't work. But you know, sometimes as a creative person, you just need to do weird shit, even if it doesn't amount to anything. You never know what will end up or who will like it. With ill.i I remember we designed these glasses shaped like my haircut at the time, which I decided I was not going to wear because they were too weird, but then Beyoncé loved them and wore them on her tour. What was too weird for me was perfect for her.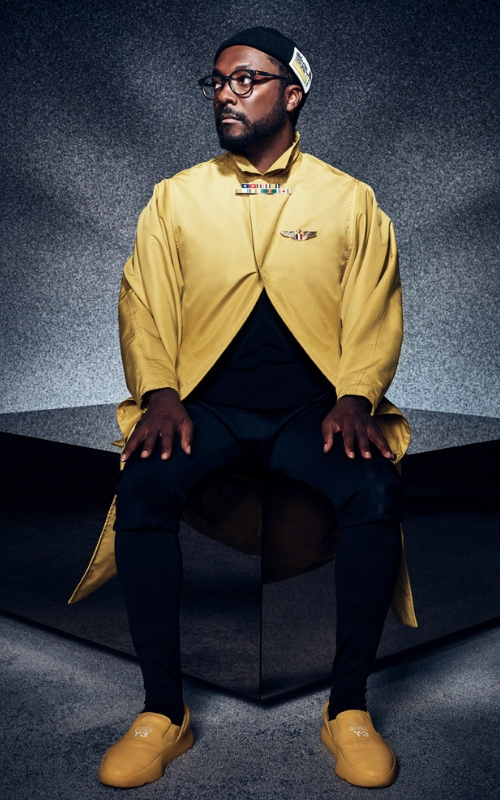 You've collaborated with so many amazing people and brands over the years. How do you choose the people you partner with or engage in a creative process with? What's the common thread or trait that a lot of those brands or people have?
Well they're really random, like Coca-Cola; my sustainability stuff that I did, Ekocycle; then working with Intel in their futurist department; and then a 3D printer company. I think though for all of them I ended up doing things that weren't conventional and that was the common thread. Working with Specsavers, I think only Kylie Minogue and myself have had a collection.
Just you and Kylie; that's not a bad honour!
Yeah I can't claim I was first on the moon with Specsavers though; that was her.
I think she's busy worrying about her name being taken off by the other Kylie. She's got other Kylie problems.
To me, when someone says 'Kylie', that means Kylie Minogue.
Well exactly, she had to get lawyers onto that too, because Kylie Jenner claims she is the Kylie.
Oh so it's like the name Justin, with Justin Timberlake and Justin Bieber, or Michael Jordan, Michael Jackson.
Without getting too political, because I know you were an active part of President Obama's election campaign, how do you make sense of all the darkness in American politics and the media today?
I try not to look at it as dark and look at it as comedic. If I look at it as dark while it's still happening, then it gives me anxiety, then I feel helpless and I feel hopeless. If I look at it as comedic, then I'm able to look at it for what it is. It's like a TV show – I'm OK to watch an episode or two, but the series has been on for too long now and we need to change the show. You know what I mean?
Eventually the credits need to come up.
There's no second season. If I view it as comedic I can go out into the world and continue creating and thinking about ways I can help with the change.
It's too heavy otherwise.
You know, Armenia has gone through a devastating history. If you grew up in LA or Glendale or East Hollywood, you would see the Armenian community, and you would see happy kids, but very depressed parents. It makes you think, how come these parents are so mean-faced all the time? Well, because they probably experienced similar things we might see if we don't change our perspective.
We need to put the train back on the right track, basically.
We are seeing the freedom of the media being attacked by a President who is taking on the behaviour of dictators and we are starting to see adults glazing over with this gloom when you start talking about politics. No one wants to engage in conversation or really express themselves out of fear of being judged. Then you have closet supporters, or closet racists. It's a very dangerous culture that breeds a very dangerous kind of rhetoric and if we don't correct it soon it's going to get worse. This is not who we want to be in 2018.
The exclusive will.i.am collection of Specsavers eyewear is available in store and online now.