We chat to Designer Wardrobe founder Donielle Brooke
The lovely Donielle Brooke is the successful girl-boss and style icon behind Designer Wardrobe; our favourite fashion buying, selling and renting company. After a hectic Fashion Week, we sat down with Donielle and talked all things DW!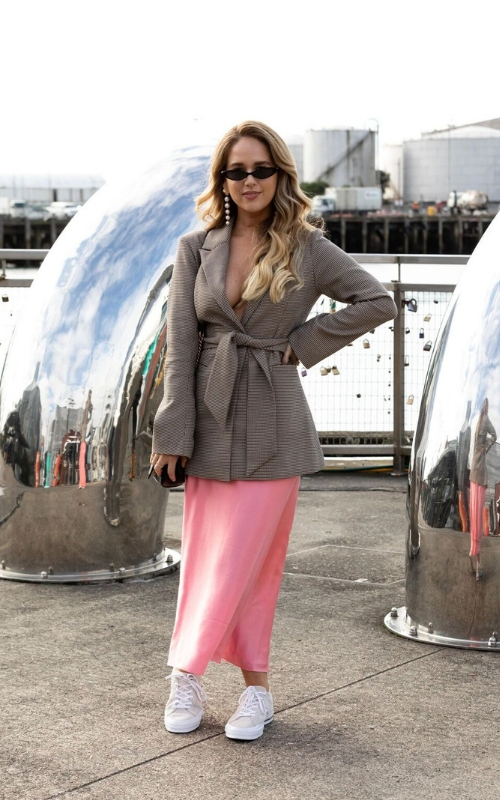 What inspired you to start-up Designer Wardrobe in 2013?
"I was inspired to start Designer Wardrobe as I felt we all needed a place to sell our beautiful designer items - a community where like-minded women get together to buy, sell and rent off each other!
At the time, I was 25 and working at Stephen Marr hair salon. I would spend my entire paycheck on clothing, but had a keen interest in recycling and living as much of a minimal life as I could.
I decided to take the steps to starting DW after I found out I had thyroid cancer. I needed to sell my clothing to get on top of bills, as I was unable to work during that period. So, initially that is how the Facebook Group came about."
What's the difference between the Designer Wardrobe Facebook group, the web/app platform, and the store?
"I've always said DW started as a community before becoming a marketplace. DW was originally a Facebook group mainly because I did not have the money, experience or health to walk into creating a website at the time, so I wanted to spend time growing my idea and community to see how far I could take this.
When I was in 'recovery mode', I realised that in order to give our amazing community the experience I'd always imagined, it was time to turn it into a real business. I was fortunate to have my business partner Aidan become head over heels excited about the idea, so much so that he used his entire life savings to have our very first website created! We now have 150,000 members on our app and website, so it's much bigger than our Facebook group. We however decided to keep the Facebook group going as it's a great way to have open conversations with our members.
For the store in Grafton, Auckland - naturally this was something we always wanted to do (renting out our own dresses). Offering a physical space for our members to come in and try items on has been amazing. Anyone can walk in (no appointment necessary), try an item on and book it on the spot. We now have 900 dresses available!"
What do you think are the main factors in Designer Wardrobe's huge success?
"Without knowing at the time, the DW concept had been happening overseas and with it came some really exciting success stories. We do like to think we're a bit different though as there's no-one quite like us who does it all (buying, selling and renting)!
Our members use it for many reasons; it's super easy and fun, as well as having a positive affect in terms of recycling and being a "smart shopper". For example, rather than having a wardrobe full of clothing you don't wear (women typically only wear 20% of their wardrobe) - you can sell it on DW and then buy a new season item you're in love with. Our community loves being able to find someones else barely-worn gems.
With renting, it's a perfect way to get a little creative when going out and be introduced to new brands! So many of our members will rent a label they don't normally wear, and end up checking out items to buy from that designer. We really think it's the missing link women needed!"
How do you manage to differentiate Designer Wardrobe from the other rental companies in New Zealand and Australia?
"In Australia we do not have the rental aspect - we do however have our buying and selling community. We have 20,000 members there already and it's growing!
In New Zealand, we are the only marketplace for women to buy, sell and rent. We have the largest selection of over 900 rentals available and we have an amazing team to guarantee receiving the item on time. We also have our store!
We are also fortunate enough to work closely with some amazing designers, brands, stores and influencers who are huge supporters."
What sparked the idea of opening a store?
"It was a really great coincidence! When we got more into rental, while a lot of rentals are typically done online - there are certainly times when women will want to come in and try items on. It's also great because it also works as a pickup and drop off point.
At the time, we had just moved offices and downstairs from where we were had some space that wasn't being used. So, with the permission of our landlord (also our biggest investor, Shane Bradley!) I got my Dad (who's a builder) in and we quickly built our very first store!"
You have so many beautiful options for rental at your store! What brands are some of the favourites amongst your renters?
"Our most loved designers at DW Rental are Ruby, Trelise Cooper, Zimmermann, Rat & Boa, Realisation Par, Natalie Rolt and many more!"
Designer Wardrobe has amounted an impressive 65,500 thousand followers on Instagram! How has that platform helped your business?
"Initially, Instagram wasn't the right fit as we didn't own our own rental dresses. However, as soon as we launched our rental offering, Instagram quickly became the perfect channel to showcase what we had for offer. It has been amazing!!"
You started Designer Wardrobe yourself; with the help of Aidan and Jarrad. How many team-members does Designer Wardrobe have now?
"We have eight in the team, but what is amazing about DW is we have so many people behind us. The team are the incredible people who work on DW everyday, but we also have such a special network who have helped us get here."
How does Designer Wardrobe manage to protect consumers - security-wise - when they purchase or rent items?
"Trust and safety is super important to us - anyone who buys on DW is protected whenever they make any purchase on Designer Wardrobe. We will give you a full refund if your item never ships or does not match the listing description. The system we have in place to protect our members is called 'DW Purchase Protection'.
For renting - we offer our $7.95 "Rip and Stain Protection" - and that means in one of those very rare occasions, we will cover any minor damage such as stains and/or rips. Super easy peace of mind!"
Would you ever consider incorporating mens rentals into the business?
"Currently we're focusing on making the experience as good as it can be for our lovely ladies - but never say never!"
Do you have any advice for people thinking of starting their own business?
"If you want to start a business for the right reasons - go for it! Find people who you feel will share the same passion for your idea. It makes a huge difference as you will all be aligned, working towards the same goal."
You recently attended New Zealand Fashion Week. Were there any emerging brands there that caught your eye?
"Yes! Olli caught my eye - I AM OBSESSED!! I want their whole collection - beautiful is an understatement."