We catch up with Tommy Hilfiger at the Shanghai showcase of his new collections
We were so delighted to catch up with fashion mogul Tommy Hilfiger in Shanghai, at the launch of the Tommy Icons and Tommy x Lewis Hamilton collections! We were privy to an exclusive showcase, star-studded with the likes of the inimitable Winnie Harlow and always fabulous Hailey Baldwin. We share the Q&A between Remix founder Tim Phin and Mr. Hilfiger himself below, along with shots of the awesome new collections.
So why did you choose Shanghai?
We like to go with the customers. Our business in China is growing faster and stronger than any business in the world. We've got a big fan base here, and it's growing. We're on a world tour, it's like a rock tour, and we're going to go to where our customers are.
I think the customers love that as well, because they get a piece of you.
Yes, and also they get to buy now, wear now. A lot of brands still do a fashion show then six months later you might be able to get it, but with us you see the clothes being shipped straight to the stores - it's a different thing.
So shows like this are the future, aren't they?
I think so. It's immediate gratification. And the experience of the show, is like when you see it live then you see, oh this isn't just a traditional fashion show, it's an entertainment experience, it's a cultural experience. For us it's the future. We're not looking at any other way of doing it; we want to sort of disrupt and break through.
So what makes the Tommy/Lewis capsule so special then? Tell me a bit about that.
Well first of all, Lewis is a fashion guy. He cares probably as much about fashion, or more about fashion, than he cares about anything else, other than racing. When we decided to collaborate, we decided that he would bring his influence into us, and we would do it together. And what he brought was a street style that was very loose, sporty, causal, chic, sophisticated, and cool. That's the way we view our brand, but with Lewis' influence it changed it, because it made it even more modern.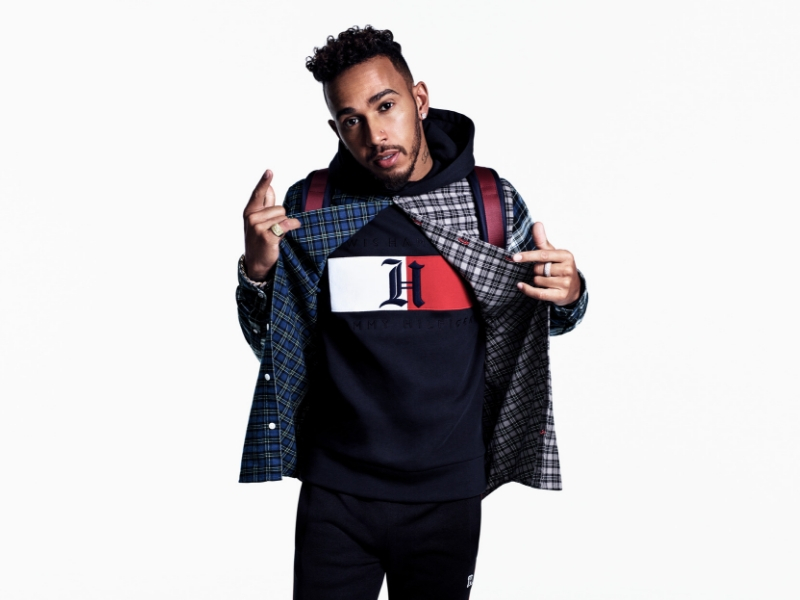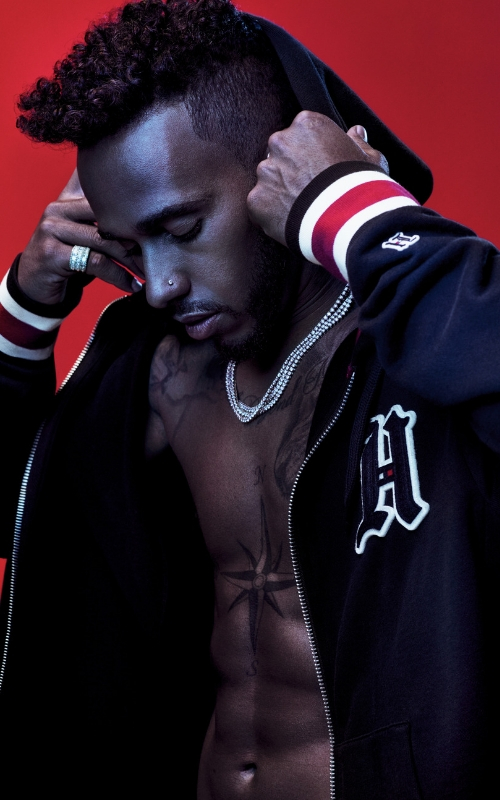 What was involved in the creative process with him?
He came into our designing room, brought his own ideas, we executed and added our ideas, keeping the DNA intact to the brand, so it was like icing on the cake!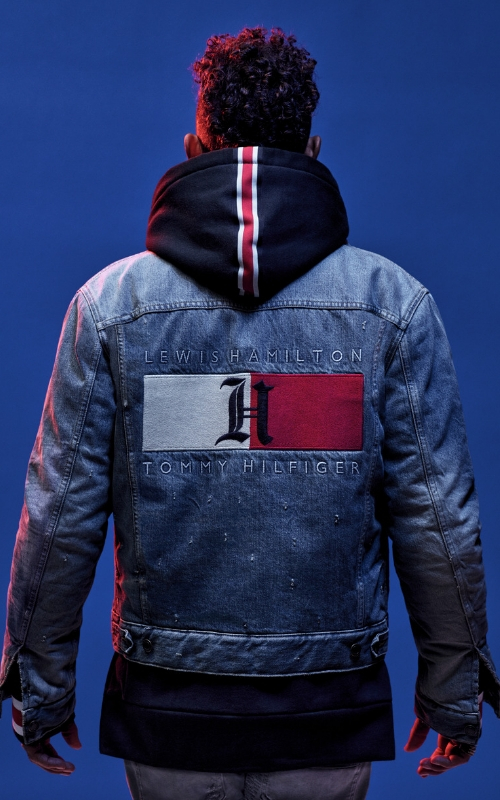 What was one thing that he introduced to it that was outside your realm?
The Old English lettering for the logo was very new for us. We've never done that, and we loved it.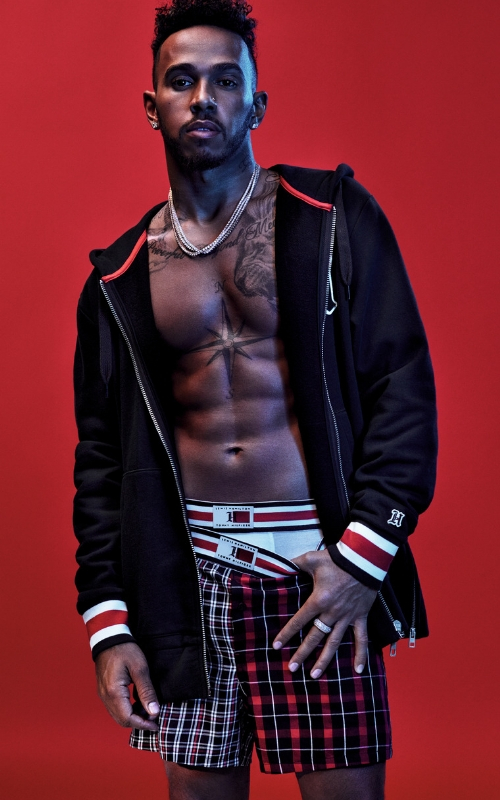 And what was it like working with the new female ambassadors as well?
Well, Hailey's worked with us for a while. The same with Winnie. Maggie's new. But Hailey went from being, I would say popular, to a megastar because of Justin and because she's beautiful and it's her time. Winnie went from being a supermodel to a mega supermodel. She's dating Wiz Khalifa. So they're dating these cool musicians. But they're Tommy girls from the start. We've just elevated them to a different category.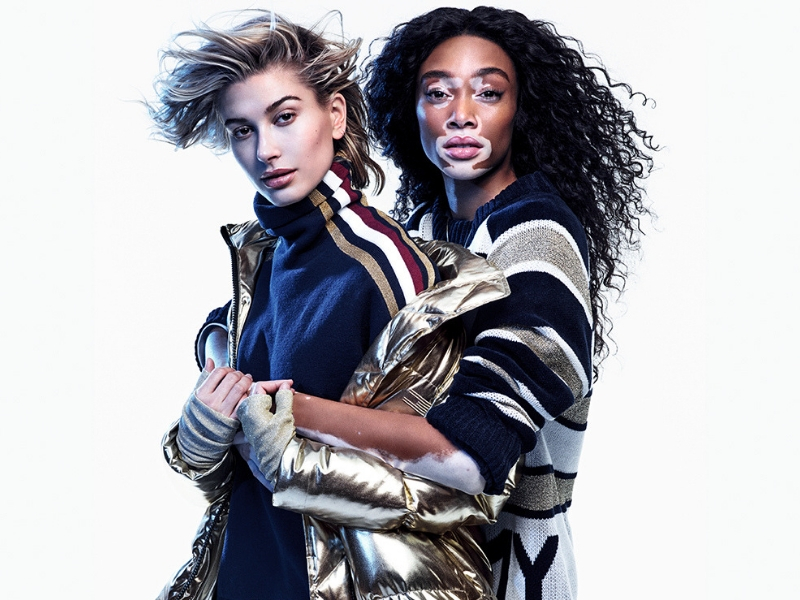 Are they involved in any of the design too?
No, though we're always influenced by them. But Gigi was very involved with the design in her collaboration with us.
What makes an icon then?
They are world famous, in their own right. And they're world famous for a couple of reasons. I mean Hailey is the epitomy of an all American girl. Sporty, athletic, southern California. Family quite well known, but she made it on her own. Winnie has had many obstacles in her life because of her skin condition. But she's overcome the obstacles because she is confident and just cool.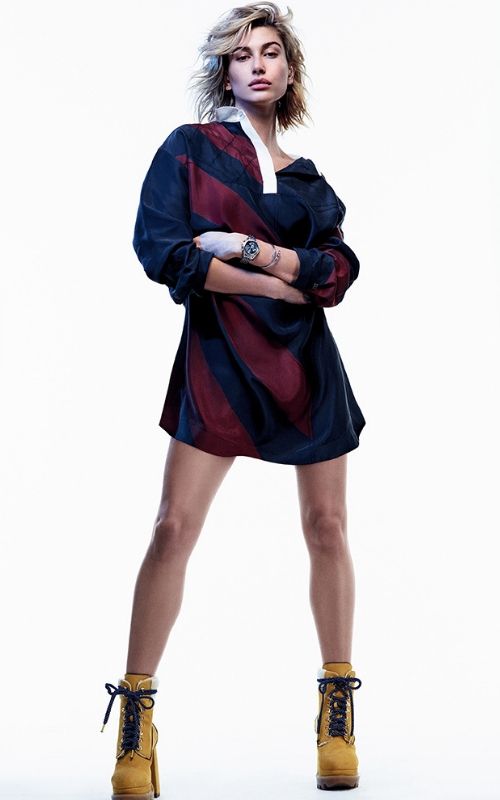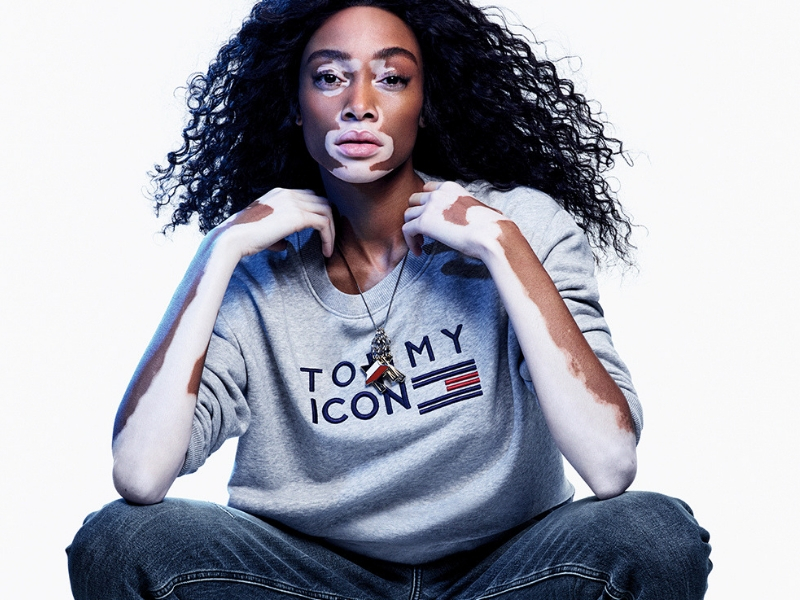 Yeah, she has made it part of who she is! So our magazine is from New Zealand. Have you been out to New Zealand before?
Not yet. I know it's a beautiful country. People, I understand, are very nice. I understand that its heritage is very old world but modern in many respects, and it's certainly on my bucket list. Do you spend much time in the US?
Yes, for stories for the magazine, we shoot covers. Actually, one of our covers last year was Hailey Baldwin. So that was a good time.
Oh you did Hailey? Did you go to LA?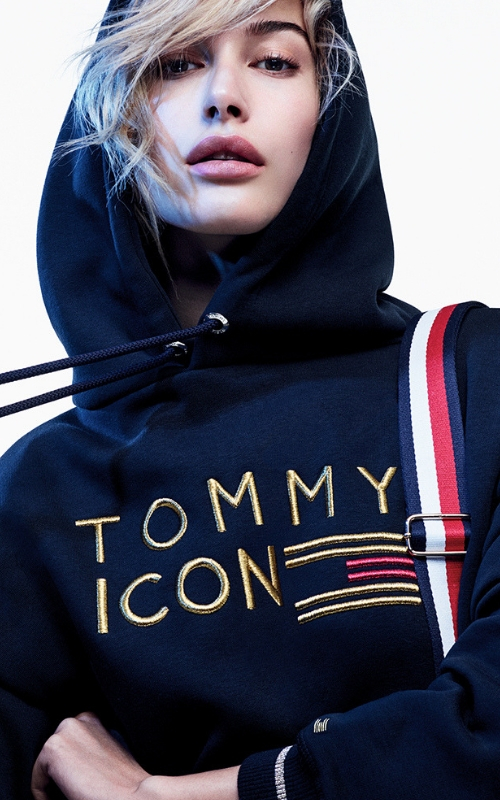 New York for that one.
Do you like LA better than New York, or New York?
New York is more fun, but LA is more chilled out. Tell us a bit about when you travel, because you travel quite a bit. What do you take? What are the essential items you take when you travel?
Depends on where I'm going. If I'm going to Europe on vacation, it's basically a couple pairs of jeans, sneakers, workout gear, shorts, t-shirts one sweater one jacket, baseball cap.
All Hilfiger?
Yeah, mainly! But if I'm going to Europe on business I'll take a business suit. I'll take maybe a pair of chinos. Couple of white shirts, couple of blue shirts. I'm pretty classic.
I'm asking that because it's the Remix travel edition next! So you've been at the top of your game for 30 years now, how do you keep things fresh and inspired?
I'm always looking for what's next. I never want to abandon my classic, preppy, all-American roots, but I always want it to be new and fresh, whether it's fit, fabric, detail, surprises. That's why I like collaborating with others, because I can get a new vibe behind what we're doing.
How do you keep the customers coming back after so many years?
I think you have to hold onto your existing customers and obtain new customers. It's important to deliver to both. So I like to stay fresh and modern and evolve forward, without losing my base.
And you've embraced the whole celebrity ambassador thing very well!
Yeah, from 35 years ago. We were really the first to do it. Nobody else was doing it with musicians 35 years ago.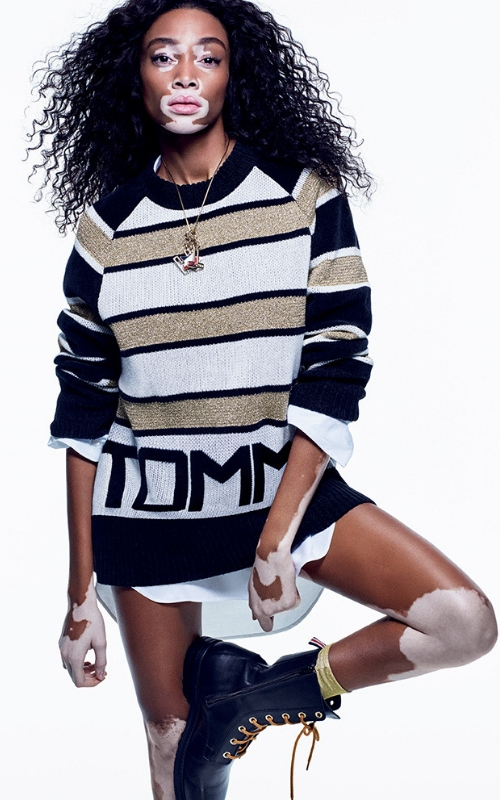 So what did you see back then when no one was doing it? Did you see it as these people are icons of the future?
I've always been obsessed with music, and musicians. I was really intrigued with the style of rock stars, from Hendrix to the Stones, the Beatles, to say the Doors and The Who. So when I started my first business when I was 18 years old, it was all about hippie-type, rock style clothing. I sold to young people. And then I started designing my own clothes. Then when I started Tommy Hilfiger I thought, well if I give clothes to certain rock stars and they wear them, then their fan base will come to me. Bruce Springsteen bought one of my leather motorcycle jackets, and I gave Britney Spears some stuff and she was in our ad campaign. And Usher, and Lenny Kravitz, and David Bowie, and Mick Jagger... the base grew around rock stars and music celebrities. Eventually we started using Hollywood stars and celebrities in the marketing and advertising, and it propelled the brand.
Where do you see the future is in the media then? Like there's always a place for print media, but what are you doing with digital media?
Well social media is very important. Print, I believe, will always be. The consumer now, worldwide, has a lot of different choices. I think we as a brand have to break through the clutter and be disruptive in many ways. Hence our fashion shows, touring worldwide with great experiences, and celebrities and icons, help us do that. We can never stop looking for new ways to break through and to be disruptive and unique. Otherwise you become a part of history, rather than what's going on today.
Looking back over the years, what is your greatest achievement on your career?
Maybe the most recent breakthrough with the see now buy now, with using Gigi and taking it to a whole new level.
What about anything else with the fragrances, are there new fragrances coming out?
We're developing a new fragrance now. Our Tommy and Tommy girl fragrances have been incredibly popular in the past. We did a fragrance with Beyoncé as the face, called True Star, a few years back. We did one with Gigi. But we're, I would say, in the lab now looking at how we'll develop a new one.
Anything else you're planning on breaking into?
Well right now we have Tommy Hilfiger collecting, the Tommy/Lewis, but Tommy Jeans is a very powerful part of our business with tremendous growth. And it's not just jeans, but it's jeans and related items. A bit younger. A bit more on edge than the collections.
Who do you admire most among young designers today?
I think Virgil. I think he's got it going on. We'll see what happens with Eddie Slimane with Celine. Then there are younger guys coming up like Heron Preston. But Virgil, I think all eyes will be on Virgil.
If you weren't doing fashion design, where would you be?
I might be in the music business somehow. Maybe in Hollywood in films or something like that. I also like investing in brands. But I'm in the fashion business, I don't think I'll abandon this.
Lastly, what advice would you give young and emerging designers, entrepreneurs, in the industry today?
Understand your customer. Have a unique product offering. Stay focused and never give up.
Cool! Anything else you want to add about the label?
I think having an iconic brand brings a lot of responsibility. We're really focused on sustainability in the future. So we're studying it very intensely and we look at it as being uber important. Factories, fabrics, organic fabrics, water waste, looking at every aspect, because we think it's very much a part of our future. We just developed an adaptive line of clothing for people with special needs, who can't normally get dressed because they can't button buttons or zip zippers or get into the garments. So we're putting that sort of under the heading of Tommy Cares, because we have a company full of people who really care, and the passion shows through, and for us I think authenticity, transparency, is really important. And I think the more people get to know our company and see through it in a very transparent way, they more they'll embrace our product and that we're very serious about making a difference.
Both of these collections and much more are available on the BRAND NEW flagship online site for the brand in Australia and New Zealand, tommy.com! The site offer free returns, online package tracking and a dedicated customer service. This is the latest addition to the growing Tommy Hilfiger e-commerce portfolio worldwide. We know where our next pay check is going!!