The Remix Innovation Issue with Margaret Zhang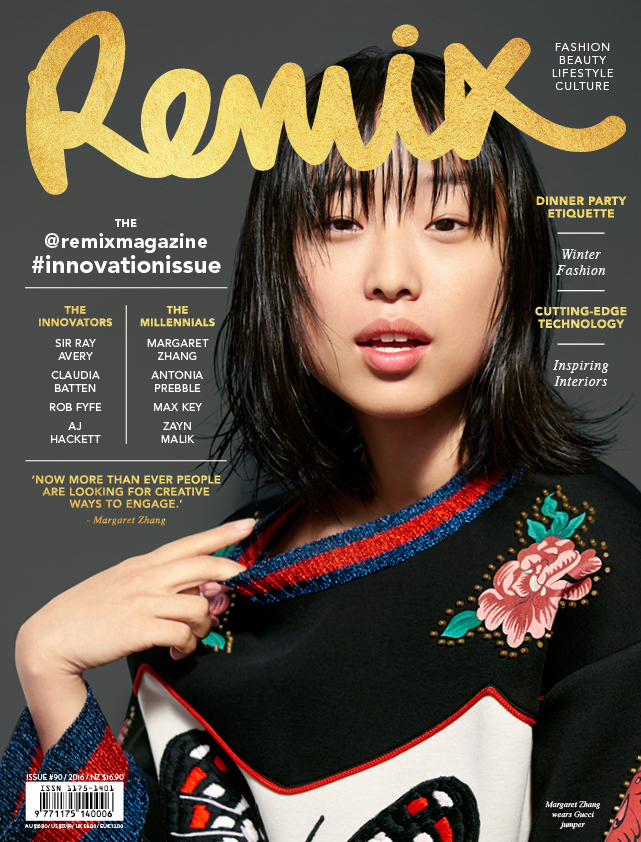 Presenting the our June #innovationissue of Remix!
On the cover is one of the most talked-about figures in fashion today; stylist, photographer and creative director MARGARET ZHANG. Photographed for Remix by fashion photographer Derek Henderson and esteemed stylist Mark Vassallo, Margaret speaks exclusively about her rise to the top through digital innovation. Also inside the issue is the first ever interview with the Prime Minister's son MAX KEY, who bares all in a racey Remix photoshoot sure to have everyone talking.
We proudly speak to five leading New Zealand innovators – pharmaceutical scientist SIR RAY AVERY, nutrition whizz CECILIA ROBINSON, business leader ROB FYFE, digital media mogul CLAUDIA BATTEN and adventure tourism entrepreneur AJ HACKETT – about their successful careers and advice for budding creatives.
New to this edition of Remix is an expanded Interiors section, which we have worked on with the lovely Amber Armitage, featuring the hottest interior trends, reviews and products this season. Our Food chapter is also larger than ever, featuring an exquisite feature shoot about dinner party etiquette, as well as foodie news, restaurant reviews and delicious recipes for you to try this winter.
Last but not least, winter fashion for both men and women leads seasonal trends, with photography by some of New Zealand's most renowned photographers and stylists, including our fashion editor Amber Peebles.
Get your copy of the Remix #innovationissue from Thursday 9th June!