Remembering an icon: Elsa Peretti's inimitable life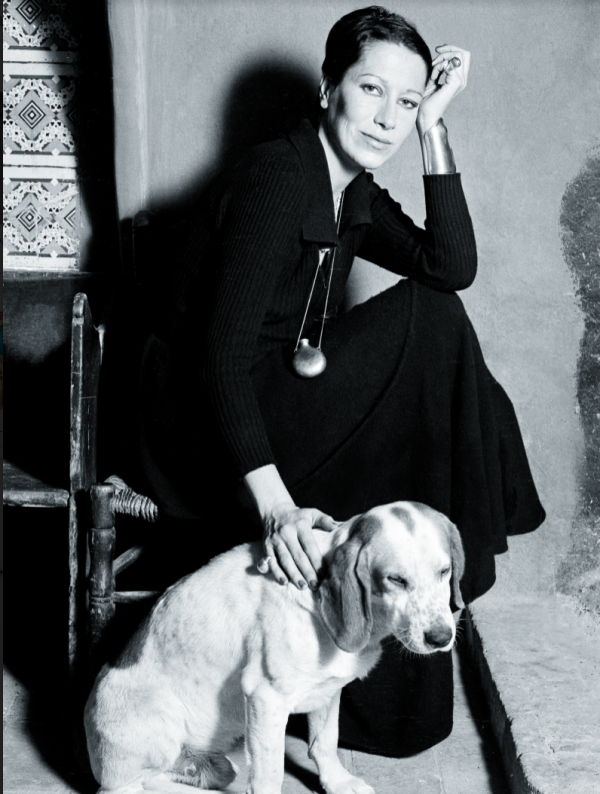 Remembering an icon: Elsa Peretti's inimitable life
1 May 1940 - 18 March 2021
By Amber Baker
Born in Florence, Italy, Elsa Peretti was destined for a life of greatness. Although born to privilege with an Italian oil tycoon father, Peretti made her own way in the world. After rebelling and running away from her conservative family in Rome in 1968, the purse strings were evidently cut.
But by her mid-thirties the Italian beauty could already count supermodel, jewellery designer, philanthropist interior designer, East Coast celebrity and long-time muse to some of the biggest designers as some of her accomplishments.
Having already received a degree in interior design back in Rome, Peretti worked briefly for architect, Dado Torrigiani in Milan before pursuing a modelling career in Barcelona. Wilhelmina (yes, that Wilhelmina: the former model turned agent) suggested she relocate to New York City for more work. "I moved into the Franconia hotel, on West 72nd Street. I had nothing. I was poor, but in a good way," Peretti previously told Vanity Fair.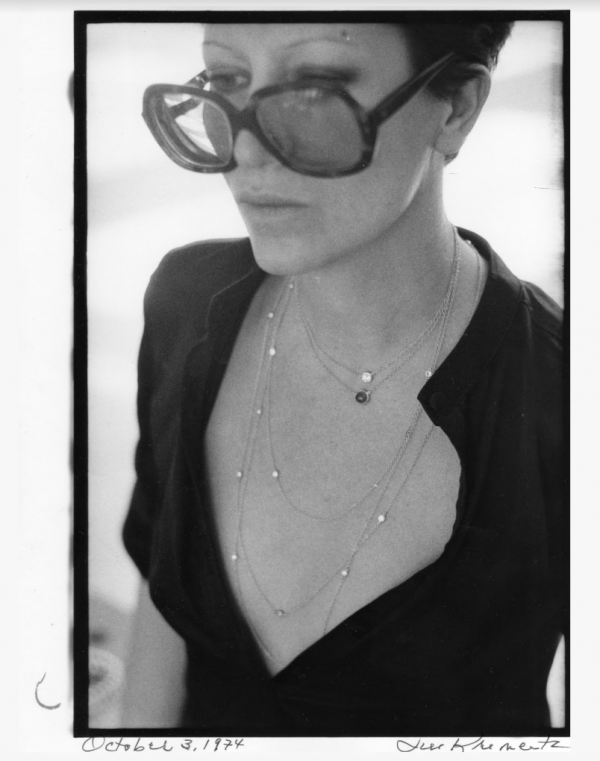 She was quick to capture the creative hearts of many after arriving in Manhattan in 1968. The Studio-54 disco-attending icon could already call artist Salvador Dali a close associate before she befriended artist Andy Warhol, designer Halston (who went on to become her best friend for many years until an infamous falling out) as well as Elizabeth Taylor and Liza Minelli to name just a few.
The 5"9 creative also went on to have a brief love affair with legendary photographer Helmut Newton, after he captured her in an iconic Halston customised Playboy bunny outfit on a New York rooftop. The photo still circulates today in pop culture and one can understand just how Newton fell so quickly in love. The woman was magnetic.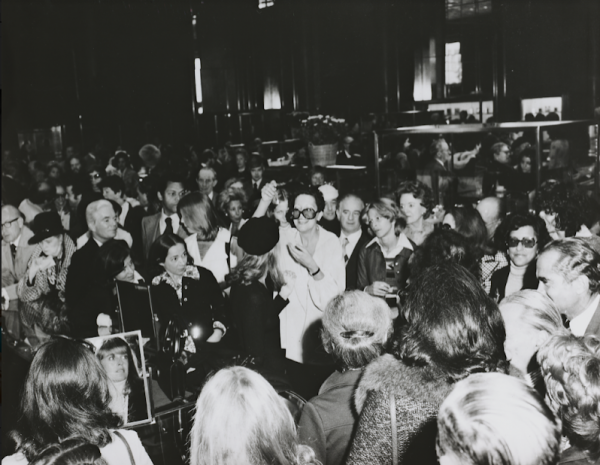 "Elsa was different from the other models," designer Halston, who was a milliner at Bergdorf Goodman when they first met, recalled. "The others were clothes racks, you'd make them up, fix their hair, and then they'd put their blue jeans back on. But Elsa had style: she made the dress she was modeling her own."
Countless runway shows (styled with her own handmade jewellery) and debaucherous parties later, and Peretti became a permanent fixture on best-dressed lists and fashion's 'it' crowd. "Elsa's the only woman who can arrive at a dinner party dressed in a black cashmere jumpsuit with a rope of diamonds around her neck and look terrific carrying a brown paper bag as her evening purse," claimed Vogue,1976.
"The others were clothes racks, you'd make them up, fix their hair, and then they'd put their blue jeans back on. But Elsa had style: she made the dress she was modelling her own," said Halston.
On February 8th 1974, with the help of Halston, Peretti brokered a career-rocketing deal with Tiffany & Co. that made her one of the most successful jewellery designers in the world. For the history-making get-together, she wore a red cashmere Halston dress and black shawl and carried her designs in a Spanish basket she used as a handbag.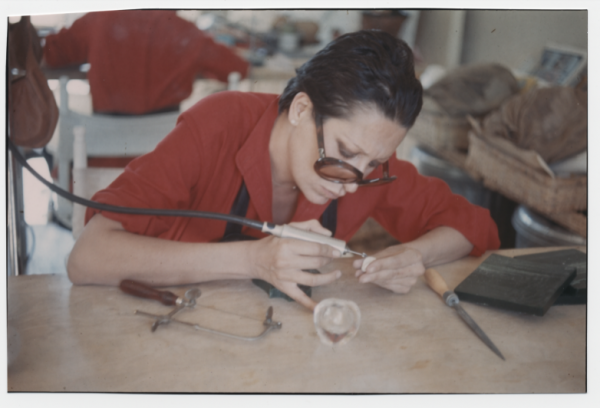 The only jewels she showed Walter Hoving (Tiffany's chairman at the time) were her Bottle pendant and Bone cuff. After a mere 15 minutes, he offered her a contract on the spot. "The day Elsa Peretti became a part of Tiffany & Co. was the day we entered a new era in our history of design innovation," said Michael J. Kowalski, former Chairman and CEO, Tiffany & Co.
Elsa created her empowering Bone cuffs over 50 years ago, featuring sensuous curves and a contour made to go over the wrist. They're still much-adored and a popular Tiffany product to this day.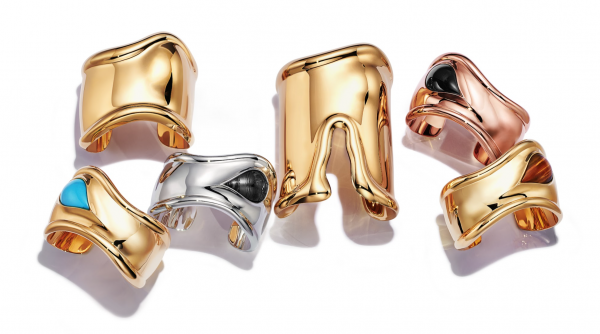 When she debuted her designs on September 25 that same year, it marked the beginning of a revolution in modern jewellery. The accessories equivalent of ready-to-wear, her designs were intended to be put on and carried off with ease. "The goal is ultimate casualness. I like to be able to take my sweater off without having to take off my jewellery," Peretti told The Miami Herald.
This attitude was something new for Tiffany and indeed the entire jewellery industry market and yet over 2,000 people attended her first personal appearance, captivated by the artistry and elegance of her sculptural gold and silver and the laid back glamour of her designs. Her iconic sculptural style can be seen most famously in the Tiffany Bone cuff's curvaceous edges and the contour that fits over the wrist bone.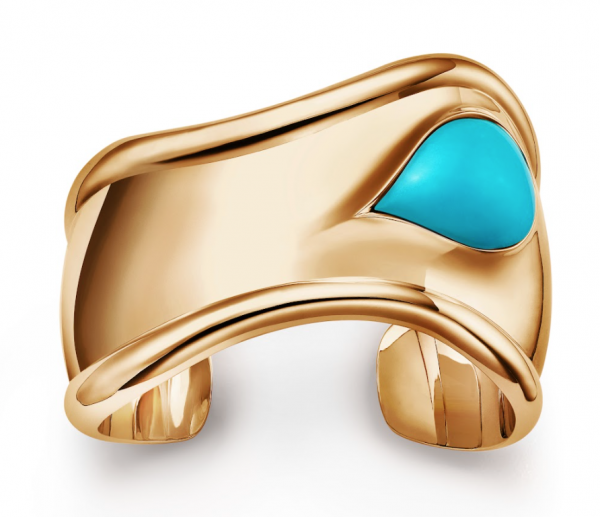 "It was done with the first craftsman I worked with, Señor Abad," she told the special Style and Design issue of Time in 2013. "I was designing it on my left wrist. Then there was a flash between us about the area around the wrist bone. Between the craftsman and me, there is something in the air." One doesn't have to try hard to imagine how a design of this style would've made absolute waves in the previously traditional jewellery scene of the '70s.
One of the first jewels Elsa ever designed was her Bottle pendant. Her inspiration for the piece came from a small vintage vase and memories of vacations in Portono during the 1960s when women wore gardenias in their hair. Elsa said the idea was to 'use the bottle pendant as a small vase to carry the flower with some water to keep it alive longer.'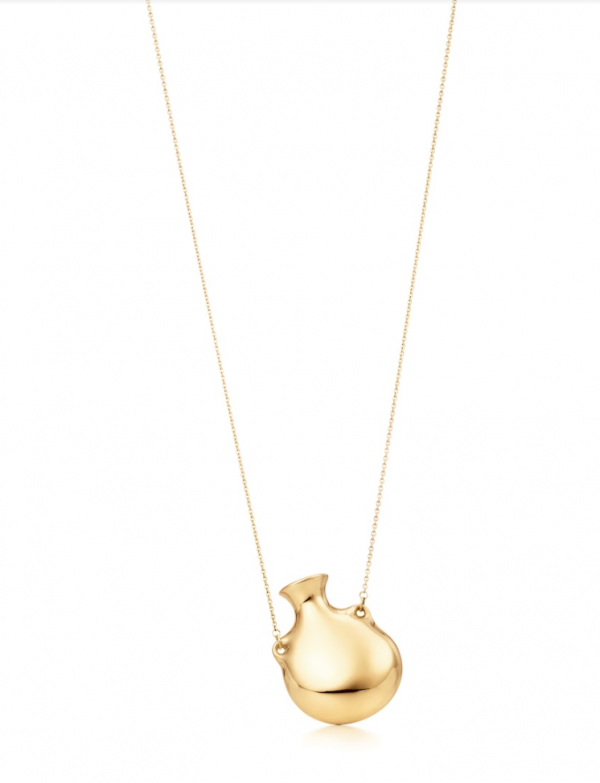 Unsurprisingly throughout her design career, Peretti received impressive accolades including the 1971 Coty American Fashion Critics Award for Jewellery and the 1986 Fashion Group "Night of Stars" award. In 1996 the Council of Fashion Designers of America (CFDA) named her Accessory Designer of the Year and more recently Elsa accepted the Leonardo da Vinci Lifetime Achievement Award for Design at the 2019 Florence Biennale. The world celebrates her work in museums too, acquiring her jewels and objects for their permanent collections. The British Museum in London has 55 Peretti works alone, while New York City's Metropolitan Museum of Art and Cooper Hewitt both have several Peretti's in their collections.
Back in 2000, many of Elsa's passions drove her to establish the Nando and Elsa Peretti Foundation. The charitable organization (dedicated to the memory of her father Nando Peretti whom she briefly reconciled with before his passing), has gone on to support a broad range of over 1,000 non-profit projects, ranging from civil rights initiatives to wildlife conservation and promotion of the arts with an investment of over 57 million Euros.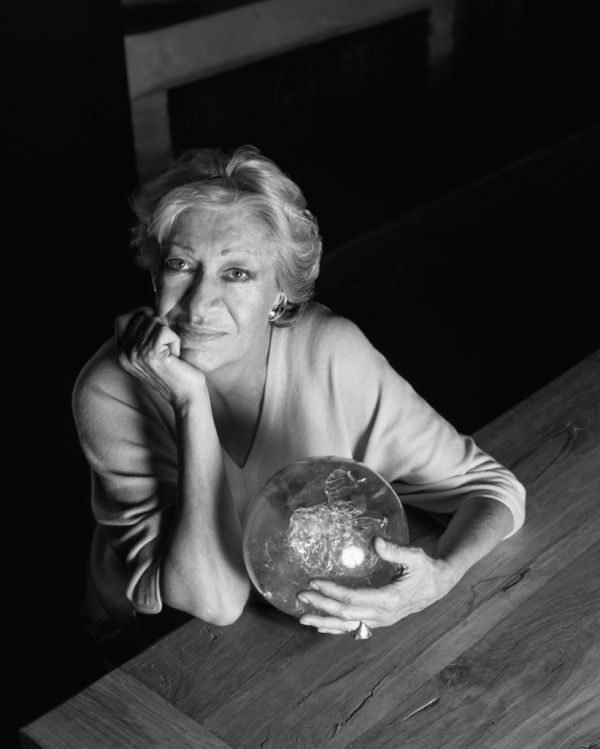 It's no easy feat, that fact that decades later, this creative idol continues to inspire an entirely new generation of fashion lovers, including myself. It's very clear that this woman created a lasting legacy that will stand the test of time.
With the help of Tiffany & Co., where most of her designs have been continuously made since the day she launched her collection in 1974, Elsa Peretti will never go out of fashion.