Coach NYFW 2023, Stuart Vevers' love-worn letter to New York.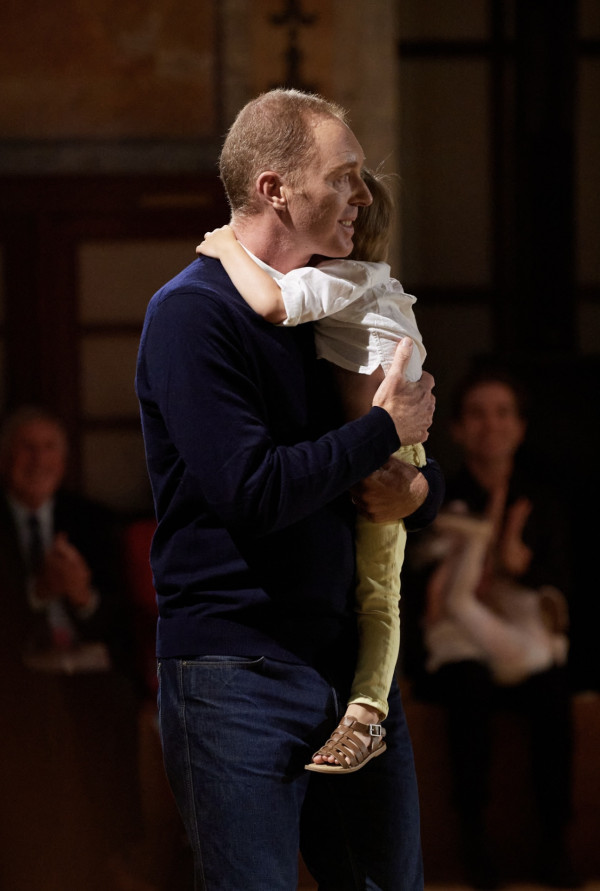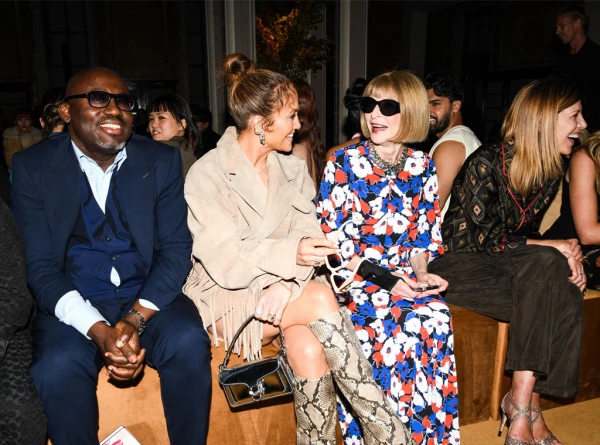 Remix was honoured to sit front row at the New York Public Library, where Coach presented their Spring/Summer '24 collection for New York Fashion Week. As the exclusive New Zealand media partner hosted by the house, we were fortunate enough to brush shoulders with the likes of Anna Wintour, Edward Enninful, Lil NasX and Jennifer Lopez. In an epic juxtaposition of American history and youth counter-culture, 42 gritty looks graced the Celeste Bartos Forum. The show marked Creative Director Stuart Vevers' 10th anniversary at the helm but for Vevers', this wasn't the focus.

Speaking to Suzy Menkes of the Creative Conversations podcast a week before the show he said "Whilst it is my tenth anniversary and we're going to celebrate it after the show, this certainly isn't a retrospective, that wasn't something that felt right to me. It's very much building on my last few seasons, in my time at Coach every two or three years I've created a step change, an evolution and last season felt like one of those, in a way I'm building from that, the collection had a great response so I'm really building on that long lean silhouette that we started, a lot of the material manipulation the kind of love-worn effects, I've really built on those."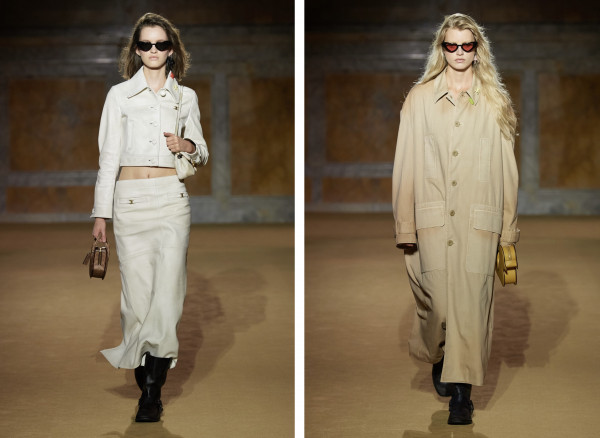 Long and lean silhouettes were certainly achieved, both men's and womenswear featured full-length coats but it was the humble slip dress that had shutterbugs on their toes. The show opened with a simple black leather slip, the model wore boots and carried an elegant yet understated handbag. The same dress appeared later in the show, this time in a romantic shade of red styled with heart-shaped sunglasses, a single blue dinosaur earring and an electric green handbag.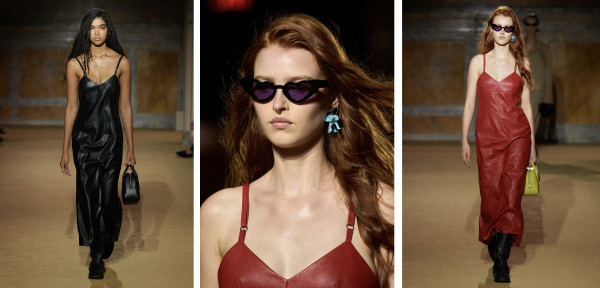 Stuart Vevers, a self-confessed youth culture obsessive, says he is always studying, listening and learning from the next generation. This inspiration is evident in the fresh, slightly campy styling seen on the runway. The leather slip dresses made two more appearances, one in a soft shade of purple (often referred to as gen-z purple, the new millennial pink) and another in black, both cut above the knee and worn with moto boots.
Speaking to Suzy Menkes, Vevers said "The way the current generation connects with the heritage of Coach in different ways is really intriguing. Sometimes I just see it on the street, and suddenly there's a piece from another era. I don't know whether the teenager picked it out of their parent's wardrobe or got it at a flea market, it's usually not a new piece and it's fascinating for me how the context changes immediately."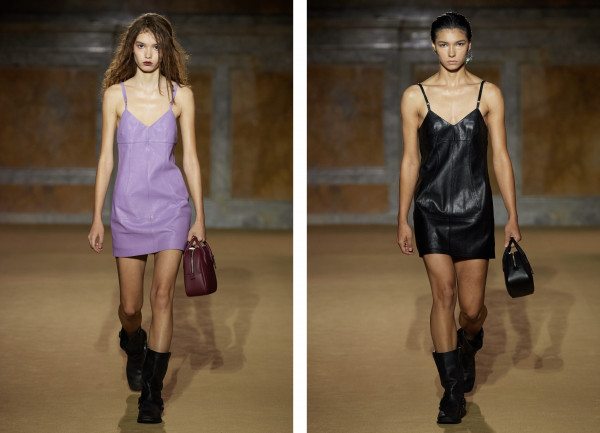 Vevers gravitates toward a more undone style of luxury, a breath of fresh air with the current market being saturated in various responses to 'quiet luxury'. A series of distressed, or as Vevers says, love-worn, dresses were modelled by both men and women in a kaleidoscope of colours. A black and yellow striped dress styled with two handbags and a blue spider brooch was a particular stand out.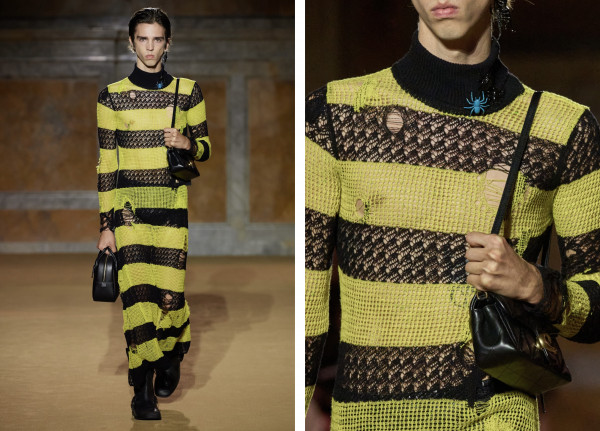 Leather, of course, was consistent and considered (sorry PETA). Coach's iconic bags, rather than being the focal point, complimented sheer fabrics, simple t-shirts and potentially the best leather jacket ever made.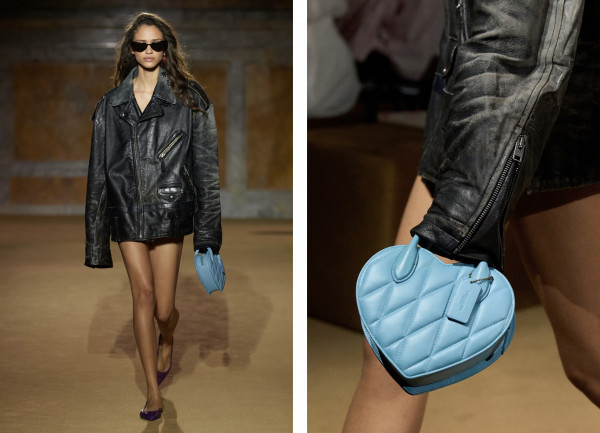 "During my time at Coach, I've always been drawn to a different side of luxury, it's been, in a way, an antidote to perfection. So much of my career was this constant strive for perfection and at Coach, being an American house, from a different era, a New York City brand with all the kind of grit and attitude that suggests. I felt like I wanted something different. It wasn't about perfection. When you put on one of our leather jackets you just instantly feel a bit cooler, and I don't think you get that from a sense of perfection. I think you get it from a certain ruggedness or a love-worn effect, in the sense that you get that from a piece you might have had in your wardrobe for years, I want you to feel like that immediately" - Stuart Vevers.