Celebrating Saben's 20th anniversary
In celebration of Saben turning 20, we sat down with the woman behind it all, Roanne Jacobson to discover how Saben came to be, the inspiration behind it all and what's next for the cult kiwi leather goods brand.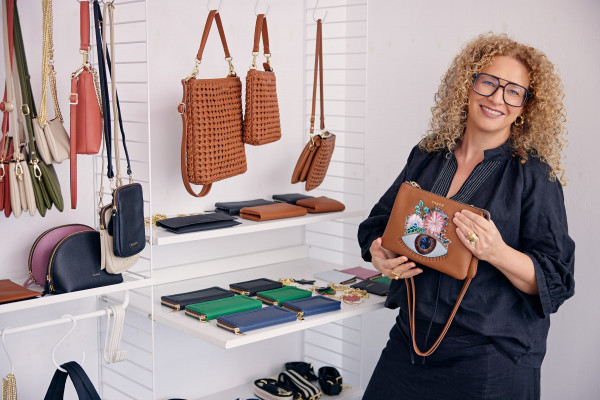 How did you get into the world of leather good designing?
I was living in New York at the time, working in bars, saving my tips and living the classic 'struggling artist' life. With the little money I did have, I would save to buy myself something extra special. That something was always a bag. I became somewhat of a connoisseur (a bag lady if you will) and as much as I loved them, there was always something amiss. The pieces I found were beautiful but not big enough for daily use. Or they had all the bells and whistles to hold the chaos of my life but they looked 'all function and no flair. That's when the lightbulb moment happened.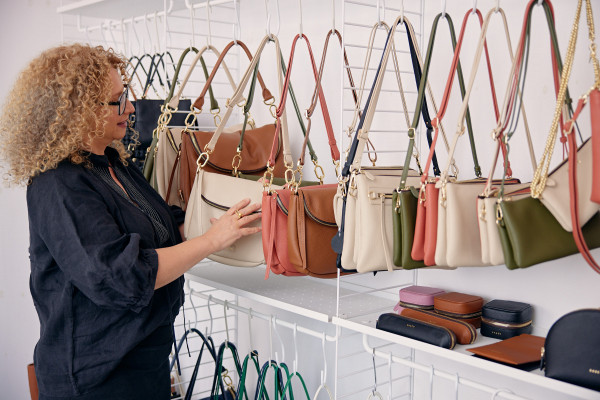 Saben is named after your grandmother, right? Was she the main inspiration behind starting Saben?
My grandmother was an inspiring woman. Everything about her was a juxtaposition, she was formidable and at the same time down to earth, a proper lady but with a wicked sense of humour. My favourite part of visiting every summer was sitting at the foot of her dresser and watching her put herself together for the day. As a wide-eyed child looking at her, I knew that was the kind of woman I wanted to be. She understood the transformative power of getting dressed each morning. She was grand, their house was grand, their bedroom grand, her walk-in wardrobe grand.
What inspired you to make your own brand?
I could see the gap in the market. Fashion brands I admired saw accessories as a merchandising add-on and there wasn't anyone creating bags as the hero of a collection. So, combining my artistic vision with my love of luxury accessories, the first Saben bag was made in my parent's garage, 20 years ago.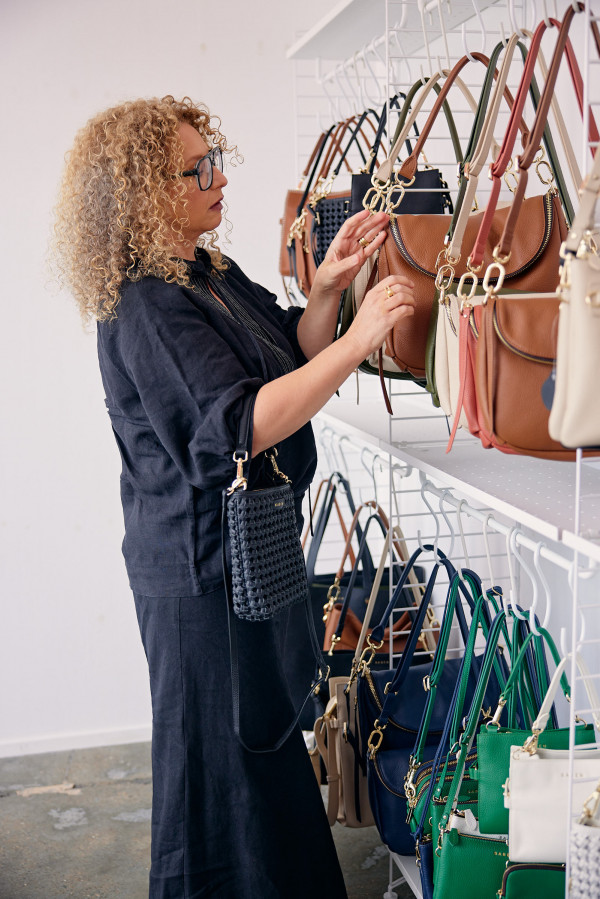 Was this always the plan or were you doing something different before launching?
To say there was a plan is an overstatement. It started as a hobby and when I discovered other people were prepared to buy them, I knew I was onto something – it snowballed from there and became the brand that Sabenettes know and love today.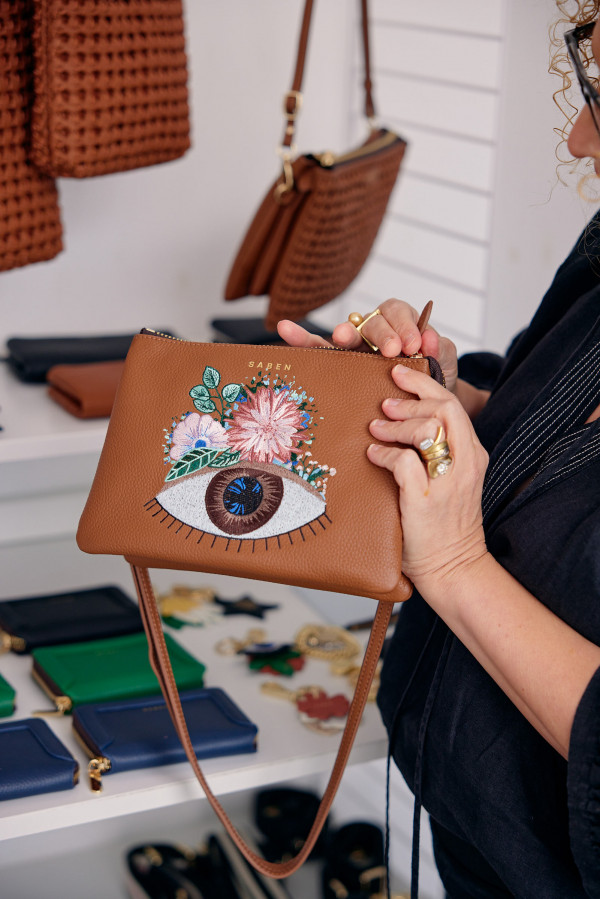 In your opinion what sets Saben apart from other brands?
Every Saben bag is designed with intent…every detail is obsessively tested, considered and thoroughly designed. To this day I still obsessively wear test each piece. I think the time has been my friend as well, as I have lived many experiences and they have formed my knowledge of what is wanted, needed and desired by women of all ages.
You're now celebrating 20 years of Saben ( Congrats!) did you ever think Saben would become what it is today when you first started out?
I had no idea it would become the much-loved brand it is today. In my private thoughts, I envisaged it, but our success is really due to the incredibly dedicated team working alongside me. They help keep me focussed – as there are always so many projects on the go, and I need a sounding board for all my mad-capped ideas.
There's definitely something in the power of positive thinking- telling yourself YOU LUCKY LUCKY THING every day can't hurt right?!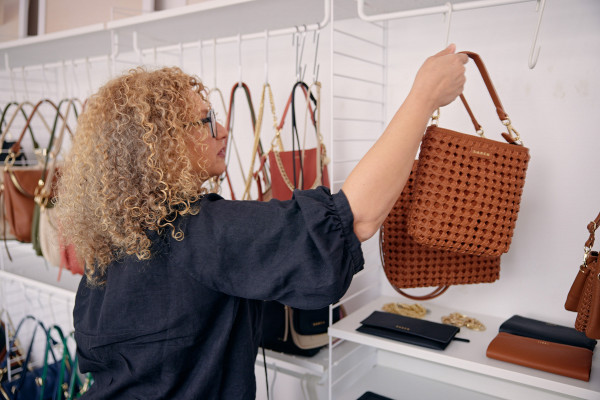 I know mothers don't pick favourites, but what is your favourite bag/ Saben item you've ever created? ( maybe it's something you use every day or one that has a very personal representation?)
My absolute favourite at the moment is the Bea – she's a scaled-down version of our oh -so popular Beatrice Tote. I've added our chunky gold and leather handle so I can wear her as a shoulder bag and a crossbody. She has enough functionality to keep my chaotic life in order, or at least make it feel more manageable. I love that she can take me from the office to dinner and then out shopping on the weekend. She can juggle life as well as the best of us.
As a woman in business with such a successful brand, what advice would you give to other women thinking about venturing out and starting their own project?
It can be daunting to start a business, there is a LOT to do. Set yourself little milestones. Rome wasn't built in a day, and neither will your business be. Cut yourself some slack. Some things will work out, some won't – don't be disheartened, if you get knocked down, dust yourself off and get back up (but first feel free to stop in at your friends for a glass of wine first, your friends will always give you honest advice).
Saben has grown so much in the last 20 years, what does the next 20 look like in your eyes?
I hope to support, empower and inspire other women in business. My hope is that other women who are in the early stages of launching their business will read this and feel less daunted, less intimidated by everything. In 20 years' time, having a conversation with someone who was inspired by Saben, took a chance and grew their side hustle or passion project into a fully-fledged business.
On a typical day, what can you always find in your Saben bag? ( is it 5 chapsticks like me and lots of old countdown receipts haha!)
A more accurate question is what won't you find in my bag. Alongside my everyday essentials like phone, keys, Saben wallet and lippy, you will find the latest copy of Remix of course! Now that we're travelling again, hopefully, my passport will be by my side a lot more.
We're always so excited to see your new collections here at Remix, can you give us a little insider info on what the next collection may look like? Any exciting new colour ways or designs?
We're always happy to give you a little sneak peek…In our upcoming Spring Summer collection, there is a nod to craft with hand braided leather, embroidery and blanket stitching on some of our hero silhouettes. It's a deeply meaningful edit of hand-made, wearable artworks, designed to be used as a talisman to give the wearer the strength to take on the day, whatever may come their way.