A look at all the elements at the Louis Vuitton Men's SS23 Spin off Show
When it comes to runway shows no one quite does it like Louis Vuitton and their latest show might just be their most magical yet. Last Friday Louis Vuitton took to the sandscape runway to present their Men's Spring-Summer 2023 Spin-Off show in Aranya, China. Created in collaboration between Chinese directors Jia Zhangke and Wei Shujun – who also served as directors of the show, exploring themes of childhood, discovery and community.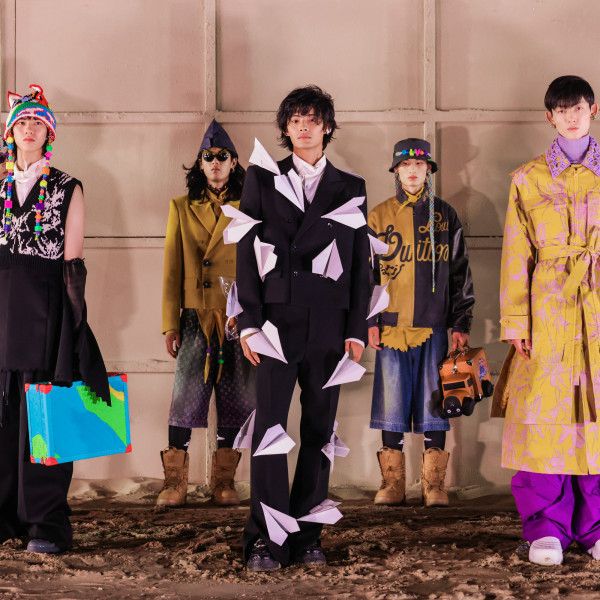 The location and setting
Aranya is known globally as a community destination for exhibitions, music festivals and landmark architecture. Located in Qinhuangdao, China, the 4.5 square kilometre town was born for a futuristic thought, the perfect destination for luxury giant Louis Vuitton to bring their collection to life.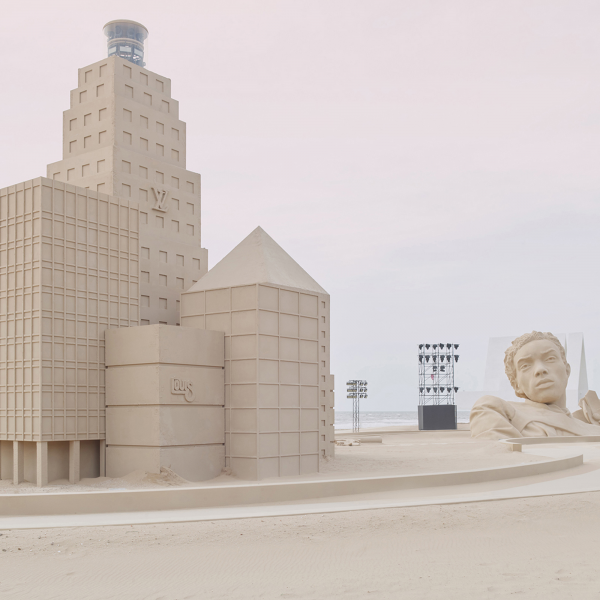 Taking inspiration from their previous magnified playground set, showcased and designed by the Louis Vuitton Studio Prêt-à-Porter Homme back in June, the idea that toys are tools for the imagination quickly came to large-scale life. The runway referenced a magnified child's sandpit, complete with a vast racetrack spanning across 320 meters, oversized building blocks and Louis Vuitton branded sandcastles.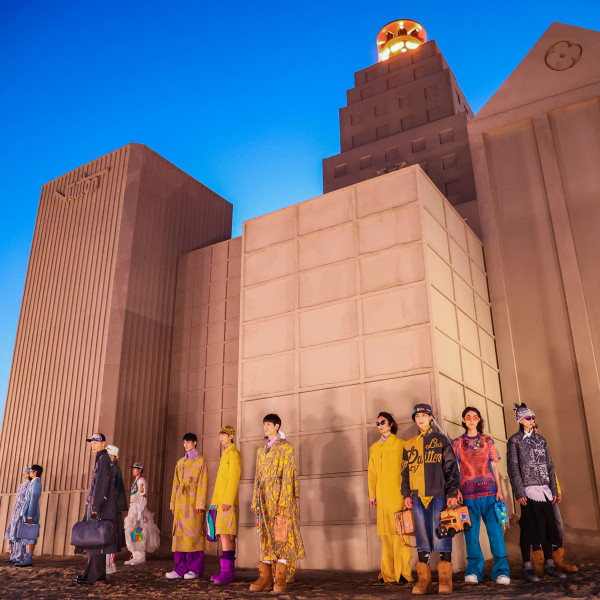 Perfectly accompanying the show was music from Benji B, one of the world's most respected music curators. Performed live by the Beijing-based instrumental band, Sleeping Dogs. The show also featured a choreographed performance by Chinese dancer, Hou Ying. All factors of this show perfectly referenced the Aranya community which was built as a place where creatives of all kinds could express their talents.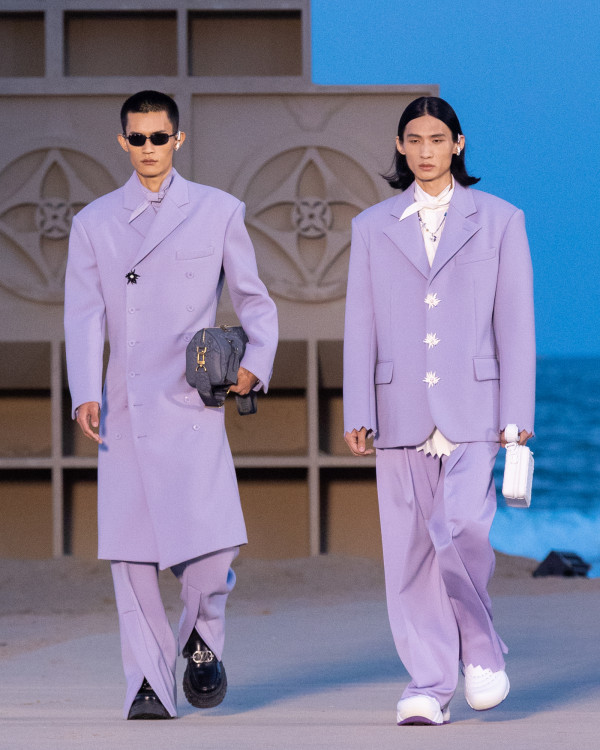 The collection
Imagination has always been at the heart of everything Louis Vuitton does, constantly striving (and succeeding) to visualise hopes and ideas through the power of luxury fashion. The collection was conceived and created by the Louis Vuitton Studio Prêt-à-Porter Homme: an ever-evolving ecosystem of creative minds, who welcomed Virgil Abloh to the Maison in 2018 and expanded during his eight seasons of artistic direction.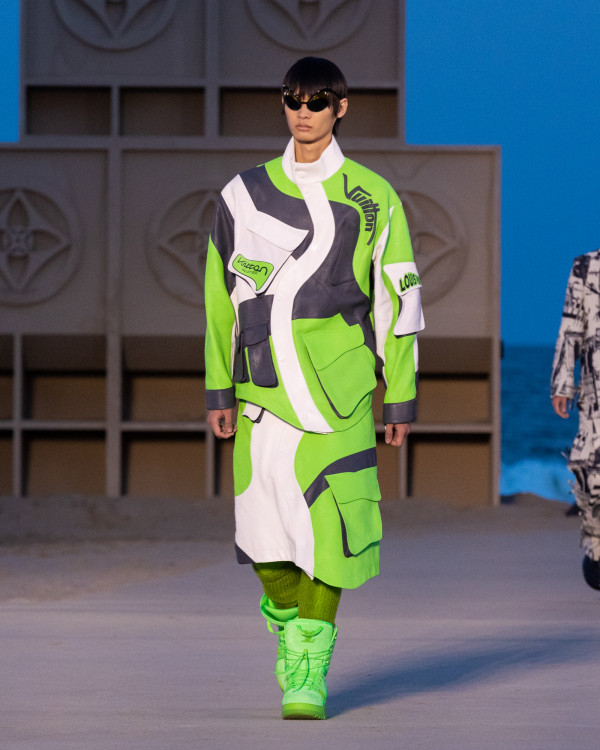 Continuing on from Abloh's iconic and famed legacy, this season saw ten new looks introduced into the pre-existing collection which was first presented at the Louvre during Paris men's fashion week in June. Playing on the idea of childhood creativity, building blocks and playdough elements adorn garments and accessories, while toolbox components – such as scissors, tweezers and clamps embellish garments as three-dimensional embroidered pendants.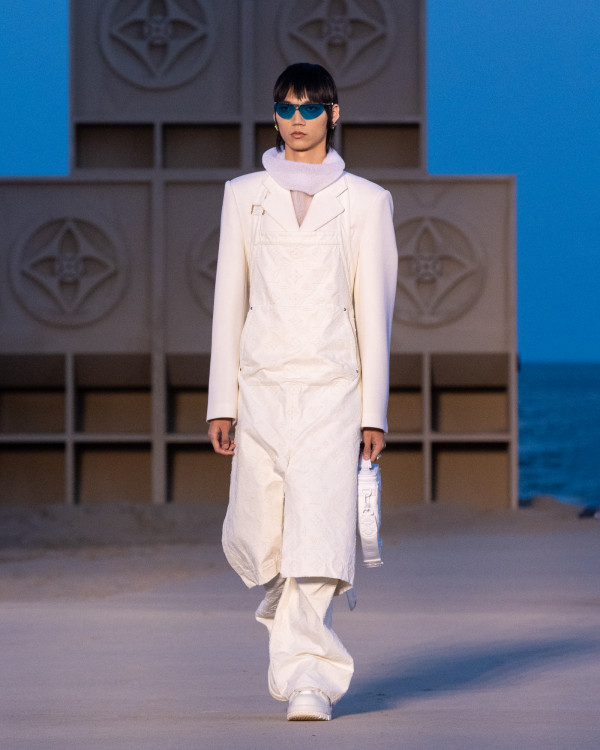 Oversized suits and trenches in bold lilac hues take centre stage and bright neon green racing-inspired jackets perfectly complement the streetwear realm that Louis Vuitton is so famed for. This collection no doubt would have Ablohs seal of approval.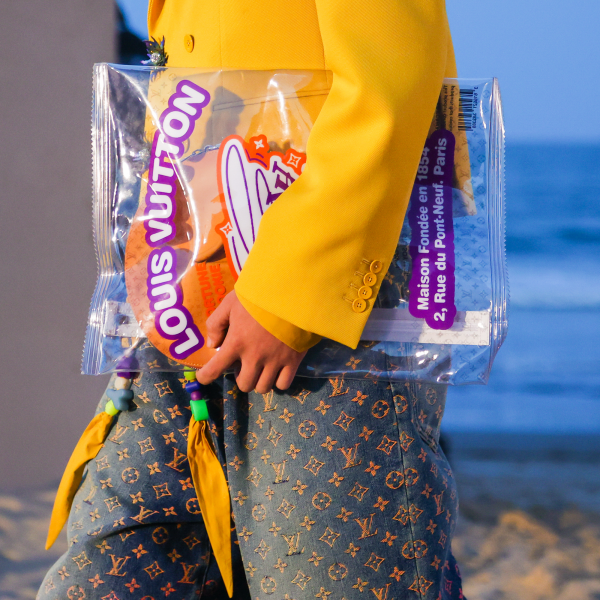 Paying homage to the great
In homage to Abloh's legacy, who always strived for inclusivity, Louis Vuttion extended show invitations to 100 young people from Aranya's local communities. Each of the 100 guests wore t-shirts in different colours, all printed with the date "June 21 2018" marking Virgil's first show for Louis Vuitton.