Your last chance to check out the Tiger Streets of Singapore events!
Last night Tiger Streets of Singapore took the capital city and Dirty Little Secret in Wellington was transformed into the bustling streets of Singapore.
The night was filled with a delicious Asian street-food inspired bespoke menu – did someone say Cantonese FR Chicken and Fresh Coriander Dumplings?, the new limited edition Tiger blends (available in Wellington for the first time), music by DJ Rooftop Crook$ and live street art from renowned Wellington artist Xoe Hall.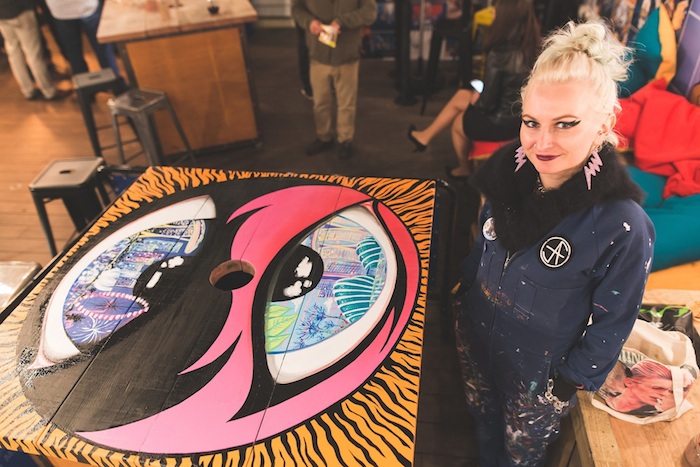 Xoe took artistic inspiration from the Streets of Singapore and turned a bar leaner into a piece of art, which will all stay at the venue – for those that missed out.
If you haven't yet checked out one of the Streets of Singapore events, you have two chances left – and we highly recommend taking them!
Tomorrow – Friday 29th, they'll be at the Portland Public House in Kingsland, Auckland with a huge line up of music, including SNIFFERS, Racing, The Leers and Katana. Plus a special Singapore-inspired menu especially matched to the new Tiger variants of White, Black and Green Tea.
Food will include Lotus leaf buns, lemongrass pork, lettuce and spicy mayo,
Sichuan chicken and garlic dumplings, coriander, spicy sauce and garlic shoots and Schezwan spiced Calamari with sriracha mayo.
Then on Sunday May 1st, the last Tiger Streets of Singapore event will be at White and Wong's in Auckland. This one is a day party to make the most of the weekend – who doesn't love a cheeky Sunday sesh? From 1pm, White and Wong's will be turned into an art gallery featuring live street art by Josh Lancaster and Erika Pearce, with music from Nathan Haines and Manuel Darquart.
Plus of course, the most important part: the food. Gua Bao with tempura Bluff oysters, lime mayo, pickled cucumber and chili jam; Gua Bao with char siu pork and sesame mint slaw and Wagyu beef, shiitake & cumin shumai
For more information head here or check out the Facebook events here.
Images: Danny Rood