Heading to WOMAD Festival next year? Here's Remix's very own guide to the ultimate experience! 
Festival season, although seemingly far away, is on the horizon, and it's officially time to start making those summer soiree plans. WOMAD Festival is back and better than ever, with first release tickets out tomorrow (Tuesday 4th July) with new ticketing packages and extended payment plans, and there's no one better to turn to for a play-by-play for the Festival than Remix's '23 attendee, Annabelle Rose. Read on to discover all of her favourite parts of the festival and the best ways you can prep for the guaranteed day to remember.
2023 HIGHLIGHTS:
WOMAD is a three-day music, arts and dance festival, designed to be enjoyed by people of all ages and walks of life. Pukekura Park was transformed into the venue of a lifetime, with eight stages (one was actually floating over the lake), festival flags galore, bunting, light installations, sculptures and accessible bars with incredible service. Finding the perfect meal to keep me going was simple with the amazing global village of food stalls at the ready, and if I felt like a spot of shopping in between the dancing and discovering, clothing boutiques and wellness stalls were an amazing way to wind down as well as meet fellow festival-goers.
Attending the first night alone was semi-daunting, but with young children meandering around with walkie-talkies keeping their parents updated on their whereabouts, through to the classic oldies donning music memorabilia from the '60s, I felt as comfortable as ever. The warm, vibing and inclusive atmosphere ensured that going on your own makes you feel as comfortable as walking through the WOMAD gates with a group of four.
Food, art and shopping aside, the music was of course the highlight, and WOMAD's Top 3 'Not Heard of Before WOMAD Artists' took the cake. An eleven-piece self-described techno marching band from Germany named Meute took to the stage dressed in red marching band outfits and aggressively blowing their trumpets to Sail by AWOLNATION. Pandit Ranu Majumdar & Dr Jayanthi Kumaresh provided amazing and meditative flute-like sounds, bending Indian and Celtic vibes, providing an out-of-body experience. Finally, Cimafunk brought the dance groove and afro-cuban rhythm with an entourage of saxophones, conga drums, velvet voices and rockstar vibes.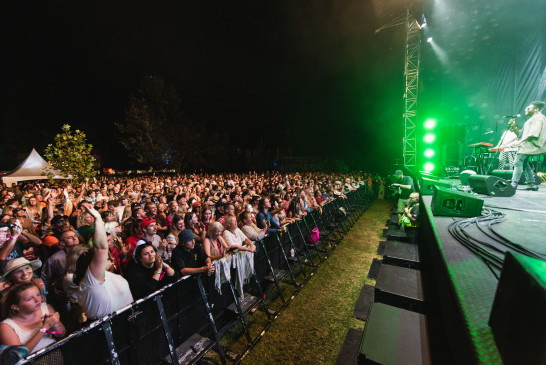 ANNABELLE'S TOP TIPS:
In the lead-up to your WOMAD experience, I highly recommend downloading the 'WOMAD Spotify playlist' and acquainting yourself with the many wonderful and obscure international acts to be enjoyed over three days.


I also opted out of camping solely to enjoy the township around the festival, and the King and Queen Hotel in central New Plymouth provided groundbreaking comfort, set above the West End Precinct and a stone's throw from the WOMAD venue. If you're searching for a dinner to end your night,

Ms White

's woodfired pizza is a surefire way to satisfy, and a post-gig nightcap requires a stop into

Snug Lounge Bar.

Whilst at the festival, wearing practical shoes is a

must.

I walked a whopping 12km on the Saturday, dashing from stage to stage and navigating the vast and vivacious venue. Indulge in the many wonderful food stalls available, with bites from all over the world ready for the taking, and make sure not to look past the Wellness Stalls, although a little bit off the beaten track, words like massages, reiki, readings and aromatherapy were everywhere, and I don't know anything better than a bit of quiet bliss amongst the hours of dancing and discovering. Also - don't forget your SPF!
No matter how much you wish to plan whether it comes to the acts you want to watch, the talks to see or the installations to gaze at, WOMAD Festival is the place to bimble around and let the tunes, aromas and visual feast guide you. The surprise and delight of coming across something new and out of your world is the highlight of this unique three-day experience, and I couldn't recommend attending enough.