We chat to need-to-know photographer Adam Katz Sinding
Adam Katz Sinding is a talented, unfiltered and highly sought-after Copenhagen based street-style photographer. He spends most of his year jet-setting to fashion weeks around the world - he is currently shooting New York Fashion Week - whilst spending the rest of his time cycling the streets of Copenhagen and shooting major editorials and campaigns. He boasts an impressive client list, having shot for the likes of Vogue, Adidas, Tommy Hilfiger and most recently, Tom Ford. Adam released his first book in February! 'This is not a f*cking street-style book' is a compilation of his fashion photography, including work with Grace Coddington, and a foreword from Virgil Abloh.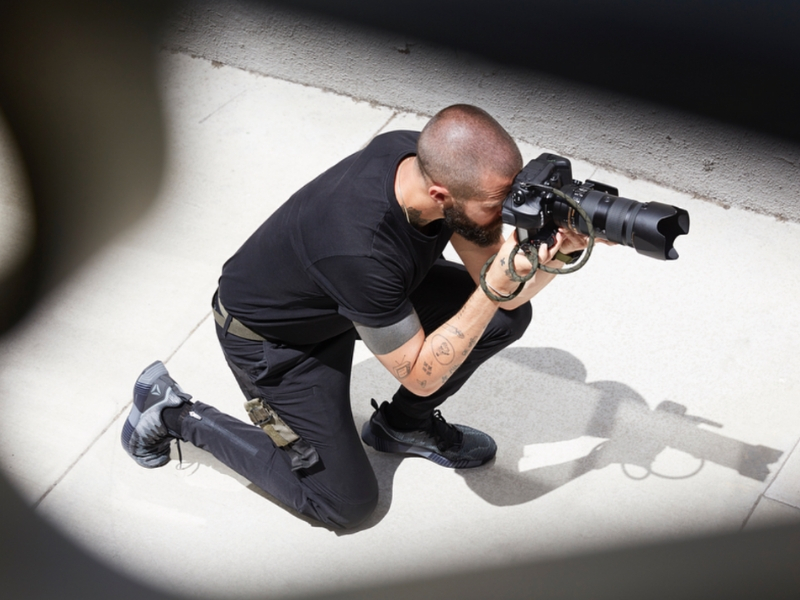 We chat with Adam on all things photography and fashion:
You take unique and fascinating photos that always manage to stand out from thousands of other photographers out there. How do you differentiate your photography?
"Thank you very much for that. I guess everyone has a different 'eye', right? I just see Fashion Week in one way, perhaps from a different perspective to some of the other photographers. I shoot what I like, and how I like it. I'm extremely stubborn in this way. Perhaps others may not like my perspective, but my photography and my website are my diary, and I want to record what I see as I see it."
How did your parents influence your career and love of photography?
"My dad was a hobby photographer and my mom is a designer. My dad would go on long camping trips with his 35mm Nikon and take these amazing panoramic landscape photos and they really impressed me, along with everyone else who saw them. My mom was a sportswear designer at Nike, Helly Hansen, and other brands, so she always had WWD and other magazines around the house. I used to look at them trying to find hot babes in the pages, while pretending to be interested in fashion. I guess pretending turned into genuine interest eventually."
Do you prefer to shoot fashion or travel photography?
"No preference. I'm 'better' at fashion, but travel is so much more difficult to try to capture the essence of a place and tell a story to people who may never go there. It's a responsibility, and I am pretty critical of my travel photos."
You jet set all over the world and photograph at so many different fashion weeks. What have been your favourite shoots so far?
"I love Copenhagen Fashion Week, MBFW Tbilisi, Seoul Fashion Week, MBFW Australia...I don't know, every city has pros and cons. Those places just yield heaps of great images."
How does street-style differ between countries?
"Honestly, each season it differs less and less, however, I continue to travel as I find it fun to try and find those honest little bits in each place which tell the truth about that destination. Just because you can find Chanel and Balenciaga in NYC and Almaty, it doesn't mean they are culturally similar. I just want to peel back that superficial layer of "trends" and try to find the story."
You have amounted nearly 500,000 followers on Instagram. How has that platform helped you out as a photographer?
"I think the answer is pretty obvious - it's generally a free audience. But it's not a quality audience. It's a lot of lookers, but most aren't there to really appreciate what they are looking at. They just like to watch and then keep swiping. Honestly though, without Instagram, I guess my career would not be on the same level, right?"
What was the cause for the #NoFreePhotos 'unofficial union' movement that you and fellow photographers begun in 2017?
"The photographers are so tired of having their photos used for commercial purposes by brands and influencers without credit."
What is your go-to outfit and how would you describe your personal style?
"I wear Acronym P10 pants, black t-shirts, and if it's cold, some sort of goretex shell which is normally also Acronym. I need clothes that move and protect from the elements. In the summer, I wear shorts and t shirts, and generally look like the worst tourist you'll find anywhere."
You spend a lot of your spare time cycling around Copenhagen, how did you get into cycling and how can you motivate us all?!
"My first job was at Northwest Mountain Bike in Tacoma where I grew up. I never 'officially' worked there, however I hung out and did work in exchange for bike parts and so on. I just love bicycles. It wasn't until 2007 or so that I got into road bikes and track bikes, and that's when I got really obsessed; riding between 500-800 kilometres a week, training and commuting combined. Then I moved to NYC and I hated cycling there. In 2016 I moved to Copenhagen and decided it was time to get back to it. Best decision ever."
What was the inspiration behind the name for your 'blog' platform and book?
"It's not a blog, and I just hate that word, as I hate the term 'street style'. So I put the header of my website to say "This is not a F*CKING "Street Style Blog"!" and it felt nice. Then the publisher allowed me to tweak it to be the title of the book. I thought was amazing… although I wish we didn't have to use that '*' and could go all out, but I'm ok to compromise."
Virgil Abloh wrote the foreword for your book. How did you get to know him?
"I met Virgil on the street in Paris ages ago. I knew who he was, and recognised him, but didn't realise he was doing what he was doing. We chatted after I shot him, and he was super down to earth. It was just an easy conversation which turned into saying "what's up" when we'd cross paths, to him eventually writing the foreword to the book."
Now that you've released your (f*cking good) book, do you have any major plans or projects you're working on for the future?
"I want to shoot more creative work. I love Fashion Week and have no intention of stopping shooting street or backstage, but I want to do more. I just shot the global campaign for Tom Ford and it really got me motivated to do more work at that level. Of course, those are 'goals' and I hope to achieve them, but it is extremely ambitious of course."
You have attended NZFW in the past, what Kiwi fashion labels most caught your eye?
"That was AGES ago and I want to come back! I Love Ugly, Zambesi, oh man...I'm blanking! I had a great time there. People were so welcoming and excited to show me their stuff. It was such a great experience to be there."
https://www.instagram.com/aks/