remix chats to freestyle motocross rider luke smith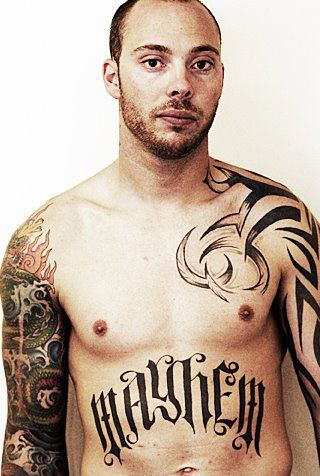 By Claudia Innes Blood artists, Crusty Demons and body painters will join some of the world's best tattoo artists at the International Tattoo and Arts Expo 2013. Now in its third year the expo continues to outdo itself, this year featuring an even more impressive line-up of artists, musicians and stunt riders at Claudelands Event Centre, Hamilton on February 23-24. The expo will feature tattoo artists from the USA, Norway, England, Japan, Finland, Spain, Canada, Borneo, Switzerland, China, South Africa and Australia, as well as the very best New Zealand tattoo talent from around the country. A lot of the tattoo artists exhibiting are booked out for months in advance, so it's an opportunity to get inked by some of the world's best. Joining the list of tattooists and artists are a number of other attractions, top of the must-see list for many will be Dr. Rev, a huge hit from the 2012 expo, and infamous for creating incredibly intricate artworks painted in his own blood. World famous Freestyle Motocross rider Luke Smith will also be making his first major appearance since the accident that forced him out of the game, an appearance that is not to be missed. The former Crusty Demons and Nitro Circus rider, who made headlines around the world by recovering from a life-threatening brain injury three years ago will be doing demos at the expo on Saturday 23
rd
. Even if you aren't keen on permanent ink, the expo is the perfect place to get a glimpse of all that is happening in street culture, see some world class sportspeople, and enjoy live music all weekend. Remix spoke to Luke to see what he's up to at the moment and his plans for his big debut.
Have you been to the International Tattoo and Arts Expo before?
No I have never been to the Tattoo expo before, I am really excited to head down see all of the amazing artists, see all that is going on and perform in front of the crowds and spread Moto mayhem.
What can we expect to see during your demo?
Just coming of Nitro Circus tour I am fired up and I will be performing all of my tricks superman, throwing the bike sideways with big whips etc, as well as putting the bike upside down with backflips and if the crowd scream loud enough I will throw out some superman backflips.
Have you been working on any special moves for your come back?
Yes I have been working on something special, but this trick is top secret and aiming it for it to take me to Xgames in LA this year at the staple centre to compete in best trick. I can't give off to much but this trick involves me letting go of the bike mid-air in a secret way doing a 360 degree spin and grabbing back onto my bike somehow before I land.
What acts are you most looking forward to seeing?
Being a artist myself, I am really looking forward to see all of the amazing artists from around the globe and see their work and different styles.
You already have a few tattoos; can you tell me about them?
Yes I do have a few, I am a Gemini so people say you have split personality, so I have two sleeves one it bright Japanese style colourful arm with a dragon breathing fire coming out of water with the Japanese koi fish at the bottom. Then on the other side I have my dark side a spider web on my hand with a skeleton rolling dice filled with smoke with a tribal piece further up my arm. Then in script writing on my forearm it says live 2 ride, as it is my job and its what I do. Then across my stomach I have Mayhem, it's my street wear clothing labels name. People can check that out and purchase the products at
www.motonmayhem.co.nz
or check us out on Facebook at
www.facebook.com/motomayhemgraphics
Then my most recent piece is on my right leg is on the back of my calf. It is a big tear in the skin so its opening up and all the muscle exposed etc showing a rear motorbike shock and spring as if that is the suspension in my leg.
Will you be adding to them this weekend?
Possibly never say never I don't think I would go all out and get a massive piece but I have been thinking about getting my right hand done in the Japanese style.
Remix is giving away tickets to two lucky punters who want to get along to the event, along with a pair of super cool Sticks sunglasses. Click here to enter!