Support M.A.C Cosmetics fight this World AIDS Day
Each year on December 1st, M·A·C Cosmetics participates in local volunteer initiatives to support the community on World AIDS Day. On World AIDS Day, our employees are putting down their makeup brushes and volunteering with local HIV/AIDS organisations. This year you may find our artists bucket collecting for World AIDS Day in all major cities or participating in our annual spring clean for local AIDS organisations. In addition we will be supporting AIDS/HIV prevention with the call out to "TEXT "VIVAGLAM" to 849 to make an instant $3 donation to the NZ AIDS Foundation".

Every day is World AIDS Day at M·A·C: the M·A·C AIDS Fund is supported all year round with the consumer-based model that directs 100% of the selling price of M·A·C VIVA GLAM Lipstick to help fight HIV/AIDS. These funds go directly back into the local New Zealand community, helping to support men, women and families struggling with HIV/AIDS in New Zealand. To date, M·A·C New Zealand has raised $2.8 million and provided over $117,000 in grants to local organisations this year alone!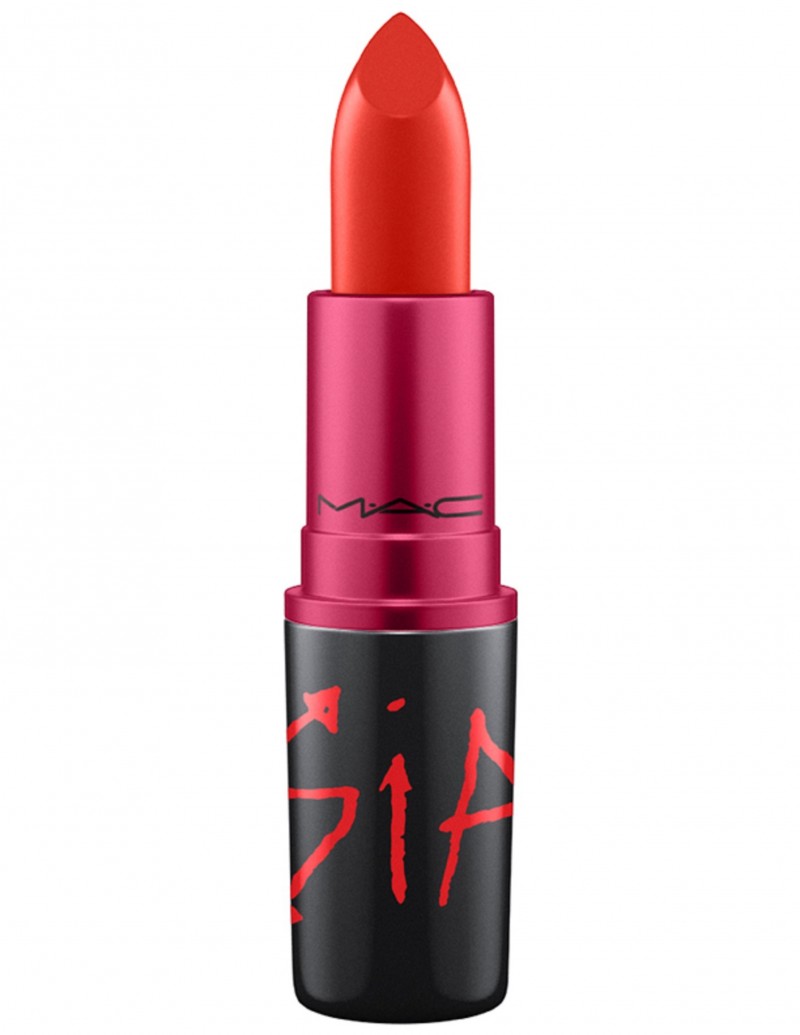 As the largest corporate non-pharmaceutical HIV/AIDS funder, the M·A·C AIDS Fund strives to make a meaningful difference in the lives of people living with and affected by HIV/AIDS. MAF focuses on highlighting the link between poverty and AIDS, and strengthening services available to underserved populations, funding ground-breaking and innovative programs and investing in regions and populations that are not often prioritised by other funders.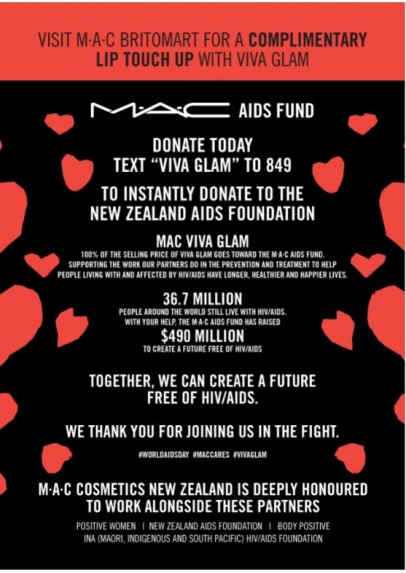 Purchase a VIVA GLAM lipstick online or in your nearest M·A·C store:
1 VIVA GLAM LIPSTICK:
1

PAIR OF SCHOOL SHOES FOR A CHILD ORPHANED BY AIDS

1

RESIDENT AT AN HIV/AIDS HOUSING ORGANIZATION WITH A NEW JOB INTERVIEW OUTFIT

1

WEEK OF FRESH FRUIT, VEGETABLES AND GROCERY ESSENTIALS TO A MOTHER AND CHILD AFFECTED BY HIV

2

NIGHTS IN A CLEAN, SAFE PLACE FOR ONE RESIDENT LIVING WITH HIV/AIDS

10

INDIVIDUALLY TAILORED, NUTRITIOUS MEALS FOR A PERSON AFFECTED BY HIV/AIDS

14

HIV TESTS FOR PREGNANT MOTHERS

32

SAFER SEX KITS WHICH INCLUDE CONDOMS, LUBRICANT AND INSTRUCTIONS

200

NEW SYRINGES, WHICH ARE GIVEN TO INJECTION DRUG USERS IN EXCHANGE FOR USED NEEDLES TO PREVENT HIV INFECTION

254

CONDOMS TO PREVENT TRANSMISSION OF HIV