interview with p-money about new album 'gratitude'
Words by Will Seal.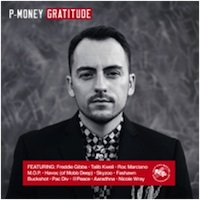 In what has to be the ultimate end to the week, P-Money's new album 'Gratitude' drops today, so you have some fresh beats to get you through the weekend! To celebrate the release of P-Money's first album in three years, Remix Music Editor Will Seal spoke with the Kiwi hip-hop legend about his new record and new life in New York City...
What can fans expect from 'Gratitude'?
For this album I wanted to keep it strictly hip-hop. There is a string nod to the sample based NY style beats of the 90's but with my own modern interpretation. I think this album will really appeal to fans of my first two records "Big Things" and "Magic City". It's almost like a 3
rd
installment of that series.
How did the 'Gratitude' concept come about?
The title represents how I feel about my career and my place in life right now. I'm working with some amazing people and still loving what I do. To be able to say that after over 10+ years in the music business is something special. I give thanks to everyone and every event that has contributed to where I'm at right now. I wanted to express that with the album. It's also a personal reminder to appreciate the life I've been given.
You're currently based in New York, how has that impacted on the sound of the record?
I've always been drawn to the city. My style is heavily inspired by the pioneering Hip-Hop producers who created the NY Rap sound. Legends like Pete Rock, DJ Premier, Beatminerz, DITC etc. I made probably 50% of the music here in NYC. The opening song "Welcome To America" was the first beat I made when I moved in to my apartment. So the city has been a direct influence on a lot of the music.
Your new album features a number of well-known international and local artists, how did those collaborations come about?
Some of the collaborations are with people I know personally and some were a case of reaching out with some music and seeing who was down to be involved. It was dope because almost everyone we contacted was with it. I can only recall two guys who declined the offer. And with both of them it was budget issue.
Who was your favourite to work with?
M.O.P. were my favourite to record with. We did the session in Soho at a spot called SweetSounds NYC. I had been a big fan for years but never met the guys before. They came through and you could tell they really were in to the music. It wasn't just a case of "ok, let me do my vocals and get out of here". They put a lot of energy in to it, which you can hear in the track. We have some video of the session on youtube. That was a crazy night.
You recently signed with Duck Down Music, how does it feel to be breaking the international market?
Of course it's an exciting opportunity to work with such a revered and respected Rap label but also a company that has such a big global reach. I've never had that before with any of my albums. We've previously been able to release in NZ, Australia and the UK. But dropping an album via an American label grants access to a far greater audience. And because it's Duck Down it's predominantly a specialist Hip-Hop audience who know their stuff. It's the perfect place to release an album such as this one.
You're heading back down to NZ for a nationwide tour with David Dallas, what can people expect from your live show?
At the center of it is my DJ set and Turntablism skills and also this time around we are adding video components to the show which is gonna be really dope and something I have never done before! Plus with David he will be performing all his hits and premiering some of exclusive new material from his upcoming album. My plan is to take this beyond a standard rap show and have it feel like a festival stage, with production, lights and have people getting real hype while dancing to the music. No arms folded in the building please!
What do you miss most about New Zealand when you're away?
Family, friends and the FOOD!
Anything you'd like to add?
Thanks Remix for always supporting me, my label and fellow Kiwi artists. Cheers!